Macropoker: A Poker Stats Tool That Will Raise Your Winrate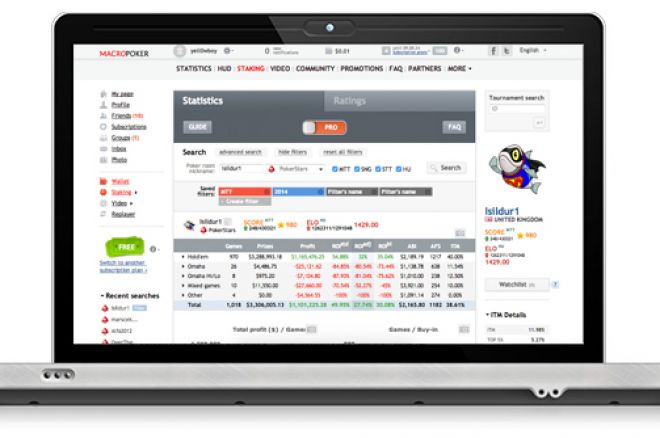 Everyone around is saying that poker becomes more difficult each year. Today, it's not enough just to understand the basics and play a solid ABC game. Players have to dig into advanced poker concepts, watch tons of coaching videos, play thousands of hands per day, as well as analyze their own game and the games of their opponents. But how can you analyze them more effectively to gain a tangible, but fair, edge over your opponents while playing?
Maybe you do know the answer, and you're ready to immediately call out the name of some poker statistics website, but don't be in a hurry. Today we will tell you about a product that is likely to become your new best assistant when playing multi-table tournament (MTT) or sit-n-go (SNG) poker tournaments. We're talking about Macropoker.com statistics.
Macropoker, like some other sites, gathers statistics on tournament results, then processes them and presents them to the user in the form of graphs and tables. But the Macropoker approach is somewhat different from that of other products. The first differences can be seen with the naked eye — it's a user-friendly and intuitive statistics interface, which will be understandable even for novice players (by the way, the site offers two ways to display stats — Basic and Pro). But that's not all.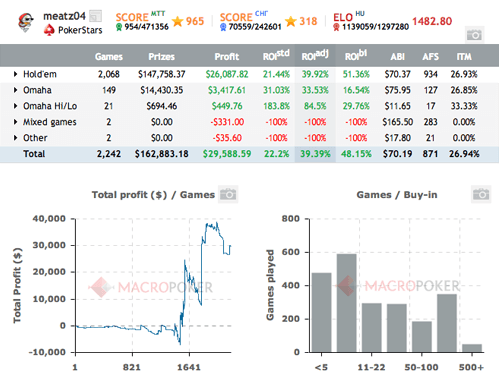 Macropoker offers players not only traditional stats, such as the number of games played, prizes, profits, return on investment (ROI), and average buy-in (ABI), but absolutely unique ones as well. Among the latest is "SCORE" (the absolute strength of a tournament player) and "Heads-Up ELO" (heads-up player rating, calculated on the basis of the chess Elo method). Also what's interesting, that Macropoker stats can show you the evaluated difficulty of any tournament played online.
By the way, you can make your stats available exclusively to yourself by verifying your account on Macropoker. In that case, you will have a full access to your own statistics, but it will be hidden from any other users.
It's also important to note that Macropoker statistics is cheaper than anywhere else. The subscription price starts from $5.99 per month. On top of that, for this price you will be able to use MacroHUD — a software that will bring the stats right to the tables when you play. At first glance, the price may not seem the most important argument for the purchase, but in poker, as in business, you can guarantee yourself a good and stable income only by optimizing your expenditures.
Macropoker stats supports the most popular poker rooms: PokerStars (.com, .es, .fr, .it), Full Tilt Poker, Ongame (Betsson, Red Kings), partypoker/bwin, iPoker, Mansion (SNG only), and Microgaming. The site is also showing users statistics of 888poker players, but due to the network restrictions, only within the paid subscription plans.
In addition, you will find a large number of additional products on the Macropoker.com site. For example, a staking market with unique functionality. Just one click and you're able to make a quick evaluation of a package's profitability and risks, and receive a potential ROI, profit, and profit from minimum share as a results. Also, it's very easy to add your stats to the staking offer, which is important to increase your level of trusts in the eyes of potential investors.
And the most interesting of all is that all Macropoker products are connected and operate as a single organism. For example, when you publish a staking offer on the market, you will be able to add your poker stats in just two clicks, and potential buyers will be able to evaluate the profitability of your offer thanks to the fast evaluation option.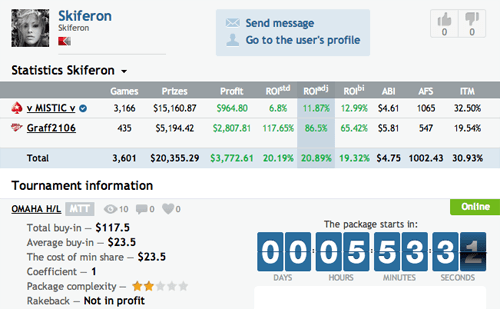 But these aren't all of the advantages of Macropoker, and, for sure, everyone will be able to find what suits him the most when using the site. That's why Macropoker is giving PokerNews players a special opportunity. Everyone who buys any Macropoker subscription within one week from the publishing date of this article will receive a double period of subscription. For example, if you buy a Silver subscription for three months, you will receive three more months as a gift. To receive a bonus subscription period, you will need to send an email to [email protected] after the purchase with "PokerNews Promo" in the subject line.
Get the most out of poker statistics, analyze your game and the game of your opponents, and may luck be with you!
Get all the latest PokerNews updates on your social media outlets. Follow us on Twitter and find us on both Facebook and Google+!