How to Play Daily Fantasy Football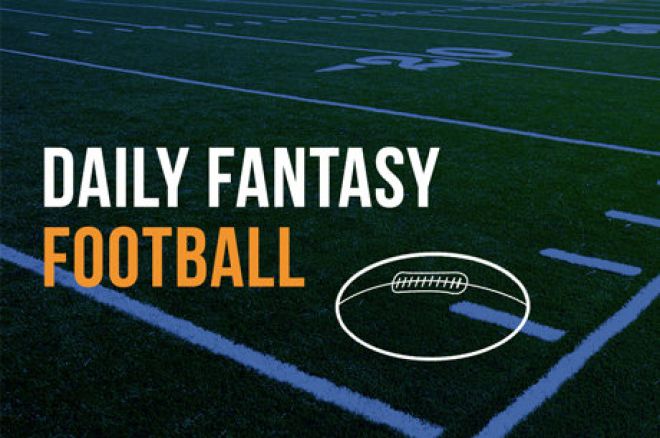 In previous articles, we've gone over the basics of daily fantasy sports (DFS) and reasons why experienced poker players are well-suited to picking up these fun and potentially profitable games. Now, we will begin diving deeper into the rabbit hole by delving into some of the games individually. We'll start with football, by far the most popular fantasy sports game in both season-long and daily formats.
Choosing a Game
Once you've moseyed on up to your browser's address bar and headed to your daily fantasy sports website of choice, your first decision will be what kind of game you want to play. Generally speaking, most DFS games fall under one of two categories.
The first type and the one most DFS ads trumpet is the guaranteed prize pool (GPP) massive field contest. These tournaments often have thousands, sometimes tens of thousands of entrants, and prize distribution is sometimes very heavily weighted towards first (it allows the sites to advertise things like "winning $5,000 for just a $2 entry!"). A poker equivalent would be a multi-table tournament on a major site pre-Black Friday. Similar to such poker tournaments, winning requires an insane amount of luck and a fair amount of skill, but the payoff can be astronomical, such as DFS website FanDuel's Sunday Million, which has a guaranteed first-place prize of $300,000 every week for a $25 entry.
For those looking for a less risky option offering more readily-accessible prizes, there are the contests in which a set percentage of the field takes home a cut of the prize pool. For a poker player, think of these like sit-n-goes. They can range in size from a few thousand players down to just two, known as a head-to-head. Head-to-heads and "50/50s," both of which feature half of the contestants collecting payouts and half coming up empty-handed, are the most commonly played of these variants.
Plenty of varying stakes are available for players with any size bankroll. Even the dead broke among us can get in on the action; FanDuel has a freeroll every week in the NFL that awards $1,000 in prizes. DraftKings has a number of "Quarter Arcade" and "Micro Booster" tournaments for just a quarter that can get the micro grinder rolling. Each site also offers plenty of satellite-type tournaments that will be familiar to poker players as a means of getting into bigger buy-in events for a lower cost.
Use the sub-headers and filters on your DFS page to sift through the games and find what you're looking for.
Drafting a Team
Now that you've picked out your game of choice, it's time to get down to the nitty gritty (also the fun part): drafting your team.
Each DFS site gives you a set amount of salary with which to start. It's up to you to decide how to distribute that salary amongst the positions, which will vary slightly depending on which DFS site you are on. DraftKings, for instance, features a lineup with one quarterback, two running backs, three receivers, a tight end, a defense, and a flex, while FanDuel eschews the flex in favor of drafting a kicker like most season-long leagues.
Another factor that must be taken into account when deciding which players to buy is your DFS site's scoring system. Often, there will be slight differences between different sites, so be sure to pore over the scoring before making any drafting decisions. One example would be calculating points-per-reception, known as PPR, a popular scoring system in season-long leagues. DraftKings scores a full PPR, whereas DraftDay and FanDuel score 0.5 PPR. That drastically changes player valuations.
Most scoring will be "standard" for yards and touchdowns, with rushing and receiving gains worth 0.1 per yard and six per touchdown, while passing gains are worth .04 per yard and four per touchdown. Some sites such as DraftKings offer bonuses for hitting yardage benchmarks. Defenses also score similar to most standard season-long leagues, with sacks worth one, takeaways, blocked kicks, and safeties worth two, and touchdowns worth six. Additional points can be gained or lost based on points allowed.
Things to Think About
Drafting a team can be a long, involved process that takes hours of poring over research and relevant articles, or it can be a 30-second process that's done in a few short clicks. It's all up to the user and what kind of experience he or she wants to get.
If you're looking to do a bit of due diligence before you draft your first team, here are some things to keep in mind before you start spending that fake dough.
Matchups - Of course, Peyton Manning is going to outscore Andy Dalton 90 percent of the time, but if Dalton is playing the Jaguars and Manning is playing the Seahawks, you're going to want to factor that in. Dalton's going to come a lot cheaper, so he may well be the better option.
Injuries - Along the same vein, if run-stuff monster Vince Wilfork is sitting for the Patriots, the opposing running back is suddenly going to be a much better option, so don't forget to look over injuries. Also, late scratches can create huge value on backups since the salaries are locked in early in the week.
Venue – Is the game outdoors or indoors and how is the weather going to be? New England's second-best receiver might look like a sneaky buy on paper, but if he's playing in a blizzard, don't bother. Similarly, a kicker suiting up for a game in a dome is a step ahead of his peers.
Betting Lines – There's a reason the vast, vast majority of sports bettors can't beat the books long term – the lines are pretty damn sharp, especially in a big market like the NFL. Check out spreads, totals and player props for a good clue as to how games are likely to play out and players are likely to perform.
Public Perception – If you're playing against a large field of opponents, it's important to think about which players they are likely to be buying. If Aaron Rodgers has had five huge games in a row, you can bet your bottom dollar everyone's going to be snatching him up, so you should probably look elsewhere.
Similar to poker, DFS is simple enough to grasp and play but has plenty of layers once you dive into it. The intricacies of the game will come as you gain experience, but have fun and draft a few teams in the meantime!