New Year's Resolution #1: Try Three New Poker Sites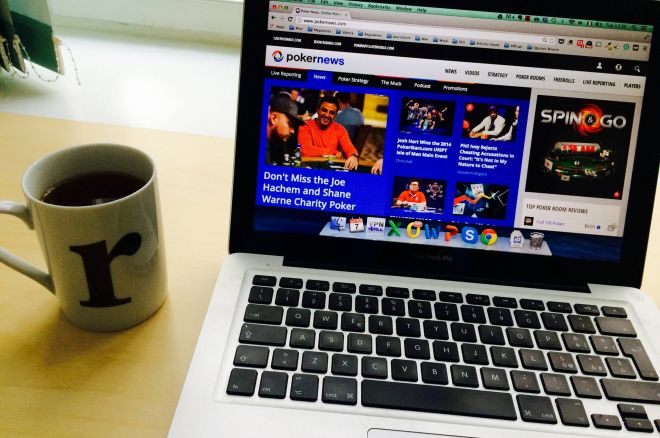 It's not easy to set realistic new year's resolutions.
You start the new year thinking that you know what you would like to achieve during the next 365 days, you do some proper planning to understand how to make everything happen…and finally it's December again. And all you can do, is to shift your ambitious goals to yet another 'new year' with the hope that things will go better next time.
Some call this 'the art of procrastination,' others prefer to call it 'failure.' You are free to choose the denomination you prefer - as long as you do everything you can to avoid the mistake to put off until tomorrow what you can do today, as the US Founding Father Benjamin Franklin used to put it.
To help you set some proper (and realistic) goals for 2015, here at PokerNews we have decided to prepare a new series of articles that will give you some pretty simple and straightforward advices that could turn this into a year to remember. Have a look at all of them to discover some new useful ideas for your next poker games.
Try three new poker rooms
If you feel like you are not getting the results you deserve and you think you could get a lot more out of your poker skills, why don't you change the poker room?
Stop whining about that horrendous series of bad beats that killed your bankroll during 2014, or about that bunch horribly lucky beginners that keeps winning hands with the most random hole cards. If things are not going as you want, do something. Change something.
Try to play against a different field. Sometimes a decision like this one can turn into a life-saving change because the level of the players is definitely not the same in all poker rooms.
I am sure you love to open PokerStars, Full Tilt or 888poker and lose yourself in their endless list of crazy-rich tournaments and cash games.
But, here the question is: are you winning as much as you could be? If you are - go ahead, stay where you are and enjoy your profits. If you are not, try this little trick: head to a new poker room, one you have never played at before, and play there for a week or two.
Remember: the smaller the room is, the more chances you have to avoid sharks and professional players. Sure, this will probably mean that you will not be able to play in uber-rich series as the TCOOP or the FTOPS, but - ask yourself: is it worth to play for a $15m guarantee when in the end all you do is to waste one buy-in after the other?
So, here's the deal: if you are not 100% satisfied with your result, follow our advice and try three new poker rooms in 2015.
Try one during one week every three months, and you will have all the time you need to still play at your 'main' poker site and at the same time experiment some of the games available at three new sites.
Have a look around. On Jan.1, PKR Poker (aka. the 'house of recreational players') launched a splendid welcome package that will reward your first deposit with a 200 percent bonus up to $1,000.
At the same time, you can also get a free $10 no deposit bonus at Titanbet poker by simply opening an account, and a 200 percent bonus up to €750 (plus tokens to play six different €500) freeroll at BetPokerWay.
Think about this: if it's true that one man's trash is another man's treasure, stop chasing other men's treasures. Go where most of us don't and you may finally find your treasure in the form of easy games, good bonuses and a soft field.
Get all the latest PokerNews updates on your social media outlets. Follow us on Twitter and find us both Facebook and Google+!