Online Poker Shared Liquidity Between Nevada and Delaware Could Begin in 4-6 Weeks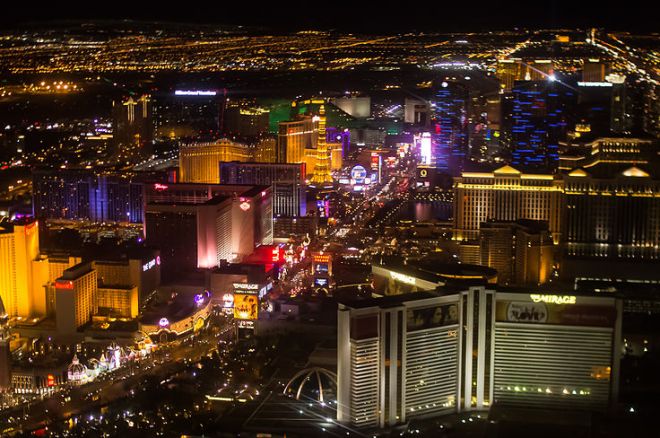 One year ago, Nevada Gov. Brian Sandoval and Delaware Gov. Jack Markell signed off on an agreement that would allow for the two states to join together for online poker. This would see the two states be able to share liquidity and online poker player pools — a necessary step in the right direction for the game's growth, especially in the United States' new regulated online poker market.
A month later, reports were that Sandoval was eyeing a summer launch for the interstate compact, but that time has since come and gone. Now, Sandoval is optimistic to see everything come to light in the next four to six weeks, according to an interview with Steve Tetreault that appeared in the Las Vegas Review-Journal.
"An agreement Sandoval signed last February with Delaware Gov. Jack Markell for their states to share online poker players should go live in four to six weeks," Tetreault writes. "Sandoval said 'technical glitches' delayed the rollout that was expected last summer, but he has been told by Nevada gaming regulators it now is 'imminent.'"
More About the Attractiveness, and Not Actual Numbers
This is promising news, but one that poker players and those within the industry shouldn't risk everything on. Given the landscape of the US regulated online poker market, these movements tend to take longer than anticipated. Seeing the two states finally share liquidity for real would certainly be progress in the right direction, though, and would come off the heels of another positive development in the US market after New Jersey online poker recorded its second consecutive month of revenue growth. Unfortunately, discussions of shared liquidity involving New Jersey never progressed.
According to PokerScout, a site that monitors online poker traffic, Delaware's only online poker provider, Delaware Poker, which is operated by 888, has a very small player pool. The six-month average for real-money ring-game players on the site is about 10, or about 0.0011 percent of the population (approx. 936,000). In Nevada, where the population of the state is approximately 2.84 million, WSOP.com NV has been operating with an average of approximately 125 real-money ring-game players over the last six months — or about 0.0044 percent of the state's population. When the agreement between the two states gets the green light, WSOP.com NV and Delaware Poker will begin sharing liquidity. While this is good, we have to be careful not to think the two states are all of a sudden going to see a huge boost.
Online poker hasn't exactly caught on in the state like it has in Nevada, but Nevada has a greater gaming culture and some Delaware residents could easily have relocated to New Jersey without having to make a massive leap away from their homes. WSOP.com NV is also the premier online poker site in Nevada backed by the World Series of Poker, which is arguably the biggest brand in poker. This lends itself to a greater exposure to the population.
While the small numbers may be worrisome and those in Nevada may think that the only benefit of such liquidity sharing would come to those in Delaware, the most important thing will be the increased attractiveness of this agreement once things are in motion. That itself should spark greater interest in online poker. Right now, the numbers in Delaware might be so small because those in the state may simply opt to not play online poker because the numbers being too small for their liking. But with the ability to play with the Nevada player pool in more games and a wider variety to choose from, there will be excitement. This excitement could then grow the amount of players playing from the State of Delaware, which then has an effect on the combined player pools.
Lead photo courtesy of EconomicOldenburger, Wikimedia Commons.
Get all the latest PokerNews updates on your social media outlets. Follow us on Twitter and find us on both Facebook and Google+!