Officials Elaborate on 2015 WSOP Colossus Event; Warn Players to Preregister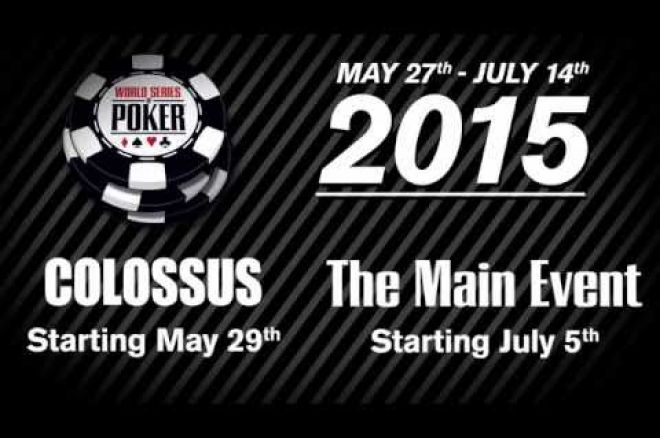 The 2015 World Series of Poker is right around the corner, and no event is garnering more interest than Event #5: $565 "The Colossus" No-Limit Hold'em. This event will kick off the opening weekend on Friday, May 29, and it is highly expected to produce a massive turnout.
The five-day tournament features a guaranteed prize pool of $5 million, and there's no doubt it's going to be a jam-packed affair with conservative estimates putting the field between 10,000-15,000 entrants, while optimists say it could even surpass 20,000.
"It's all over the map internally, so I'm not sure if there is a real WSOP consensus number," Seth Palansky, Vice President of Corporate Communications, tells PokerNews in regards to field-size estimations. "I believe I'm the most optimistic of everyone, and when I say optimistic I have something like 24,600 as my projected number, but I'm getting laughed out of the building."
It's certainly a very large number, but Palansky's projection is based off several factors including early preregistration, feedback from various contact points, and most importantly, numbers from last year's Monster Stack and Millionaire Maker.
"The reality is 75-80 percent of all the people eligible to reenter [the Millionaire Maker] did," Palansky says. "So those are the sort of things I'm using when trying to judge this one. Maybe it's taking the extremes of our most successful events, but I think the Colossus has the potential to fall in that range."
To accommodate the massive turnout, the WSOP has arranged for four starting flights, each with two "Late Waves," which will seat players with the 5,000-chip starting stack but entering at the current level and blinds.
"It's going to be a biggie, but it is a big operational challenge," says Palansky. "I still have nightmares over Monster Stack last year, so at least we learned a bunch of lessons and now we're going to try to implement them."
Players will be assigned seats on a first-come, first-serve basis. Once the flight's initial capacity has been reached, registration for that starting flight closes. Seats will then be sold to "Late Wave Flight 1" (approx. 750 seats) and once all those seats have been sold, seats will be sold to "Late Wave Flight 2" (approx. 1,000 seats).
Players may not reenter the same flight, but reentries are allowed for the following flights. Players may forfeit their current chip stack at the end of the flight prior to bagging if they choose for the opportunity to reenter another flight. Players may not enter another flight once they have survived a flight with chips and haven't forfeited them.
Each Day 1 flight will play 10, 40-minute levels (7 hours, 45 minutes of play time) with no dinner break. The 10 a.m. flights are estimated to end at 5:45 p.m., and the 6 p.m. flights will end around 1:45 a.m. All times are local Las Vegas times.
The surviving players will then return on Sunday, May 31 for Day 2. The restart time is to be determined, but likely will be 1 p.m. at the earliest. Then, on Monday, June 1, the remaining players will play Day 3 in the Amazon Room, which is where all subsequent days will be played.
WSOP Colossus Flight Schedule
| Day and Time | Starting Seat Capacity | First Late Wave | Second Late Wave | Capacity |
| --- | --- | --- | --- | --- |
| 5a: Friday, May 29 at 10 a.m. | Seat up to 4,600 | Late Wave 1; 12:25-1:40 p.m.; Seat up to 750 | Late Wave 2; 2:45-4 p.m.; Seat up to 1,000 | Day 1a Capacity: 6,350 (est.) |
| 5b: Friday, May 29 at 6 p.m. | Seat up to 4,000 | Late Wave 3; 8:25-9:40 p.m.; Seat up to 750 | Late Wave 4; 10:45 p.m. - 12 a.m.; Seat up to 1,000 | Day 1b Capacity: 5,750 (est.) |
| 5c: Saturday, May 30 at 10 a.m. | Seat up to 4,600 | Late Wave 5; 12:25-1:40 p.m.; Seat up to 750 | Late Wave 6; 2:45-4 p.m.; Seat up to 1,000 | Day 1c Capacity: 6,350 (est.) |
| 5d: Saturday, May 30 at 6 p.m. | Seat up to 4,000 | Late Wave 7; 8:25-9:40 p.m.; Seat up to 750 | Late Wave 8; 10:45 p.m. - 12 a.m.; Seat up to 1,000 | Day 1d Capacity: 5,750 (est.) |
In order to play the event, players need a Total Rewards card. They're available on site at the Rio, but those looking to get a jumpstart on the process can sign up for one in advance and pick it up with their preregistration packet. Click here to sign up for a Total Rewards card.
For a look at "The Colossus" structure sheet, click here.
WSOP Highly Recommends You Preregister Now
Tournament officials strongly encourage those looking to play "The Colossus" to preregister, which is open now through May 12. You can also register at the Rio Main Casino Cage now through May 26, and then beginning on May 27 at 8 a.m., the WSOP Cage in the Rio Convention Center will open and remain open 24 hours a day.
"Plan for lines and delays if you choose to register the day of the event," the WSOP warns. "We will not be able to push back start times to accommodate line delays."
For those that do preregister online, all you have to do when you get to the Rio is report to the specially designated Information Desk in the Rio Convention Center Rotunda across from the WSOP Retail Store to get your seat assignment and receipt. Just be sure to bring you photo I.D.
Furthermore, you are encouraged to register for all flights they wish to play all at once. Remember, seats are non-transferable, and only the player named on seat card may enter the event. If you register for multiple flights and are fortunate enough to survive a flight with chips, you will receive a refund for any un-entered flights.
Here is information regarding the refund process:
Refunds for "The Colossus" will only be processed starting Sunday, May 31 at 1 p.m. local time.
In order to receive a refund, players must take their unused seat card, receipt, I.D. and Total Rewards Card to the Payouts & Player Services Office in the Diamond/Seven Star side of the WSOP Main Cage.
No refunds will be processed for Colossus players before May 31 at 1 p.m. local time.
The refund process is different for this event and is required to allow enough time for organizers to properly reconcile and balance "The Colossus" registrants and ensure a successful process to register entrants into the event.
"It's by far the most successful one," Palansky reveals about preregistration thus far. "Typically the Seniors Event is the most successful, but while that one is doing well, we've never had tracking on an event like we do The Colossus right now."
Click here to preregister for 2015 WSOP events.
Who Can Sponsor an Event?
PokerNews also had the chance to speak with WSOP Executive Director Ty Stewart to ask about Event #55: $1,500 Draftkings 50/50 No-Limit Hold'em, more specifically whether or not the WSOP is open to other entities, corporations, etc. sponsoring bracelet events in the future.
"The short answer is 'maybe,'" says Stewart. "It's not as simple as being a sponsored event. It's that the daily fantasy sports (DFS) business is in many ways quite similar to the poker business, and we respect all the science they have put into developing their offering. One of the staples of DFS has been the super-flat payout — and so it seemed only natural to extend our partnership by trying what has worked for them."
For more information on the 2015 World Series of Poker — including a look at the entire schedule — click here.
*Lead photo courtesy of the WSOP.
Get all the latest PokerNews updates on your social media outlets. Follow us on Twitter and find us on both Facebook and Google+!