Pros React to WSOP Schedule and Online Bracelet Event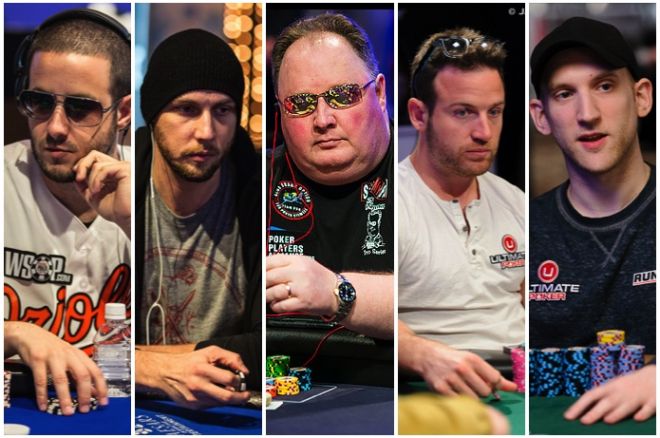 Earlier this month, Caesars Entertainment released the official schedule of events for the 2015 World Series of Poker, which will feature 68 bracelet events beginning on May 27. In addition, officials made several changes from past years. First, they did away with the $10 million guarantee first prize in the Main Event, instead opting to pay 1,000 players, and then they decided to offer deeper-than-usual starting stacks and improved structures in events with buy-ins below $10,000. Finally, they included a laundry list of new events.
Among the packed schedule are events such as Event #5: $565 Colossus No-Limit Hold'em (May 29-June 2), Event #55: $1,500 DraftKings 50/50 No-Limit Hold'em (June 27-29), and Event #67: $10,000 Dealer's Choice (July 3-5), just to name a few. The schedule also includes Event #64: $1,000 WSOP.com Online No-Limit Hold'em (July 2-3), which will be the first time in history the WSOP will award a bracelet for an online event, though the final two players will have to play the heads-up portion live at the Rio All-Suite Hotel and Casino.
So how did the poker community feel about the new events, specifically the WSOP.com bracelet event, and the new changes? PokerNews decided to find out.
Warm Reception to the Schedule; Bigger Starting Stacks Are Good Idea
2012 WSOP Main Event champion and WSOP.com ambassador Greg Merson: "My least favorite part of the schedule is the $111,111 One Drop event being two days long. I feel it should be a three-day event, but I understand why it's now."
2004 WSOP Main Event champion Greg "Fossilman" Raymer: "I think that's something that all the players want. We're used to it everywhere else we go — you know, starting out with a quite deep stack. If you're someone who doesn't like that, then just register late if you don't want to play the very deep-stack portion."
Three-time WSOP bracelet winner Dutch Boyd: "What I like about the schedule this year is it feels more accessible to casual players. The buy-ins are lower, which is almost certainly going to lead to bigger turnouts and will increase the ROI of the top-tier competitors.
"I think it was a great idea to raise the starting stacks. This change is good for everybody — it's good for pros because it allows them to fade a bad beat early on without destroying their tournament, and it's good for amateurs because it gives them a longer time at the felt — more bang for their buck. When you're coming out to Vegas without really expecting to bring back home anything but a story, it's better to have that story be longer."
Twitch master and bracelet winner Jason Somerville: "I was disappointed that there wasn't much different being offered than last year as far as mid- to high-stakes no-limit hold'em events are concerned. The ante-only events have been dropped from the schedule and there really aren't any new or innovative variants being offered. That being said, the schedule last year was certainly solid, and I feel similarly about this one."
Former Ultimate Poker pro Dan O'Brien: "I think the schedule is laid out beautifully with an exciting event seemingly always around the corner to look forward to. Even more than that, I think the starting stack increases in the smaller buy-in events are a tremendous improvement and allows for a lot more play in the first hours of the event.
"I'm a bit disappointed that the big lowball events conflict with some of the largest prize pool no-limit hold'em events, but I think that makes sense from a scheduling standpoint. I'd just prefer not to have to choose."
Poker ambassador Matt Glantz: "There is nothing about the schedule that I particularly don't like. I think Jack Effel and Ty Stewart have figured out a schedule that is as close to optimal as possible under the constraints they are given."
WSOP bracelet winner Trevor Pope: "The thing I like least about the schedule is this $500 event they decided to toss into the mix. The WSOP is a zoo as is, and the registration lines for this small of a tournament buy-in are just going to be insane and a huge headache to deal with. I may consider just skipping it and buying a bunch of sweats in it from others looking to play because the thought of playing two days and min-cashing for $700-$800 is quite tilting."
2014 WSOP Player of the Year Runner-Up Brandon Shack-Harris: "I'm enamored by the schedule as a whole. I think the WSOP did a fantastic job of listening to the players and meticulously crafting a calendar, rather than lazily plopping events to fill blank slots. I'm glad to see the $10,000 Razz will be running for a second year, and that a $10,000 Dealer's Choice event has been added to the mix."
Mixed Feelings About Offering a Bracelet on WSOP.com
Merson: "My favorite part of the schedule is the online bracelet. Online has been a big boost for the game and rewarding the industry with a bracelet is amazing."
Shack-Harris: "I haven't done any reading on it. Security issues aside, I try to find the line between 'what's good for poker,' and 'what's good for the WSOP,' when it comes to things like this, or giving away bracelets outside of Vegas, and I'm just unable to see it for myself here. When a successful entity does something that confuses me, I try to give it the benefit of the doubt rather than write it off, so I'm sure there's a purpose. I expect I will be at a table already, and prefer not to be distracted, so I probably won't be participating."
Raymer: "I'm probably not going to play, but I'm fine with it. I'm sure there are some people out there that think it's not the World Series, that the World Series is face to face and all that kind of stuff, but I don't see the big deal. I guess just the heads-up is going to be live. Personally, I would have done the whole final table or none of it in person, but at least this way though they guarantee someone isn't ghosting someone else's account all the way to victory."
Glantz: "I feel that anything that can grow the WSOP and grow the interest in poker is good for everyone. If a bracelet helps toward that goal, I am all for it. I might play the online event, but hopefully I am deep in a live event when that one comes up and won't have that choice."
Somerville: "I'm totally cool with the WSOP running an online event. It'll be great for their online site's ecology and seems perfectly reasonable to award a bracelet to the champion. The days where you could only get your hands on a bracelet at the Rio or Binion's are long over. If you can win a bracelet in Europe or Melbourne, why not also by competing on the Internet?"
O'Brien: "I think the online event is a great commercial idea for the website, but is also a step toward recognizing online poker as a medium on equal footing as live poker. I don't want to see the WSOP move toward online as I think the festival atmosphere is one of its biggest draws, but I think having one event online is great and I look forward to playing it if I'm free."
Boyd: "I have mixed feelings about making an online tournament a bracelet event. On the one hand, there is no doubt a ton of skill that goes into winning a large $1,000 event online. I'd expect that event to get a good chunk of entrants, so in that regard it's more worth of being a bracelet event than, say, some of the [WSOP Asia-Pacific] prelims. On the other hand, there is so much going on at a live poker table that enriches the game. Live poker has so many different dimensions that make it a truer test of skill. Anyway, I'm not planning on playing it."
Pope: "I think the WSOP online event is going to be quite overrated. I am guessing the structure is going to be pretty bad, and the thing that the WSOP probably doesn't understand is that the majority of online poker players prefer to play multiple tables. Saying that, getting all these online pros to sit there and play one table is going to be quite funny to me. I think a lot of these players are just going to be gambling it up and trying to go for a stack fast, so my advice to any amateur deciding to play it — wait for the chips to be gifted to you.
"I personally won't be playing the online event because I will just get too bored playing one table myself and it will be a good day to take off. I don't think a bracelet should be awarded for this event because the WSOP has history behind it, it's a poker series played at the casino where all you need is a 'chip and a chair' as they say, but this is putting a whole new spin on that because now you need a good computer, reliable Internet, a place to play, and probably some good tracking software. I am just not a fan of this being added to the schedule overall but who knows, maybe it will be a huge turnout and will push online poker in the right direction."
| Player | Favorite Part of Schedule | Least Liked | Thoughts on WSOP.com Event |
| --- | --- | --- | --- |
| Greg Merson | WSOP.com bracelet event | One Drop being two-day event | Loves it |
| Greg Raymer | Deeper starting stack | No Ante-Only event | Not against it |
| Dutch Boyd | Lower buy-ins appeal to casual players | No complaints | Mixed feelings |
| Brandon Shack-Harris | $10K Razz and Dealer's Choice | "Millionaire Maker" conflicts with $10K Razz | Against |
| Dan O'Brien | Bigger starting stack | Big lowball events conflict with big NL events | All for it |
| Jason Somerville | $111,111 One Drop return | No new/innovative variants | Cool with it |
| Matt Glantz | $10,000 Dealer's Choice | No complaints | Could be good for game |
| Trevor Pope | $5,000 structure improvement | "Colossus" event | Overrated |
Looking for more insight and discussion about the 2015 WSOP schedule? Check out Episode #267 of the PokerNews Podcast where Daniel Negreanu joins Rich Ryan and Donnie Peters to break things down.
What's the WSOP's Take?
In addition to speaking with players, PokerNews had the chance to chat with Bill Rini, Head of Poker for WSOP.com, for a few pointed questions.
PokerNews: What inspired the idea to have a bracelet event on WSOP.com during the 2015 WSOP?
Rini: "An online bracelet event has been something that has been debated back and forth here at CIE for a long time. The opportunity to enter is the same as every other bracelet event on the schedule. In fact, for this one you can be anywhere in Nevada, where all the others, you must actually be at the Rio. Online poker is legal and regulated in the U.S. now and it seemed like an appropriate time to recognize online poker as an integral part of the overall poker experience."
Will the WSOP be doing anything to help players sign up for the event?
"We have done big registration drives the past two years at the WSOP and we think we have registered a large percentage of WSOP participants already. We're taking a slightly different tact in that we're trying to provide charging stations, Wi-Fi, etc. We have a mobile product now and players can sign up on their own phones and tablet devices so there seems to be less need to have a dedicated infrastructure to sign people up. But that said, people can register now in advance if they don't have an account yet and be in better position once they arrive at the Rio. Players can go to WSOP.com and create their account."
Are there any plans to have a bracelet event in New Jersey at some point in the future?
"That's an interesting question because online defies boundaries yet regulations draw new boundaries. We'll run satellites into the bracelet event from New Jersey so there's really no restrictions on New Jersey players playing other than they have to be physically present in the state of Nevada to play. But if you think about the WSOP, all the bracelet events in the U.S. have required you to be in Las Vegas, so there really isn't anything different here.
"We look at it more as another variant of poker being offered on the schedule — an online variant for the very first time. While you should never say 'never,' I don't foresee holding a New Jersey-only bracelet event. The more desirable outcome would be the eventual sharing of Nevada and New Jersey liquidity so that New Jersey players could compete against players in Nevada for a bracelet."
What feedback have you received from players on the WSOP.com bracelet events?
"We sort of expected players who were asking about an online bracelet event to be supportive, and they have been. We always want to continue to evolve the WSOP, remaining ahead of the curve and offer new variety and opportunity. This event certainly accomplishes that. Players have been expecting this evolution for a while. It seems natural that as online poker becomes online and regulated in the U.S. that there would be convergence with live poker."
What are your thoughts on the 2015 WSOP schedule as a whole? Which events are you most excited about? Will you be playing the WSOP.com bracelet event? Let us know your thoughts, and be sure to get all the latest PokerNews updates on your social media outlets.
Follow us on Twitter and find us on both Facebook and Google+!