2012 WSOP October Nine: Greg Merson Keeps His Normal Routine Heading into Final Table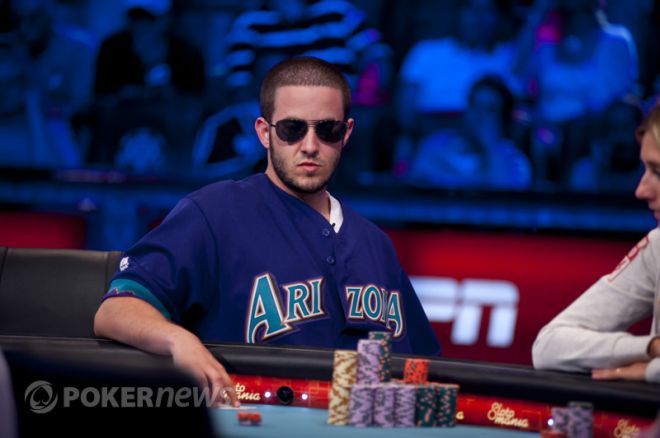 It seems that every year, the final table of the World Series of Poker Main Event has one headliner. In 2010 it was Michael "The Grinder" Mizrachi, and last year it was 2011 WSOP Player of the Year Ben Lamb. This year, that honor goes to Greg Merson, who won Event #57: $10,000 No-Limit Hold'em Six-Handed for $1,136,197 and his first gold bracelet in the days leading up to the Main Event. If Merson, who begins the October Nine third in chips with 28,725,000, can play his way to victory, he will not only win the $8,527,982 first-place prize and his second bracelet, but he will also become the 2012 WSOP Player of the Year.
The masses may not have been familiar with Merson prior to 2012, but he's been a competent competitor in the poker world for the past eight years. The Maryland native cut his chops online and achieved the coveted Supernova Elite on PokerStars an impressive three times. Merson's career year comes at just the right time as he's recently turned his life around. His summer is certainly a testament that hard work and perseverance pays off.
PokerNews recently caught up with Merson to talk about the October Nine, Player of the Year, and what he's doing to prepare for the biggest final table of his life.
You played at the World Series of Poker Europe, but besides that, have you been playing much since making the October Nine?
That was the first live tournament I'd played since Vegas. I've been doing the same stuff that I was doing before. Living my normal life as much as I can. I've been playing more live certainly, but I've played a bunch live over my career so I'm not too concerned with that. I've been playing some cash games and just my normal routine.
You're a three-time Supernova Elite, so obviously Black Friday had a big impact on you. Did you start playing more live when online poker was taken away?
I stopped getting Elite after 2010, and I moved to Full Tilt Poker in 2011. When everything shut down, I moved to Toronto after the Series and was playing on Euro sites. That's what I did up there for nine months. I went up there for two weeks recently to play eight or nine events of the WCOOP, but I was mainly playing cash games. I then went home for a day and went off to Cannes. So I've been on the road for a while.
Let's talk about the WSOP Player of the Year title. Is that something that's on your mind?
I definitely want to win, but I'd rather just win the Main Event. If I do that, everything will take care of itself. I wanted to lock it up at the WSOP Europe, but that didn't happen.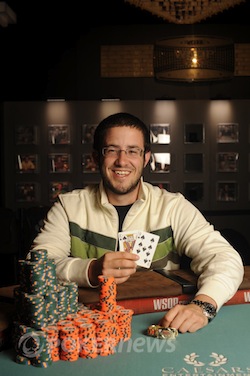 Obviously you want to win the Main Event, but if you could lock up second-place money right now and forgo the shot at the title, would you do it?
I think I would take it. My stack's worth $4 million, and second is $5.29 million. I haven't really looked at the payouts. I actually thought that third was less than it actually is. So yeah, I would take it.
What have you been doing to prepare for the final table? Have you been watching the broadcasts on ESPN and studying your opponents?
Yeah, I've been watching every week, but there hasn't been too much out there to study my opponents. That will all come in October broadcasts. I haven't gotten a coach or anything like that. I have general game plans that I think people are going to take, but it's still just going to be adjusting on the fly. That's what poker is.
You first got into poker by watching ESPN. What's it like to be that guy who is now playing on ESPN?
It's pretty surreal. It's so cool for my family and friends to get to see that. It's definitely really nice for myself as well, but more so for them.
Speaking of family and friends, who will you be bringing to Vegas to sweat the final table?
I have a nice group of people coming out. They're getting t-shirts made.
T-shirts don't seem to be your forte as we always see you wearing a jersey. Can we expect you'll be wearing one at the final table?
Yeah, I think I'm going to wear my high school baseball jersey, but that's going to depend on what sponsorships come my way, if I get approached by a brick-and-mortar casino that wants to have me wear their stuff.
Have any sponsorship opportunities presented themselves?
Yeah, I've had a bunch. One that I accept, one that I may be accepting, and a few that I turned down. This is all new to me — the business side of poker. It's crazy. Having my own website now, I just never thought I'd see that.
Do you have any plans for the money that you'll win?
I'm going to upgrade my sports car, but nothing too crazy. I want to go in the low six-figure range, but not $200,000. I want to keep it reasonable and have something to look forward to. Right now I have 2005 BMW M3, but I was looking at the Porsche 911 during the break just to get an idea. Now I think I'm leaning towards an Aston Martin — a used one.
Does winning the bracelet and becoming the Main Event champion mean something to you?
Yeah, it definitely does. It would certainly change my life. I feel I'd be way more comfortable with it after than I am with it right now. As the pressure starts to build as we get closer, it's starting to become more and more real. Everything happens so fast. I didn't even get to realize that I had already won a bracelet. There was just so much stuff within weeks of playing poker nonstop. Each week seeing more coverage of myself is making it super surreal. I certainly want to win.
PokerNews will be live blogging from the October Nine Final Table, which you can view in our Live Reporting Section. Don't forget to follow us on Twitter and like us on Facebook.