2012 WSOP October Nine: Michael Esposito Ran Triathlon Before Playing Main Event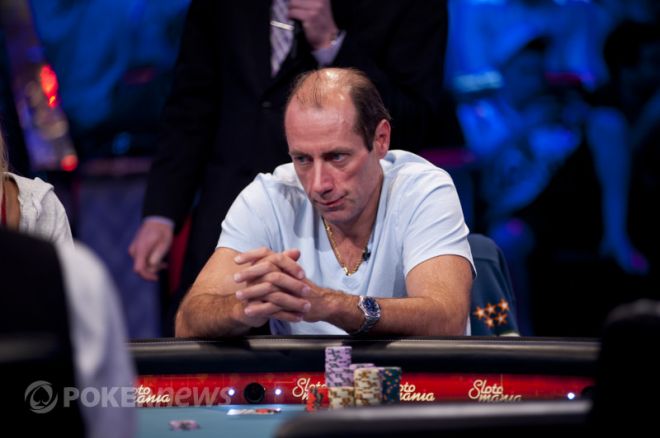 Michael Esposito, 44, enters the World Series of Poker Main Event final table sixth in chips with 16.26 million. A commodity broker from New York, Esposito has three previous WSOP cashes for a combined $27,311, including a 540th finish in the 2006 Main Event. In 2011, Esposito won a $350 no-limit hold'em event at a World Series of Poker Circuit stop, earning $8,467 and a WSOPC gold ring.
PokerNews had an opportunity to sit down with Esposito and talk about the upcoming final table.
Hey Michael, thanks for sitting down with us. First of all, how has the break been?
The break has been fine. It's a little weird to go through the break and have all the time in between, but I've basically been going to work and doing the same things I was doing before.
So you wish that it had just finished in July?
I would've been OK with that.
Prior to 2012 your deepest run in the Main Event was 540th place. When did you start to feel like this was different, more special?
In years past, I went out [to Vegas] and I had different things on my mind and different things going on in my personal life, and this time I went with no distractions. I think going out without any distractions I felt good about it from Day 1.
On Days 2 and 3, I had very long days, but once I got through the dark periods — where you're losing hands on the river, where guys are calling big bets on the turn and hitting flushes on the river — once those days passed and I was still around, I relaxed and kept fighting.
I kind of had a feeling that as long as I kept playing the way I was playing, I'd just keep going on.
In an recent interview, you said that you ran in a marathon the day before you flew to Las Vegas to play in the Main Event. Are there any marathons scheduled before the final table?
[Laughs]. I actually did the New York City Triathlon the day before, and it's funny if I would've known – in Vegas there's a half-marathon on the Saturday that I'm getting in — if I would've known that, I actually would've flown in on Friday and maybe ran that.
The running helps the "run good?"
Yeah you know what, you kind of go to the table in a relaxed state of mind. I find usually that if I show up like that, I'm OK.
Have you prepared at all for the final table? Do you have a coach or anything?
I think I've had decent enough success and I've gotten deep enough. I think everybody kind of realizes in life it's a very thin line. This isn't the first time I've played. I've been in different situations.
Have you been watching the coverage on ESPN?
I have. I've watched a bit of it. It's interesting how some of it is edited. It's been fun watching it.
What have your family and friends said about the coverage and your run?
Everybody's happy and I got a lot of people coming out, which will be very exciting. They're looking forward to going. Right now, I have like 55 people coming, so it's definitely going to be a lot of fun.
In your opinion, which of the other Octo-Niners is the toughest?
I think that they're all skilled, tough players. It's going to be tough for whoever is going to succeed.
Is there a particular player they you played with a lot during the Main Event?
I played with Jesse [Sylvia] during a lot of the tournament. We sat next to each other various times. I played with Russell Thomas a bit and I played with Greg [Merson] a couple of times during the event. But it was funny because I didn't play with Rob [Salaburu] until we were down to like 12 players. If you told me he was in the tournament I wouldn't have ever known. And the same thing with Steven Gee, I didn't see him once until we got to the final table.
Would you lock up second-place money right now if it meant you'd have to give up your shot at the bracelet?
I think everybody, I mean I personally, would definitely entertain that. It's a dream to go win, I always thought that I would have an opportunity to go win this, but would I take the money as a retirement for my life? I think you would have to consider taking that, knowing the game.
What do you plan to do with the winnings?
I'll be honest, I don't really need anything. I'm planning to take a nice vacation and put it into retirement. I'd probably do the same thing I do now: play a couple of tournaments a year. Maybe I'd play a couple more.
I have what I need. At the end of the day, some nights I like to go out for a steak dinner and some nights I get back to the house and just eat a sandwich. It's really no different.
Follow PokerNews on Twitter for up-to-the-minute news.