2012 WSOP October Nine: Russell Thomas on Going Pro, the Final Table, and More
For the past two years, Russell Thomas has worked as an actuary at Aetna Insurance in Hartford, Connecticut. The 24-year-old, from Bryn Mawr, Pennsylvania, graduated from Temple University with a bachelors degree in actuarial science. Thomas, a member of this year's World Series of Poker October Nine, is already guaranteed a $754,798 payday, though $8,527,982 is up for grabs for a first-place finish.
Thomas has already stated that if he does well enough in the Main Event, that he'll give up his job as a number cruncher and turn his part-time hobby into a full-time career. Although Thomas is a working man, he is far from a poker amateur; in fact, Thomas had three WSOP scores totaling $126,796 prior to making the October Nine. His largest came in 2010 in Event #16: No-Limit Hold'em Six-Handed, where he finished fifth in his very first WSOP tournament for $84,256.
PokerNews recently caught up with Thomas to talk about the October Nine and what he's doing to prepare for the biggest final table of his life.
We understand you and October Nine chip leader Jesse Sylvia used to be roommates. What's the story behind that?
We met each other online and we both looking for a place for the summer in Vegas. We had played a little bit together, like small and mid-stakes. I found him and a couple of other guys and we got a nice place in Vegas for the 2010 WSOP.
You and Jesse are obviously close friends after having lived together. Do the two of you talk final-table strategy?
We know each other's thought process so well already that it's not a big deal to talk game. Jesse talks hands more than anybody I know, so it's not like he's being super guarded. I don't really mind sharing some of the hands from the tournament.
In 2010 you had an $84,256 score after finishing fifth in the $1,500 No-Limit Hold'em Six-Handed event. What was that like?
It was my first WSOP tournament ever and I took fifth, so that was a pretty awesome way to start my trip. I did well in cash my first year too, I essentially tripled my bankroll the first week I was in Vegas, which is pretty amazing.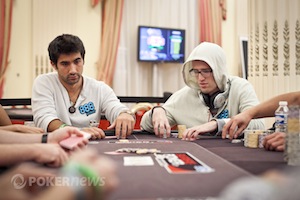 Does making the October Nine triple your bankroll again?
[Laughs] It does way more than that.
What have you been doing to stay busy since making the October Nine?
I haven't been playing much the past year because of Black Friday, so I was really rusty coming in to the WSOP. I definitely want to use this time to get better and get sharp for the Main Event. I'm a little anxious about how long it's taking to get to the big day, but I'll be ready when it comes.
You had a day job before coming to the WSOP, right?
Yeah, I've been working for two years. I took three weeks of vacation time to go to Vegas and play a couple $1,000 and $1,500 events. Obviously I didn't go back to work after making the Main Event final table. I went back to train my replacement, but I'm on a leave of absence until after the October Nine. I'll probably be going pro, but I wanted to leave my options open.
What was the reaction from your coworkers, family, and friends upon making the October Nine?
Everyone was really excited for me. Random coworkers were coming up to me, ones I didn't know, and congratulating me. The news travels super fast. It was pretty cool. A lot of them are coming out to watch in October.
It looks like about 100 people will be coming, like 20 members of my family, 15 to 20 coworkers, college friends, poker friends, it adds up real quick. I don't know exactly what they're going to do, but I know we're getting shirts made. I don't know of a designs or anything yet.
What's your plan for the days leading up to the final table?
I plan on going out to Vegas about a week beforehand, get on the right sleep schedule, which is going to be sleeping in late as it [the final table] starts at five. So I'm going to be sleeping in until like one, which is tough for me because working a day job for two years, I've woken up at 7 a.m. every day. I'm not on a poker player's sleep schedule right now.
You start the final table fourth in chips and you'll be playing against some stiff competition. What are your thoughts on the final table?
I like my position at the table. I don't have super-strong players to my left, though I have a couple good players to my left. Greg Merson is really good, but he's like four to my left, and Jesse's across the table from me. I think I have one of the weaker players on my right. It's definitely a tough group of players, but I like my position.
Do you have any big plans with the money that you'll win?
I don't know. I want a new car, but other than that I don't have any outrageous purchases I want to make. Don't know if I want to buy a house because I don't know where my house would be if I bought it. I'm still trying to figure out where I'm going to live after the Main Event actually. I don't know if I want to live in Canada where I can play online poker, or live back in Philly. I don't know.
Speaking of online poker, did you have a lot of money tied up online after Black Friday?
I have a decent amount on Absolute Poker that I'm never getting back, but it's all good now. It's really small compared to the final table score. I lost maybe 30 percent of my real-life money.
You, Jesse, and Jake Balsiger signed with 888poker. How did that opportunity come about and how has it been going?
They approached me after Day 6 of the Main [Event], but I didn't sign with them then. I signed with them after I made the final table when I met all the 888 people. I really like them. They flew us out to the European Poker Tour Barcelona and WSOP Europe in Cannes, which is really nice. I enjoy being a part of the team. Me, Jake and Jesse have become better friends because of it.
PokerNews will be live blogging from the October Nine Final Table, which you can view in our Live Reporting Section. Don't forget to follow us on Twitter and like us on Facebook.
All promotions are subject to local jurisdictions