The WSOP on ESPN: Playing Down to the Final Fourteen

The 2012 World Series of Poker on ESPN continued Tuesday night with two new episodes of the Main Event. Last week, Day 7 ended with only 22 of the original 6,598 still in contention for poker's most coveted bracelet and the $8,527,982 that accompanies it.
This week's episodes were the second-to-last before the final table reconvenes and plays down to winner. However, before that could happen, the field needed to lose 13 players. The man best positioned to make a run at the final table at the top of the broadcast was Rob Salaburu, who was the chip leader at the top of the broadcast with 23,155,000. Other notables who remained in contention were Marc-Andre Ladouceur, Greg Merson, Jacob Balsiger, Russell Thomas, Elisabeth Hille, and Gaelle Baumann, the latter two looking to become the first woman to make the Main Event final table since Barbara Enright did it in 1995.
Here's a look at the final 22:
| Player | Chip Counts |
| --- | --- |
| Rob Salaburu | 23,155,000 |
| Russell Thomas | 18,945,000 |
| Scott Abrams | 18,875,000 |
| Marc-Andre Ladouceur | 15,675,000 |
| Greg Merson | 14,670,000 |
| Jacob Balsiger | 13,590,000 |
| Michael Esposito | 12,985,000 |
| Danny Wong | 9,760,000 |
| Elisabeth Hille | 9,335,000 |
| Jeremy Ausmus | 8,580,000 |
| Jamie Robbins | 8,335,000 |
| David Balkin | 7,740,000 |
| Percy Mahatan | 6,650,000 |
| Wilfried Harig | 5,580,000 |
| Gaelle Baumann | 5,005,000 |
| Jesse Sylvia | 4,140,000 |
| Steven Gee | 4,100,000 |
| Bobby Corcione | 3,640,000 |
| Robert Buckenmayer | 3,640,000 |
| Andras Koroknai | 3,505,000 |
| Paul Volpe | 3,375,000 |
| Cylus Watson | 595,000 |
Get to Know Greg Merson: A segment was aired giving an inside look to Greg Merson, who won Event #57: $10,000 No-Limit Hold'em Six-Max for $1,136,197 just days before the start of the Main Event. The intimate look at Merson revealed he had returned home to lower Maryland to pursue a relationship, one that did not work out. At the start of the year, Merson discovered yoga, a sort of New Year's resolution as he explained it. "They had a bunch of free classes in my building, so I went and checked it out one night. There's like 14 chicks and I'm like one of three guys, so I thought it was a good ratio for me, so I just kept doing it. The odds were in my favor."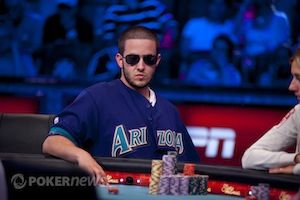 In a hand shortly thereafter, Cylus Watson moved all in from the hijack for his last 920,000, and Merson called 760,000 more from the big blind.
[U]Showdown[/U]
Merson:
Watson:
Watson was just a 54 percent favorite. The
flop dropped that to 16 percent as Merson paired his ten, and the
turn and
river sent Watson home in 22nd place for $294,601.
A Rare Straight Flush: Dave Balkin opened for 325,000 from early position with
and received a call from Marc-Andre Ladouceur, who held
in the hijack. Wilfried Harig then called from the big blind with
, and he was glad he did as the flop came down
and gave him a flopped straight flush. He checked, Balkin did the same, and Ladouceur took a stab at it with a 545,000 bet. Harig then woke up with a check-raise to 1.2 million, and both his opponents folded.
"That check-raise was awful," commentator Norman Chad said. "You know there's only been one straight flush in Main Event Final Table history. In 1994, champion Russ Hamilton made one when he busted Vince Burgio in fourth place."
Off to the Races: At the outer table, Bobby Corcione got his last 4,315,000 all in preflop holding
and was racing against the
of Scott Abrams. The
flop gave Abrams the lead with a pair of queens, though Corcione tripled his outs on the
turn. Unfortunately for the 34-year-old poker pro, the
river blanked and he was sent home in 21st place for $294,601. Not too shabby for his first-ever Main Event.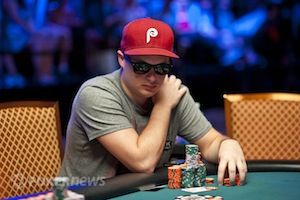 Three-Way Affair: Steven Gee moved all in from the cutoff for 3.91 million holding
only to have Danny Wong move all in over the top with
on the button. Paul Volpe then looked down at
in the small blind and called off his stack. There was 11,195,000 in the main pot, which Gee could win, and 630,000 in the side, which Volpe and Wong were both eligible to win.
The
was kind to Gee as it gave him an open-ended straight draw, but the
turn was no help to him nor Volpe. Much to Wong's dismay, the
spiked on the river to give Gee the triple, though he still managed to eliminate Volpe in 20th place for $294,601.
Robbins Misses the Final Table Yet Again: After Jamie Robbins raised to 500,000 with
, 21-year-old Jacob Balsiger three-bet to 1.2 million holding
. Robbins, who finished 11th in the 2009 Main Event for $896,730, made the call and then both players checked the
flop. When the
turned, Robbins moved all in for his last 3,585,000 and Balsiger snap-called. Robbins needed either a queen or diamond that didn't pair the board on the river to stay alive, but it was not in the cards as the
peeled off. A dejected Robbins shook hands with the table and then took his leave in 19th place for $294,601.
Aussie, Aussie, Aussie, No, No, No: With the blinds at 100,000/200,000 and a 30,000 ante, Australia's Dave Balkin opened for 425,000 from middle position with
. Michael Esposito called right behind with
, the rest of the field folded, and the flop fell
. Balkin didn't know he was in dire straits, and he promptly led out for 625,000. Esposito made the call and then bet 925,000 after his Australian opponent checked the
turn. Balkin responded by moving all in for 5.07 million and Esposito snap-called. The
river was not the one-outer Balkin needed, and he was sent home in 18th place for $369,026, making it the highest finish for an Australian in the 2012 Main Event.
Buckenmayer Retired: Johnny Moss was the oldest player to ever win the Main Event at the age of 66, but Robert Buckenmayer had the opportunity to take the record from the legend at the age of 67; however, he first needed to get lucky as he was all in preflop for his last 4.1 million with
and up against the
of Wilfried Harig. Unfortunately, the board ran out an uneventful
and the oldest player left in the tournament hit the rail in 17th place for $369,026.
"That was a Sick Turn": Percy Mahatan opened from the hijack for 450,000 with
and was called by chip leader Rob Salaburu, who held
in the big blind. The
flop saw Salaburu check-call a bet of 550,000, and then he moved all in when the
turn gave him two pair. The short-stacked Mahatan seemed perplexed but called off his last 3.01 million nonetheless. "That was a sick turn," Mahatan said before the
river sent him to the payout desk in 16th place to collect $369,026.
A Little on Balsiger: ESPN paid a visit to Arizona State University to learn a little bit more about Jacob Balsiger, who had a chance to become the youngest Main Event winner ever. They featured Balsiger on walkabout through the ASU campus, and then told the story of how the young man was hit by a truck while riding his bicycle home from school one afternoon. "I don't really have much memory because I cracked my skull. I just have a few five-second clips of being on a MRI machine, waking up having no clue what was going on," Balsiger explained. "The success I've had in poker has given me more confidence in life… I don't take life so seriously now. Everything seems a lot more relaxing and more fun."
German Down: Greg Merson opened for 400,000 with
and received a call from Michael Esposito, who held
in the cutoff. Wilfried Harig then looked down at
on the button and moved all in for 2.455 million, Merson four-bet, and Esposito got out of the way. Harig was an 87% favorite, but that dropped a bit to 76 percent when the
flop gave Merson a pair of kings. The
turn hit Merson big time and made him the 73 percent favorite, while the useless
river sent the last German standing to the rail in 15th place for $465,159.
Tune in Next Week: Every week leading up to Oct. 30, ESPN will air two episodes of the 2012 WSOP Main Event. Next week's coverage picks up with just 14 players remaining and will play down to the coveted October Nine. Be sure to either check your local listings or come back next week for our recap of the action.
Don't forget to follow us on Twitter and like us on Facebook.
Executive Editor US, PokerNews Podcast co-host & 2013 WSOP Bracelet Winner.