The WSOP on ESPN: Greg Merson Takes Center Stage as Day 6 Concludes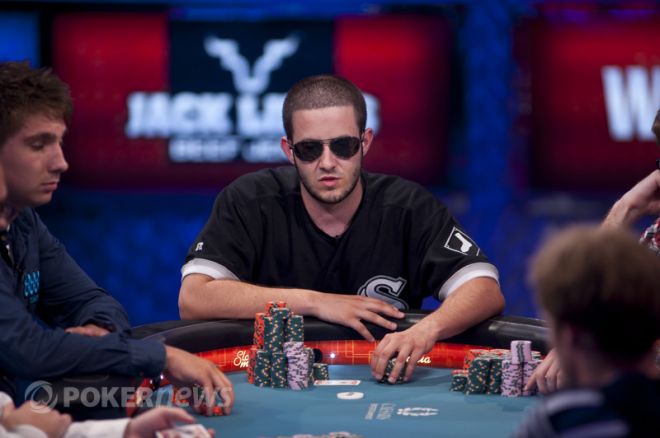 ESPN's coverage of the 2012 World Series of Poker continued Tuesday night with two new episodes of the Main Event. Last week, Day 6 kicked off with 97 players back on the felt, and by the end of the coverage, only 59 remained.
This week, coverage of Day 6 commenced and resumed until only 27 players remained. Featured prominently throughout the broadcast were Greg Merson, Elisabeth Hille and Gaelle Baumann as each continued his and her trek to the final table.
Here's a look at the top stacks when play began:
Middle of Day 6 Top 10 Chip Counts (according to ESPN broadcast)
| Place | Player | Chip Count |
| --- | --- | --- |
| 1 | Daniel Strelitz | 9,070,000 |
| 2 | Robert Corcione | 7,015,000 |
| 3 | Jeremy Ausmus | 7,005,000 |
| 4 | Cylus Watson | 5,970,000 |
| 5 | Erik Hellman | 5,770,000 |
| 6 | Jacob Balsiger | 5,765,000 |
| 7 | Kyle Keranen | 5,595,000 |
| 8 | Nicco Maag | 5,535,000 |
| 9 | Gaelle Baumann | 5,405,000 |
| 10 | Robert Buckenmayer | 5,105,000 |
Spotlight on Merson: When the show leads off with Kara Scott interviewing you beside the ESPN Feature Table, you are doing something right. This week the one with that honor was Greg Merson. On the heels of his win in Event #57, the $10,000 No-Limit Hold'em — Six-Handed, Merson was on Day 10 of a run in which he was not eliminated in the tournament he was playing.
So, sure enough, he lost about half his stack on the first hand shown this week. With the blinds and antes at the 30,000/60,000/10,000 level, Merson opened to 125,000 on the button with
. Russell Thomas three-bet to 310,000 from the small blind with
, only to be four-bet by Merson to 555,000. A five-bet shove for 2,100,000 came from Thomas and a snap call from Merson meant Thomas' tournament life was on the line. Fortunately for him, the board ran out
to pair his eight and extend his Main Event. The hand left Merson with about 2,300,000, while upping Thomas' stack to roughly 4,360,000.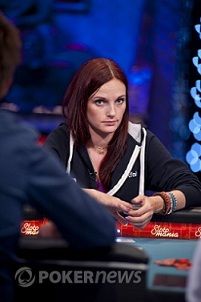 Hille Six-Bet Shoves: Elisabeth Hille was under the gun with
and minraised to 120,000. Action folded to Jean-Yves Malherbe in the cutoff, with
, who reraised to 265,000. After the button and blinds folded, Hille came back over the top to 575,000. That didn't slow down Malherbe, though, who five-bet to 935,000. After asking Malherbe how much he had behind (Malherbe responded by saying he began the hand with about 3,000,000), Hille six-bet jammed with the bigger stack. Malherbe gave up his hand, shipping the pot in Hille's direction. Antonio Esfandiari and Phil Laak discussed the hand in the Pro Analysis segment and were both very impressed by Hille's recognition of her loose-aggressive opponent and her courage to make the stand.
Ladouceur Bluffs Makhija: Picking up the action after a
flop, Amit Makhija put in a check-raise to 450,000 after Marc-Andre Ladouceur bet 190,000. Ladouceur came back over the top with a min-reraise to 710,000. A call from Makhija landed the
turn which both players checked. The
river fell, leading to another check from Makhija. Ladouceur slid out enough T100,000 chips to put Makhija all in. The seasoned online pro was sitting with
and indeed held the best hand, but Ladouceur (bluffing with
) put him to the ultimate test for his tournament life. "Any other river card," said Makhija, who ultimately gave up his hand. Upon Makhija's request, Ladouceur showed the bluff.
Merson Stops the Bleeding: Greg Merson's day was going downhill, but a fortunate river kept his Main Event hopes alive. With the blinds and antes at the 40,000/80,000/10,000 level, Jean-Yves Malherbe min-raised to 160,000 under the gun with
. Merson called from middle position with
, Russell Thomas called from the hijack with
, and Jacob Balsiger tagged along from the big blind with
.
The flop came down
, Balsiger checked, and Malherbe bet 280,000. Only Merson called to see the
turn which Malherbe checked. Merson bet 425,000 and feeling he had the right price to call for just about all of his stack with the flush and straight draw, Merson called Malherbe's all-in shove for 1,125,000. His draw did in fact get there when the
landed on the river to eliminate Malherbe in 48th place.
Merson followed that up a little while later by eliminating Webber Kang in 41st place. Kang opened to 160,000 with
in middle position and Merson called from the cutoff with
. An
flop hit the table, leading to continuation bet of 175,000 from Kang. Merson called, landing the
turn to spice things up. Kang bet 425,000, Merson raised to 1,075,000, and Kang shoved for 3,430,000. Merson called, dodging Kang's flush outs when the
river gave Kang an already defeated two pair.
"You lost, bro...": ...said Robert Salaburu to David Balkin after he doubled up Gaelle Baumann. Balkin's joy turned to agony when he realized he misread the hand described in the next paragraph.
With the blinds and antes at the 50,000/100,000/10,000 level, Balkin opened from under the gun plus one to 220,000 with
. Baumann called from the cutoff with
and Erik Hellman came along from the big blind with
. The
flop gave something to everybody, but Balkin was well in front with his set. Hellman's check led to a Balkin bet of 425,000. Only Baumann called to see the
turn. Balkin fired 1,000,000 this time, but with the nut-flush draw and a gut-shot straight draw (as well as top pair), Baumann called. The
river was exactly what she wanted to see and even more to her delight was Balkin announcing he was all-in. Baumann called and tabled her nut flush. Balkin tabled his set, stood up from his chair, and cheered in excitement with his rail.
"You lost, bro," said Salaburu. Balkin returned to the table and saw the bad news. "Ah ****," was his reaction as 75 percent of his stack went to Baumann.
Robbins Bluffs Gee: Jamie Robbins finished in 11th place in the 2009 Main Event and made another deep run this year. Robbins called from the button with
after Steven Gee minraised under the gun. Roland Israelashvili called from the big blind with
and the flop came down
. Israelashvili checked to Gee who bet 350,000 with his
. Robbins opted to get very creative this hand and put in a raise to 775,000, chasing out Israelashvili. Gee called and a fun turn card came down in the form of the
, giving Gee top-two pair and Robbins a flush draw. Gee check-called 1,000,000 from Robbins, resulting in the
river. Gee checked to Robbins who bet 1,600,000, sending Gee into the tank for a bit before he folded.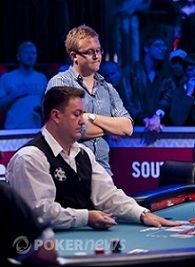 Hellman's Blow Up Boosts Salaburu: With 29 players remaining, Erik Hellman had a comfortable 67-big-blind stack, but two crucial missteps ended his Main Event in 28th place. The first hand came when he min-raised to 200,000 from under the gun plus one with
. From the next seat, Robert Salaburu popped it to 400,000 with
and action folded back to Hellman who four-bet shoved. Salaburu called all in for about 30 big blinds and his kings held up to give him the double-up.
Shortly thereafter, at 60,000/120,000/15,000, action folded to Hellman in the small blind and he shoved for 4,220,000 with
. The fast-acting Salaburu insta-called with
and scored the elimination when the board ran out
.
Tune in Next Week: Every week leading up to Oct. 30, ESPN will air two episodes of the 2012 WSOP Main Event. Next week's coverage will begin with 27 players remaining and Marc-Andre Ladouceur leading the way with 15,875,000 in chips. Be sure to either check your local listings or come back next week for our recap of the action.
Don't forget to follow us on Twitter and like us on Facebook.