2012 WSOP October Nine: Steve Gee Studying Opponents Before Final Table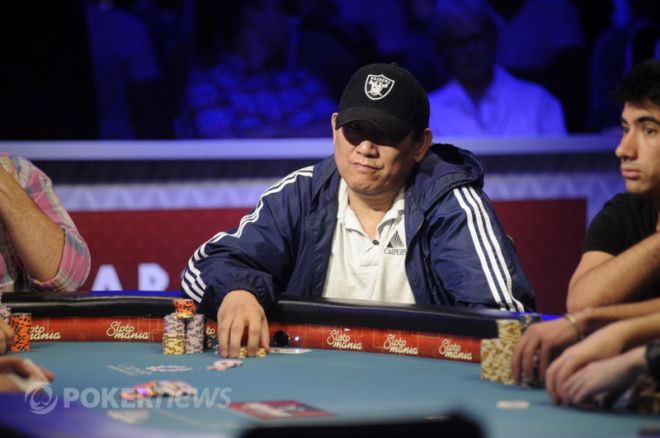 Steve Gee is no stranger to poker. The 57-year-old from Sacramento, California, cut his chops playing lowball in the 1970s. Gee took a break from the game and worked as a project manager of software for the California Public Employees Retirement System. In 2008, he quit his job to pursue poker full time. That decision paid off in 2010 when Gee outlasted a field of 3,042 in a Event #13: $1,000 No-Limit Hold'em to win $472,479 and his first gold bracelet, and now he's ensured an even bigger payday as the elder statesman of the 2012 October Nine.
PokerNews recently caught up with Gee to talk about the October Nine, his previous bracelet win, and what he's doing to prepare for the biggest final table of his life.
You left your job in 2008 to pursue poker full time. What was that like after being gone for so long?
The game has changed so much. When I was playing it was a pool-hustler-backroom-type thing, it wasn't something that you were proud of. Now the whole world has changed, now it's an honorable profession. I upset a lot of people when I came back. My friends, my family, my co-workers, and my managers were all like, "What are you doing?" My win in 2010 kind of validated my decision, so everyone is behind me now. They know I can do it. Two years later I'm at the final table. It really validated the decision.
Did winning a bracelet in 2010 help prepare you for your deep run in this year's Main Event?
It really helped this go around, making that final table. When I won in 2010, I'd never really played tournaments, and to go through a big field like that gives you the confidence that you really do belong, that you can play with these guys. Now I know I can close the deal. I can make it through a big field, I can play the final table against the best players, and I can close the deal.
You have 45 years of poker experience. Do you think that will help you at the final table?
It's really different, though. I mean, I played a long time ago, 30 years ago, but it was really a different game. We were playing ace-to-five lowball draw. We didn't play hold'em. I didn't start playing hold'em until the late 1990s. I then took a break away after going broke, and I went back to school, got my degree, got my job — Monday through Friday eight to five — and I did that for 20 years before deciding to come back. When I came back, it was a different game.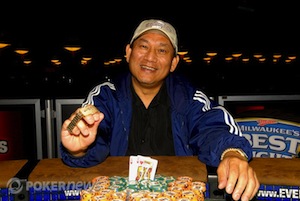 What means more to you, your 2010 bracelet win or making the October Nine?
It's really hard to say. I have to say that the final table this year really means more to me — impacted my life more — than in 2010. That was a special moment because it was my first big win and it validated me as a poker player — but 2012, the moment is just so much bigger.
You've locked up a $754,798 payday and have the opportunity to play for a gold bracelet and the $8,527,982 first-place prize. Do you have any plans for the money no matter where you place?
I get asked that question a lot by everybody. What really happened was after making the final table, I played the Legends of Poker in L.A., and then I went to Las Vegas for a month to look for a house. I just bought my house, so I spent a lot of my money buying that house.
The reality was, I was going to do that anyway even if I didn't make the final table. I was going to buy a house anyway with my previous winnings. I'm going to be a Las Vegas resident now, but my heart will always be in Sacramento. I'm a Sacramento player.
Will you be living in the new house come October Nine time?
Well, I'll be staying at the Rio for the final table. They comped me a room, but I'll be moved into the house by then.
Are you doing anything special to prepare for the final table?
Poker is poker. I'm playing cash games and tournaments all the time, but the only changes I'm making, the only prep, is studying my opponents based on the ESPN broadcast. That's the only difference, because now I can study my opponents and their tendencies.
Do you think your years of experience and prior WSOP final table win gives you an advantage over your younger opponents?
I don't think age gives you any bit of advantage because the younger guys play so many more hands online. Realistically those guys probably played more hands of hold'em than I have. The only edge, the only thing that will help me is that 2010 final table experience. Going through that field, going through that final table, it gives me a lot of confidence.
It certainly sounds like you're ready for the October Nine.
To be honest with you, when I won in 2010 it gave me confidence, and I knew I could do it again. I just didn't expect to have to do it again so soon. Hopefully I'll be talking to you again in October after the final table.
PokerNews will be live blogging from the October Nine Final Table, which you can view in our Live Reporting Section. Don't forget to follow us on Twitter and like us on Facebook.