Jareth East Discusses His Full Tilt Sunday Major Win While Winning the Thursday Thrill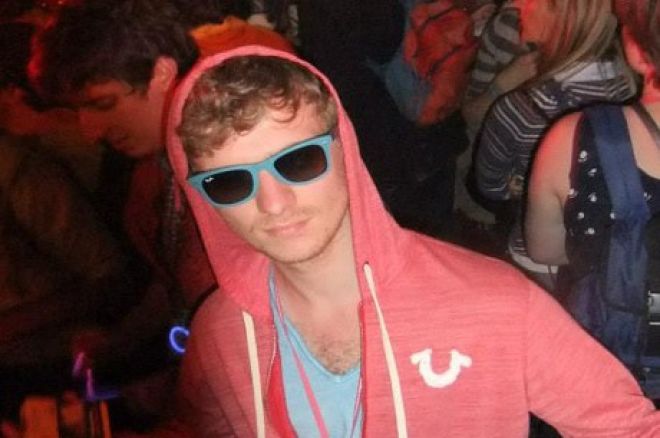 Online poker pro Jareth East went on a nice heater on February. He won the Sunday Major on Full Tilt for $41,460 and followed that up with a win in the Thursday Thrill on PokerStars for $50,065 just a few days later, taking in over $90,000 from the two victories. East is one of the United Kingdom's most successful online poker players with almost $2.3 million in tracked online scores, according to PocketFives, where he is currently ranked 29th in the world.
The most interesting part about it all might just be that East won the Thursday Thrill event while doing an interview with PokerNews about his win in the Sunday Major. Here's how it went down:
PokerNews: How does your win in the Full Tilt Sunday Major compare to your great run beginning at end of 2013?
East: First of all, I am sorry if I am a bit slow while chatting since I am one-tabling the Thursday Thrill. I just just got my first [knockout], so already in profit overall.
This is a tough question for me to answer because I did have a really good run at the end of 2013 and into beginning of 2014. When the first big win came in 2013, it was great and I felt a bit of relief. Before Sunday, I had been waiting a while for a big win on PokerStars or Full Tilt, mainly because of playing so much live poker last year compared to 2013, and I was in for a big amount of make-up with my backers. I was sort of expecting to chip away at it slowly, but to clear it in one go by winning this and getting even more on top was a great relief.
Also to win it in the fashion that I did felt pretty good. It is also kind of funny, because I literally made a last-minute decision to play this tournament and very nearly didn't play it.
Wow, good thing for you that you played. Tell us a little bit about the tournament, did you face any tough tables leading to the final table? Did everything go smoothly?
The final two tables felt a bit tough to me. I had one decent player to my left, "zackattack", on the final-table bubble. Unluckily for him, he lost to me with
to my
all in preflop. This hand propelled me to the final table, which I was obviously happy about.
To be honest, it felt like everything went smoothly during the tournament other than when I made a bit of a semi-optimistic bluff with 30 left, which put me in 28th place. However, I then won an important race to double up, and then went from there.
The final table was kind of sick. I went into the last table in second place, but literally everyone had the same stack apart from the chip leader, who had double the amount of chips than everyone else. So when its like that no one wants to bust first, and there are no short stacks that players are waiting for to bust. It creates a strange dynamic.
My opponents appeared to be playing quite tight, as I was myself. Of course all I had in my head was "no eighth or ninth place, please!" Despite this, I would have never been scared to get my chips in or play any differently just to make sure that didn't happen. If it happened again, it would have happened again.
The big turning point on final table was when I raised
preflop and an opponent flat-called with a queen-high rainbow board. I felt like he was the type of player that would try to win pots a lot, so I just checked to him three times out of position. This worked out well for me since he bluffed all three streets with king-high, which made me chip leader by a semi-decent margin. I just felt if I checked this to him, he was going to hang himself a lot, because he probably thinks I am going to expect him to not fold to my continuation bet. I was trying to deceive my opponent into thinking I was giving up or pot controlling with an under-pair or ace-high.
Were there any thoughts about chopping?
There was no chance I was going to chop this tournament. With four players left, I had 3.5 million in chips, and the other three had around 500,000 in chips each. So I couldn't really see myself not winning from that spot.
No one actually mentioned a deal, but I very rarely like to deal anyway, unless I am up against the top players. Full Tilt has very top-heavy payouts compared to PokerStars, so I knew when I was four-handed, I could just put immense pressure on everyone's short stacks with the big pay jumps.
Tell us what it's like playing backed versus on your own?
After my good run last year, I wish I had decided to go solo, rather than continue to get backed and also back other people, because I lost a lot of money backing, and I continued to win for my backer. So things would have gone a lot better for me if I had done that. However, with backing, you are not playing with your own money. So you feel less pressure in a sense, and there will be less tilt in your game. This is true unless you have a type of backer that puts pressure on you, but that's not cool. Additionally, it is good to be within a stable so you get to meet and talk strategy with other players. Many stables include coaching material as well. However, I think if I felt I had the bankroll to withstand the possible swings of the buy-ins that I play, I would choose to go solo now.
We understand last year was your first visit to Las Vegas for the World Series of Poker (WSOP). Can you tell us about your experiences on and off the felt? Do you plan to return again this year?
I can't even begin to describe the place. I knew Las Vegas would be really cool, but it was what I imagined times 100. I wound up playing a lot less poker than I originally planned as I partied quite a lot with it starting with a pool party booked for the first week I was there.
I was in Las Vegas for an entire month, and the atmosphere within the poker rooms is great. Everyone is so friendly. I made so many friends, plus met a couple of ladies. American girls seems to love guys from London it seems. I just need to open my mouth and it doesn't matter what I say as my accent is good enough.
It was a very good experience, and I was able to cash my first ever WSOP event that I played. Everyone on my table gave me a high five when I busted, as they knew it was my first ever event. I could go on and on forever about Las Vegas. I had the best time of my life there, and fully intend to return every year until I am on death's door.
Get all the latest PokerNews updates on your social media outlets. Follow us on Twitter and find us on both Facebook and Google+!