Chinese Police Shut Down APPT Nanjing Millions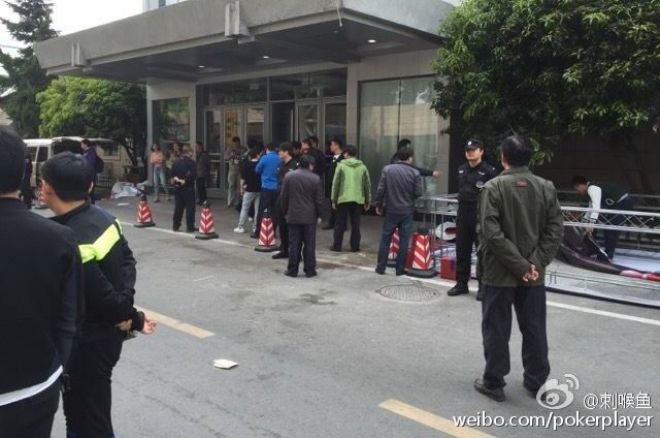 On Friday, April 16, the Chinese National Police shut down the Asian-Pacific Poker Tour (APPT) Nanjing Millions event in Najning, China, at the Jiangsu Wutaishan Sports Center.
"We can confirm that the Chinese National Police stopped a poker event in Nanjing," a representative of the Nanjing police told PokerNews. "At the moment, we cannot release any information about the police operation, but we would like to remind that any gambling activities are illegal in Mainland China."
The police operation that led to the sudden stop of the event that was sponsored by the PokerStars APPT was first reported by the World Gaming Magazine (WGM), which promptly published on their official Facebook page that "The APPT Nanjing Million has been dramatically shut down after the Chinese National Police raided the tournament late this afternoon."
"We're hearing that the office of the tournament organizers has been seized and surrounded by police," the WGM continued, adding that many players were still trying to reach the people responsible for the event to understand how to proceed.
"Due to the APPT Nanjing Millions tournament being suspected of illegal gambling, the police have started an official investigation and have decided to stop the event," stated a note that the authorities placed at the entrance of the Jiangsu Wutaishan Sports Centre. "All the people who took part to the event are now asked to register with the authorities and and cooperate in the investigation."
The APPT Nanjing Millions Main Event started on April 14 and attracted a more than 2,300 entries during four starting days. Although the event was initially supposed to host only three starting days, a fourth starting flight was added by the organizers to meet demand.
At the time of writing, neither the Chinese authorities nor the event's organizers released any information about any arrests being part of the police operation.
Talking to BLUFF, Amaya's Head of Corporate Communications, Eric Hollreiser, said that "After three very successful days of tournament poker, the organizers of the Nanjing Millions decided to postpone the event in order to address questions from local authorities. We are in contact with Star Poker Club and are seeking additional details. The organizers have issued a statement apologizing for the inconvenience and plan to resume the tournament in the near future."
Be sure to stay tuned to PokerNews for more news on this story as it develops.
Photo courtesy of Weibo.com.
Follow us on Twitter and find us on both Facebook and Google+!