Pennsylvania Hearing Provides Positive, Insightful Testimony in Favor of Online Gaming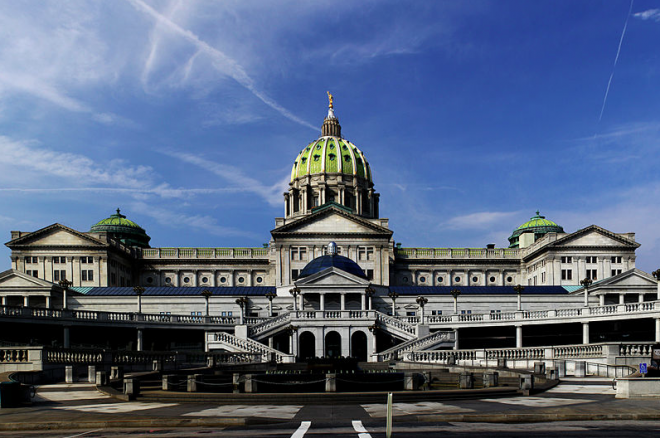 Thursday's hearing in the Pennsylvania House Gaming Oversight Committee showed what can happen when Sheldon Adelson's anti-online gambling rhetoric is met by educated lawmakers prepared to question his scare-tactic generalities and untruths. In short, Adelson and his lackey are made to look foolish.
Chief Adelson lackey and Las Vegas Sands executive Andy Abboud spewed so much nonsense at the hearing that the Poker Players Alliance produced an eight-page document directly refuting 18 of his points.
Abboud even implied that the Justice Department opinion that the Wire Act doesn't apply to online gambling outside of sports betting was paid for by the gambling industry, ironic since there would be no discussion of a federal Internet gambling ban without Adelson's money.
"Sands' testimony today is a house of cards that is more about fear mongering than providing the Committee with meaningful insights on how to best protect consumers," said PPA executive director John Pappas. "It's clear that they are not really concerned about Pennsylvania citizens' safety, but rather the corporation's bottom line. The PPA will continue to share the facts with Pennsylvania lawmakers on why a licensed and regulated online gaming market is the best and only way to ensure citizens are protected through a system that is accountable to regulators and the government."
Pappas also noted that Adelson's casino in Pennsylvania has been fined numerous times for allowing underage children to wager and that Sands actively promotes mobile casino gaming and sports betting at their Nevada properties. The point wasn't lost on the committee members.
Rep. Tina Davis, who has introduced one of three bills to legalize online poker in Pennsylvania this year, asked Abboud what fines Las Vegas Sands has paid. She was ignored. Committee chairman John Payne, who authored a full online gaming bill that was the general focus of this hearing, later had to ask Abboud to keep answers specific to their questions.
It was a refreshing change from last month's Congressional subcommittee hearing in which three witnesses likely hand-chosen by Adelson were allowed to enter dated, misleading, or completely untrue testimony into the record with little pushback.
At the Congressional hearing, Restoration of America's Wire Act (RAWA) lead sponsor Rep. Jason Chaffetz (R-Utah) claimed it was naive to think fictitious borders could be created to keep online gaming out of his home state. Unfortunately, the subcommittee didn't allow for anyone with geolocation expertise to be on the panel.
The Pennsylvania committee didn't make that mistake, inviting Lindsay Slater from GeoComply. She gave a real-time demonstration of geo-location technology at work, putting Chaffetz in his place by showing the technology was so accurate it could tell that two people playing in a New Jersey Starbucks were on opposite ends of the coffee shop.
"We have it pretty much down to a building level," Slater said. "You can see what part of Starbucks you logged in from and, yes, we also know what you did last summer."
Even Abboud, when questioned about how Venetian offers mobile gaming betting but opposes online, mostly skirted the question but did admit that they had the technology to keep the mobile gaming within the casino.
Kevin Mullaly, vice president of government relations for Gaming Laboratories International, which provides testing and certification services for the gaming industry, asserted that the security measures used by regulated Internet gaming sites are the same ones being used by other industries, such as online banking.
"Online gambling is simply a modernization of the delivery of content that your land-based casinos already have the legal right to offer," said Mullaly, in perhaps the most common-sense argument ever made at an online gaming hearing.
David Satz from Caesars Entertainment referred to online gaming as having the ultimate eye in the sky, with every hand and every action monitored, recorded, and audited. Also testifying at the hearing were Chris Sheffield from Penn National Gaming, who discussed the employment opportunities online gaming would add in the state, and Michael Pollock from Spectrum Gaming Group, who provided lessons from New Jersey's experience with regulation.
The day before the hearing, the Pennsylvania House Committee on Gaming Oversight passed a resolution urging Congress and the Pennsylvania delegation to oppose the RAWA. The committee has another hearing on Internet gaming scheduled for May 6.
Photo: Kumar Appaiah via Wikimedia Commons.
Get all the latest PokerNews updates on your social media outlets. Follow us on Twitter and find us on both Facebook and Google+!