Fear-Mongering Testimony Overshadows Facts at Internet Gambling Ban Hearing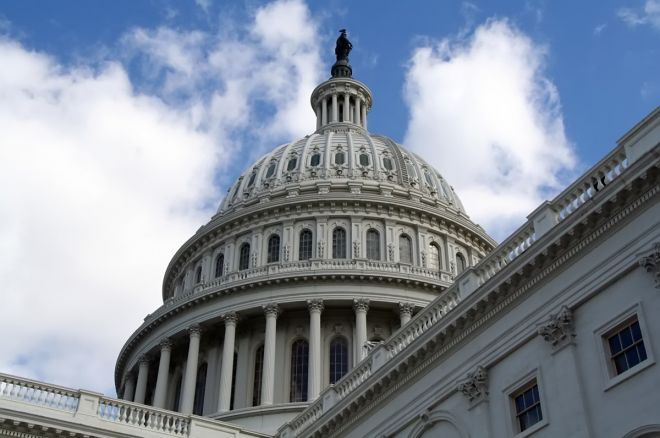 If you prefer to hold a romantic view of being asked to testify in front of Congress as an honor reserved for respected, informed experts in their field, you might want to close your browser and not read this article.
Wednesday's hearing on proposed online gambling ban the Restoration of America's Wire Act (RAWA) in the House Judiciary Subcommittee on Crime, Terrorism, Homeland Security and Investigations included the fear-mongering testimony one might expect in proceedings bought and paid for by anti-online gambling crusader, yet brick-and-mortar gambling billionaire, Sheldon Adelson.
Professional gambling critic John Kindt rehashed the speech he's been giving for the past decade, once again calling Internet gambling the crack cocaine of gambling; Les Bernal, the national director of Stop Predatory Gambling, claimed that prohibition does work in containing gambling and that there is no evidence illegal gambling decreases due to state-sponsored gambling; and former U.S. Assistant Attorney Michael Fagan cited reports of Internet gambling being used to finance terrorism, failing to note that they were in unregulated markets. Ironically, the three gambling opponents would also shut down Adelson's casinos if they had the option.
There were two reasonable witnesses in WiredSafety executive director Parry Aftab, who recognizes that regulation of online gambling in the U.S. will better protect American consumers, families and problem gamblers; and R Street Institute executive director Andrew Moylan, who opposes RAWA for overstepping state rights.
"Internet gambling places real-time gambling on every cell phone, at every school desk, at every work desk, and in every living room," Kindt said, leading into a direct quote of Adelson. "With ease people can click your phone, lose your home or click your mouse, lose your house."
Many of the points in Kindt's testimony were so dated and predictable that we at PokerNews already mentioned them in introducing this character weeks ago when he was first rumored as a witness.
He cited a 15-year-old study that concluded Internet gambling can't be regulated. He quoted scare-tactic titles of reports he edited as illustrating the dangers of Internet gambling, failing to mention that he created the titles. He stated that Russian President Vladimir Putin effectively wiped his country clean of Internet gambling. Yes, he wants the U.S. government to be more like Putin's Russia.
"Killing personal, business, and institutional finances, Internet gambling is widely known as the killer app of the Internet," Kindt said, citing an article from 1995.
Fagan stated that as one of the few people who have been deeply monitoring, investigating and prosecuting Internet gambling, he knows that there is no way the federal government, or any individual or combination of state governments, can expand to the degree necessary to effectively police and regulate scale of legalized Internet casino, poker or sports betting.
"Realistically, no police force or regulatory body will be big enough, skilled enough or funded enough," Fagan said.
Has anyone been to New Jersey lately? After nearly a year and a half of regulated online gambling, I imagine it must have turned into a lawless, chaotic dystopia like the alternate reality version of Hill Valley from Back to the Future Part II.
Although RAWA has no carve out for poker, he goes on to argue against including a poker carve out. He states that online poker can currently be played as entertainment for points, so any poker carve out would not be to enable online poker but to enable online gambling. Clearly, he doesn't have the poker acumen to know that people don't play with the proper strategy needed to sharpen skills unless something of value is at stake, even if it's only nickels and dimes.
Aftab directly countered Fagan's doubts on the possibilities of regulating online gambling, asserting that there is in fact evidence that the well-constructed regulation of online gambling does work around the world and is working effectively in the U.S. in New Jersey, Nevada and Delaware.
She said WiredSafety has surveyed regulators in these three states on nearly two years of online gambling regulation and operations.
"The verdict is in — with the exception of a handful of incidents which were quickly addressed, all stakeholders are safer and minors are being locked out of online gambling sites," Aftab said. "It is much easier for them to get fake IDs and wander into a brick-and-mortar casino than get past the levels of age-gating used by online casinos. If you can't prove that you are an adult, the site is closed to you. Period."
Bernal made what should be a call to arms for poker players to contact their Congressperson and make their voices heard.
"Citizens are not clamoring for these extreme forms of gambling," Bernal said. "States, in partnership with commercial gambling operators, are forcing these gambling games onto the public. If not the federal government, who will step in to protect the rights of individuals, your constituents, against these practices by an active, predatory state?"
Moylan, a late addition to the panel, indicated that RAWA not only overreached from a federalism perspective in attempting to prohibit intrastate activity but was largely unnecessary.
"If a state wishes to prohibit gambling within its borders, it has the sufficient power to do so and sufficient legal remedies at its disposal," Moylan said.
As expected, the Congressmen in attendance were mostly welcoming of the fear-mongering witnesses — lead sponsor Jason Chaffetz (R-Utah) and five co-sponsors are among the subcommittee's 16 members — though there were a few exceptions.
"I am personally opposed to Internet gambling because it is used as a mechanism to launder money, because it causes bankruptcy and breaks up families, and because it can even lead to suicide, as it did for a constituent from my district," said Judiciary Committee chairman Bob Goodlatte (R-Virg.).
He went on to say that he believes Congress does have a role to play in "upholding states' rights" in this area, as it is within the purview of Congress to legislate intrastate criminal conduct that is facilitated using an instrument of interstate commerce such as the Internet.
Chaffetz claimed he did believe this is a states' rights issue, but his concern is that Utah does not want gambling within its border.
"We don't have any form of gaming whatsoever, and it's naïve to think you can create these fictitious borders and prohibit it from coming into the state of Utah," Chaffetz said. "It is fiction for anyone to believe they can virtually create these borders."
He asked if anyone on the panel really believed a technologically savvy 16-year-old could be stopped from getting around geolocation restrictions. Obviously, he did not attend the Poker Players Alliance demonstration put on earlier in the day. Aftab answered that there may always be an exception, but that the three states currently regulating are effectively making people prove they are an adult.
Rep. Ted Poe (R-Tex.) said that federalism is an important issue to him and that he had concerns a ban might cause more crime than there is now, such as with prohibition. Ranking member Sheila Jackson Lee (D-Tex.) said she recognized the societal ills caused by gambling but also mentioned that she was concerned with state rights.
Rep. Cedric Richmond (D-La.) said his concern was with how this would affect the Louisiana lottery. Aftab answered that if RAWA passes, the lottery would go offline.
"Today's hearing was about one thing — checking the box to advance Mr. Adelson's bill," said John Pappas, executive director of the PPA. "While the PPA has always encouraged a national discussion on the value of regulating online gambling, constructing a hearing at the behest of a political donor is an unfortunate waste of everyone's time. This bill should die today, so members of the Committee can focus on more pressing matters, and not on legislation that will deny states the ability to protect its citizens."
Get all the latest PokerNews updates on your social media outlets. Follow us on Twitter and find us on both Facebook and Google+!