A Colossal Experience: A Check Off the Blaycation Bucket List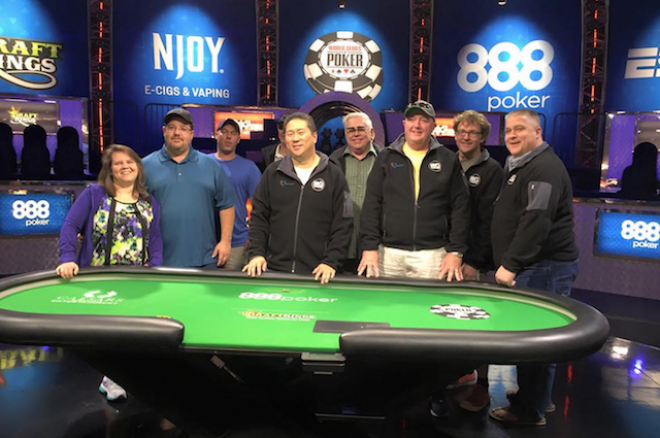 "Why do you go away? So that you can come back. So that you can see the place you came from with new eyes and extra colors. And the people there see you differently, too. Coming back to where you started is not the same as never leaving." – Terry Pratchett
Two years ago, Matt Matros did the improbable and won his third bracelet in as many years, something accomplished by only five other players. The hat trick, which also made him the 55th player in World Series of Poker history to win three or more bracelets, came after he navigated a field of 1,604 players in Event #16 $1,500 No-Limit Hold'em Six Handed to win $454,835.
It was a great story, but one that overshadowed that of Mark Stiles. You've likely never heard that name before. When he emailed me earlier this year, I had no idea who he was, let alone that he'd finished 16th in that same event for $17,323.
"My first time, I was a deer in the headlights, but once I settled down and played my game, my confidence grew and I played at my best," Stiles explained in that email. Of course Stiles' didn't reach out to tell me about a bad beat, or to reminisce about Matros' win; instead, he wanted something people ask me for often – exposure.
Stiles was pitching Blaycation, a company he started to pair people's bucket lists with experiential travel. Inspired by his deep run, which to date is his only WSOP cash, Stiles wanted to introduce first-time poker players to the summer spectacle at an affordable price. An ambitious idea, though not the most novel.
"I want our guests to experience the same type of bucket list experience I did but this time we have a few surprises lined up that will tick off more than one box," Stiles continued before delving into specifics, which included hosting an introductory package built around the WSOP's inaugural "The Colossus" event.
With a $1,650 per person price tag I was a bit skeptical. Sure, that included the buy-in to the Colossus, which cost $565 to enter, but there was still theoretically $1,085 in missing value. The package also included double occupancy hotel accommodations, a welcome dinner, and an experiential component, but I still couldn't help but wonder about the numbers. Was it worth it? Who would actually do it?
I politely indulged Stiles, but ultimately told him such exposure fell more in line with advertising than an editorial story. However, I added the caveat that if he actually got people to sign up for Blaycation, I'd love to reconnect during the WSOP. Fast-forward three months, and I received a phone call from Bernard Lee.
Lee, who finished 13th for $400,000 in the 2005 WSOP Main Event and subsequently positioned himself as a prominent media personality, had joined forces with Stiles. The former had the poker know-how, while the latter was well versed in the minutiae of travel. With Stiles' ambition and Lee's media savvy, the two embarked on a mission to make Blaycation a reality.
Lee informed me that not only was Blaycation up and running, but 11 people had signed up for what he billed as a one-of-a-kind poker experience. Admittedly, it was more people than I expected – hell, I was skeptical it'd even get off the ground – so my curiosity was definitely piqued. I decided to accept Lee's invitation to join the Blaycationers at the welcome dinner, which was held on the first night of the 2015 WSOP.
Gerry McWeeny: From the Travel Channel to the WSOP
After obtaining an evening furlough from the Rio All-Suite Hotel & Casino I made my way to The Linq, which before that was the short-lived Quad, and even further back the Imperial Palace. As I juked between the touristy masses in the hope of reaching Guy Fieri's Vegas Kitchen & Bar – the famed chef's first Sin City restaurant – I spotted Lee. Aside from him I was the first to arrive.
As we waited for the others to filter down from their respective hotel rooms, Lee began to tell me about some of their guests. There was Kurt MacDonald, a high school biology teach from Colorado; Chad Christian and his wife Tammy, both card players also from the Centennial State. Chad had actually won a satellite event at Golden Gates Casino and opted to bring his wife. There was also another husband-wife couple in Jason and Melissa Kucinski, who had celebrated their second wedding anniversary the day before.
Joining them were Warren "Grumpa" Griffth and his buddy Kenny Tilden, old timers from the East Coast, as well as Kempton MacLeod, who it turned out was a childhood friend of Stiles. However, before I had a chance to chat with them all, my ears were intruded upon by a thick Scottish accent, one that I soon learned belonged to 51-year-old Gerry McWeeny.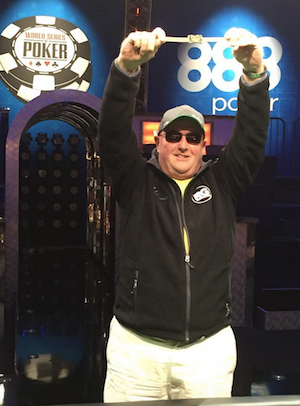 "I sat down in a WSOP Circuit event [at Bicycle Casino], and I thought, 'Oh no Bernard's on my left,'" McWeeny explained when I asked how he learned about Blaycation. "We got chatting and he told me about it. I was very interested. I thought it'd be a good deal, and here I am."
McWeeny came to the United States two decades ago to train and supervise American technicians in specialty energy sector services relating to gas and oil. He was soon promoted to a management position, which came with the added bonus of being sponsored for a green card. In the years that followed, McWeeny earned his citizenship, got married, and settled in California. Six years ago, while sitting in front of the TV, McWeeny discovered poker.
"I picked it up on the Travel Channel, got intrigued, went and tried it, lost my money," McWeeny chuckled. "Then I found out about online poker, went into that, lost my money, and thought I'd better learn if I'm going to play, because I really enjoyed the game. I started reading books, getting involved in forums, and it built from there."
By the time I learned all this, the rest of the Blaycationers had arrived, dinner had been served, and McWeeny and I were a couple Maker's Mark deep. Soon thereafter I excused myself, but with the promise we'd pick up the following day where we left off.
Twelve hours later, I was incarcerated at the Rio and made my way to the Amazon Room, which at the time was closed to the public. Nevertheless, Lee had worked his contacts to gain early access. It was there McWeeny and company were treated to a strategy lesson by Lee and special guest Dennis Phillips, who finished third in the 2008 WSOP Main Event for more than $4.5 million.
"I'm always trying to learn more," McWeeny told me after the lesson. "Part of coming here, for me it's a cheap way of learning. There are so many conflicting ideas on how poker should be played from people who do a little bit, maybe write a book, and someone else contradicts it. It's good to be listening. I retain it more if I hear it rather than just reading a book."
After snapping pictures with his students, Phillips joined me on the rail so I could ask him just what he thought about the whole Blaycation premise.
"Anytime you come out here, it can be very intimidating," Phillips said with the conviction of an experienced man. "You have 500 tables, thousands and thousands of players, and it can be completely intimidating. This allows people to feel comfortable, to put a package together that includes their hotel, dinner, and poker. I enjoyed going over there and talking to these guys, and I think they liked meeting me. It's just kind of a cool concept. These guys can get out, do what they want, enjoy it, and check it off the bucket list."
It sounded like something a paid spokesman would say, but that wasn't the case. Phillips participated because he appreciated the importance of appealing to new players, to those who come to the WSOP with nothing more than dream.
It was a sentiment echoed by McWeeny, "I've previously been [to the WSOP], and most people come with a dollar and a dream. They don't get to experience the whole WSOP. They get to play cards, they come, and they go home 99.99% disappointed. I felt it was a good deal to rub shoulders with some of the poker royalty, and get a little bit of education from a pro, which is always a good thing. I came with an open mind. I didn't know what to expect, but today I've been very pleasantly surprised, and we're only halfway through."
Kempton MacLeod: A Vegas Virgin
After wishing McWeeny luck in the Colossus, I made my way over to MacLeod, who if you recall was a long-time friend of the Blaycation founder. A 46-year-old nurse anesthetist with a wife and three kids, MacLeod now calls Mississippi home while others in his family — mother, father, two sisters and a brother — are back in Nova Scotia.
MacLeod got hooked on poker after Chris Moneymaker won the WSOP back in 2003, but it took another four years before he took up the game.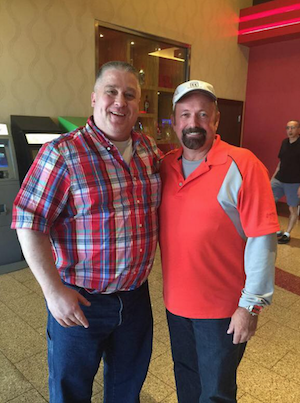 "I started playing myself in 2007," said MacLeod. "I live near Tunica, so we get to go there about once a month. Usually play small cash games. I've never really experienced a big tournament before, but figured if you're going to do it, this is the place to do it. That's one of the reason I came, because of the experience behind it."
Long before poker came into his life, MacLeod competed in other games, most notably soccer, hockey and baseball back in his hometown of Port Williams, Nova Scotia. It was in that little farming community that he and seven other boys, including Stiles, grew up working on a farm. Over the last 30 years, most of them have kept in touch, but as he puts it he and Stiles were the "only two bitten by the poker bug."
Maybe that's why MacLeod signed on so quickly for Blaycation.
"Every guy who's into poker knows this is the place to be, Las Vegas and the WSOP," said MacLeod. "When Mark told me he was getting it going, I placed my deposit within 48 hours."
MacLeod, who had never been to Vegas, wasn't quite sure what to expect, but he was all in.
"Flying into Las Vegas itself, seeing all the buildings, and I was wondering how the heck it ever got to the point it did," MacLeod replied when asked about his maiden voyage. "And just the people, the volumes of people here, and the different types of people. I've been to New York City thousands of times on business trips, but Vegas is an entirely different world. To see what you see here when you walk down the street, it's truly an experience I think everyone should have."
As his fellow Blaycationers explored the Amazon Room, MacLeod seemed a bit more reserved, as if he just wanted to stand there and take it all in. With the biggest tournament of his life on the horizon, I couldn't help but wonder if he was nervous.
"To me it's going to be awe inspiring just to walk in," MacLeod offered. "Most rooms back home have 30-40 people in the poker room, so 12,000, I'm not sure how I'm going to handle that. Nervous, yes, but I'm not setting expectations high. I'm just here to have a good time and experience it. If good things happen, they happen, but realistically with 12,000 people or more, what are your chances? I'm going to go in and play like I play everyday no matter who is at the table with me and go from there."
MacLeod was ready. This wasn't just another tournament for him, this was the tournament. The one he'd prepared for all his life, or at least since he took up the game.
"Once in a lifetime experience," MacLeod explained. "You get to see it all the time on TV, but to walk in here and actually experience it live is my bucket list vacation for sure… Hopefully more people will come and experience this, because it is once in a lifetime."
Grumpa & Kenny: Buddies Forever Poker Club
Both McWeeny and MacLeod were lone wolves, each tackling their respective bucket lists consecutively yet independently. On the flip side, there were two others in the group – Grumpa and Kenny — who were in it together, friends from out east determined to live out their poker dream side by side.
Without a doubt the biggest character in the whole group was Grumpa, a double amputee expertly navigating the ESPN Main Stage on two prosthetic legs.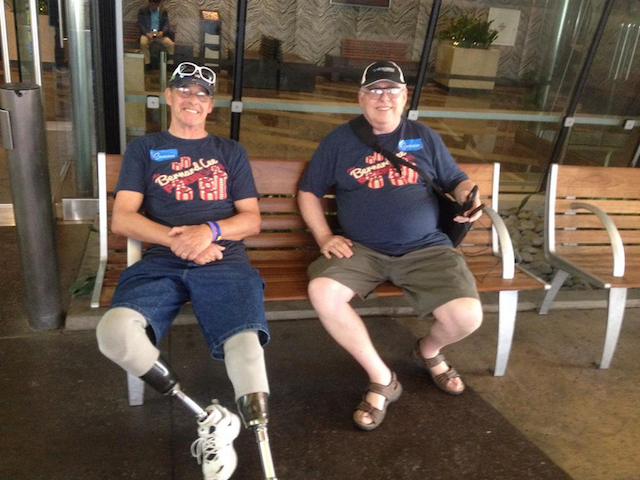 "I was here to see the World Series, to see the stage and rooms, but I couldn't afford to play," Grumpa, who was sitting in the bleachers surrounding the mothership, told me when I asked if he'd ever been to Vegas. "To play has been on my bucket list for a lot of years, a lot of years."
Grumpa, who was affectionately nicknamed by his five granddaughters who believed him to be too grumpy, had been playing poker ever since he was four years old, which is when his father taught him the game with real money.
"I never got into the real big games," Grumpa said without taking his eyes of the barren final table. I haven't been lucky enough to hit the big one, but it's coming. I will be there."
It was clear luck hadn't always been on Grumpa's side – he's been living with diabetes for 50 years and has suffered more than his fair share of complications, including having both his legs amputated beneath the knee – but despite it all he's refused to let it get him down.
"Everything that's happened, and I've had a lot happen, that's why this is a bucket list thing for me," said Grumpa. "I just feel so good about being here doing this that I told my wife if I made the money I'll fly her out. It's her that let me come here."
Grumpa had been married to "this one" for 30 years, and it seemed like a good match as they shared a common hobby.
"She's a card player, not a good one," Grumpa joked. "She is, but when she gets a few drinks, she doesn't play very good, her game changes."
At that moment, Mori Eskandani, the man behind the WSOP on ESPN broadcasts, joined the Blaycationers to welcome them to the WSOP.
"Welcome to the WSOP," he began. "I hope you enjoy yourselves. Don't let people push you around, shove them back. But really, enjoy yourself."
"I'm Seat 5," Grumpa interrupted as he pointed toward the final table. An ambitious prediction.
Eskandani turned to look, spun back around, and quipped, "Make sure I'm in Seat 6, he looks dangerous."
Grumpa shared a laugh with everyone else. I later learned that if Grumpa did in fact make the final table of the Colossus, he planned to fly out his card-playing wife. Until then, he was going to rely on a simple card protector to get him there, one that his granddaughters had engraved with "Grumpa."
After exiting the feature table area and wishing Grumpa luck, I followed as the group moseyed over to a meet-and-greet area, which is where 2012 WSOP Main Event champ Greg Merson was slated to make an appearance. While we waited, I struck up a conversation with Kenny, who was visiting Vegas for the first time; in fact, Kenny hadn't flown on an airplane since 1960, which is when he took an Electra jet to Chicago for boot camp.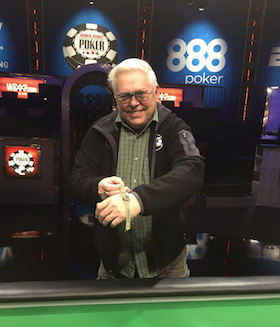 "I'll tell ya, I was pleasantly surprised, I really was," Kenny said of the flight. "It was an excellent flight. No problems, and I enjoyed it. Didn't bother me. It wasn't any worse than being on a ship, which I was on in the Navy."
Sailing and flying may all be the same to Kenny, but not for his wife, who is afraid of both. For that reason, in lieu of long travel the two purchased a travel trailer so they could camp throughout the Northeast. However, Kenny's wife was back home, and it was just him and Grumpa, whom he had known for 10 years.
Kenny, a retired Deputy Director of Surplus Property for the Commonwealth of Massachusetts, had played poker up and down the East coast, but getting out to Vegas was a far-fetched dream, at least until Blaycation came along.
"It's my one opportunity to make it to Vegas," said Kenny. "I really appreciate what Bernard, Mark, and Blaycation are doing because Grumpa probably would never have made it out here again, and I would never have made it out here. It's once in a lifetime for us… unless I win [laughs]."
It was clear that Kenny, who also hosted a local Blaycation satellite (which was won by in Jason Kucinski), was extremely appreciative of the experience, but also edgy.
"A little threatening, I have to admit it," Kenny confided. "I've played poker the better part of my life. I'm 72 and retired for five years now, and you look at these tables, there are a lot of people that are going to be here tomorrow. It's a little threatening and frightening, but I'm just going to worry about my table and go from there."
I did my best to put Kenny at ease, but I'm not sure he heard me as at that exact moment Merson arrived. Kenny, as well as the rest of the Blaycationers, lit up like the Fremont Street Experience. It could have been mistaken for a simple case of being star struck, but really it was the manifestation of admiration born out of a common love for poker. It was a powerful moment for all involved, myself included.
"That's what it's all about," Merson told me in the hallway after the engagement. "If I could do that more often I would. I expected to be here for a half hour, and I would've hung out no problem. Seeing the energy and the passion for the game, that's how I feel about poker, so it's refreshing. Being here can be a drag with people busting everyday and being really depressed, so it's nice."
The world champ departed for one of many events he'll play this summer, while the 11 other players were left a little richer for the experience, with a ticket into the Colossus, and one less thing on their bucket list.
For more on the Blaycation experience, check out PokerNews' video recap:
Blaycation is currently planning another Las Vegas excursion set for July 1-6. The latest WSOP Poker Experience includes entrance into the WSOP Lucky 777 bracelet event, hotel accommodations, a welcome dinner and cocktails, pre-tournament strategy breakfast, private training seminar, tour of the WSOP and its birthplace Binions, a poker gift, additional poker pro appearances and private concierge service. For more information, visit Blaycation.com or contact Mark Stiles at mark@blaycation.com.
Want to stay atop all the latest in the poker world? If so, make sure to get PokerNews updates on your social media outlets. Follow us on Twitter and find us on both Facebook and Google+!