Developing Grind Mentality: Jason Mirza's Journey from Bussing Tables to MSPT Champ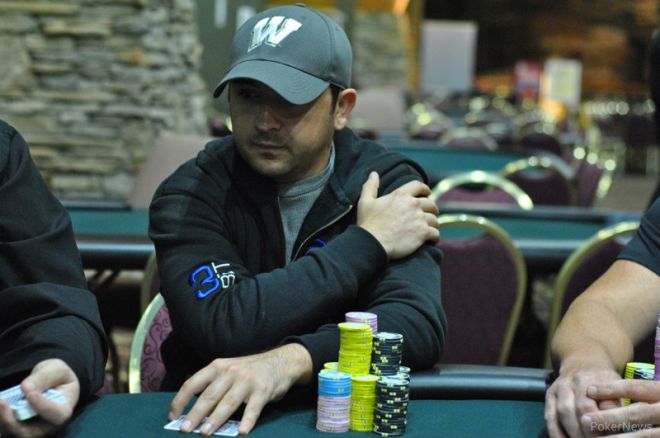 "So here I am, just a grinder really. I'm trying to make the most of these two MSPT events in Wisconsin this year to try to get my name out there."
Those are the words Jason Mirza told PokerNews during Season 5 of the Mid-States Poker Tour (MSPT), which at the time was preparing to hold stops at Ho-Chunk Gaming Wisconsin Dells and Potawatomi Hotel & Casino. Mirza finished 22nd for $2,350 at one of those stops, but it was far from a breakthrough performance. Fast forward a year, and Mirza finally did it.
That's because back in April, he topped a field of 635 entries — a Wisconsin state record — to win the MSPT Potawatomi for $147,529, the first six-figure score of his career. A long-time member of the Wisconsin gaming scene, Mirza suddenly found himself in the poker spotlight, and he didn't mind it one bit.
Mirza's Poker Origins
Mirza was born in Houston, Texas, which is where he spent the first couple years of his life before his mother relocated them to Indianapolis. A few more years passed, and then it was on to Madison, Wisconsin, to be closer to family.
"I have been in Madison since the first grade and have been here ever since, and then I graduated from Verona High School in 2000," Mirza tells PokerNews. "I wanted to go to college, but not immediately after high school. I just wanted to take some time off to travel, but unfortunately, my family pressured me into attending college right off the bat."
Mirza gave college a go, but his heart wasn't in it. After 18 months, he was pretty much burned out and ended up taking a job at a bar frequented by University of Wisconsin students, State Street Brats. It was there that Mirza joined a $.50/$1 limit hold'em game.
"We would work doubles on Fridays, play through the night, go to work Saturday and then play again through the night," says Mirza, whose first experience with poker was as a youngster when an older friend of the family taught him how to play seven-card stud hi-low. "I wasn't very good and lost far more than I won. After that, I found out there were no-limit hold'em tourneys, and that really interested me because I had played soccer all my life and was very competitive. The idea of knocking a player out of a tourney was ideal for me."
The first tournament Mirza ever played was in Madison, home to 13-time World Series of Poker bracelet winner Phil Hellmuth. It took place at the now shuttered pool hall called The Green Room. It was only a $50 buy-in, but Mirza managed to make it to heads-up play where he chopped it for $1,000. He also learned of another tournament across town at Cue-nique, another local pool joint. Before long, Mirza was playing nearly four night a week.
"That was when Madison really started to form a core group of players and I began to play pot-limit hold'em cash games in a friend's basement with most of them," Mirza elaborates. "Some were a few years older than me and some a few years younger than me, but that's when I really thought about taking some time and trying to get better and making a run at it."
One of those players transferred Mirza $100 on PokerStars, and just like that he discovered online poker.
"I lost the $100 quickly and had him send me another $100, to which on my last $5 I won a $4.40 buy-in 180-man tournament," says Mirza. "The next night, I won a $22 buy-in 180-man one, and two nights after that I won the early $11 rebuy for about $6,000. I was bartending at the time, too, but I slowly started to play more and more and work less and less. About a month after that, I took second in the nightly $11 rebuy for $11,000 and stopped bartending."
Mirza's hot start on the virtual felt was documented on TwoPlusTwo, and even led to him joining a stable. However, it proved short-lived as a falling out with his backer saw Mirza go back on his own. Not longer after, Black Friday struck.
"Black Friday hit and I was crushed," admits Mirza. "Right before I had just had a $20,000 week and everything was clicking."
With online poker no longer an option, Mirza's house of cards came tumbling down. He moved to Milwaukee to live with his then girlfriend and ended up working two bartending jobs. As that relationship deteriorated, Mirza found himself at Potawatomi playing $4/$8 limit hold'em, and it was there he grinded away at the low limits.
"I moved back to Madison and got a bartending job again, but was just kind of floating, waiting for my next move," Mirza says solemnly. Enter an illegal, offshore poker site.
"A friend of mine had heard people in the US were playing Carbon Poker and the site was decent," says Mirza. "Before I knew it I had $1,000 in my account and was backed again. A couple months later I was playing full-time and no longer bartending. I played anything as I always have because I love the game, I play $1 rebuys and $530s, but ran up $100,000 in profit running just under a $30 average buy-in. Because I've been around the game so long, my bankroll management is pretty nitty."
Becoming a MSPT Champion
"To be honest, it is very surreal," Mirza says after a few weeks removed from the win. "I suppose as a long-time grinder, I always expected to have a big score, and it feels good to finally get this kind of result. I always thought I would be far more excited when it happened, but through most of the second day, I was very relaxed, and just had the feeling that it was my tournament to lose and fortunately enough, I played really well and ran well in the critical spots."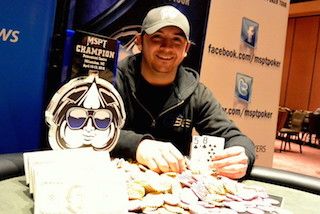 Mirza goes on to tell his plans for the prize money: "My plan is to be smart with it this time. So often, just like other grinders, I have made mistakes with winnings. I have paid off my rent for a year, I paid some other bills, and I bought a few gadgets for myself that I have been wanting for awhile. I plan on taking my girlfriend, Brianna, on a nice vacation, and I am looking forward to having the opportunity to play a lot of the tournaments that I've wanted to play out in Las Vegas, but most importantly, most of it is going in the bank."
This summer, Mirza plans on playing seven events at the WSOP, including the Main Event. It will be a welcomed return for Mirza, who spent the summer of 2014 in Siena, Italy, where his girlfriend, a Ph.D. candidate, studied Italian.
"Work hard, keep at it, as the doubters will be many, and be very honest with yourself along the way," Mirza says as words of encouragement for those waiting for their own big score. "Although we as poker players feel that we deserve scores that we do not get, nothing will be handed to you, so you just have to roll with the punches and be willing to adjust as things play out. Also, don't try to do it on your own; even though poker is a solitary game, find a group of players that you can chat and review with often, as that has been the most crucial element in my improvement throughout the years."
The MSPT will be at FireKeepers Casino in Battle Creek, Michigan this weekend for another $1,100 buy-in Main Event. For details, click here.
Want to stay atop all the latest in the poker world? If so, make sure to get PokerNews updates on your social media outlets. Follow us on Twitter and find us on both Facebook and Google+!
Executive Editor US, PokerNews Podcast co-host & 2013 WSOP Bracelet Winner.