Team PokerStars Online Katerina Malasidou Talks About Her Life as an Online Pro
Julien Tissot

Giovanni Angioni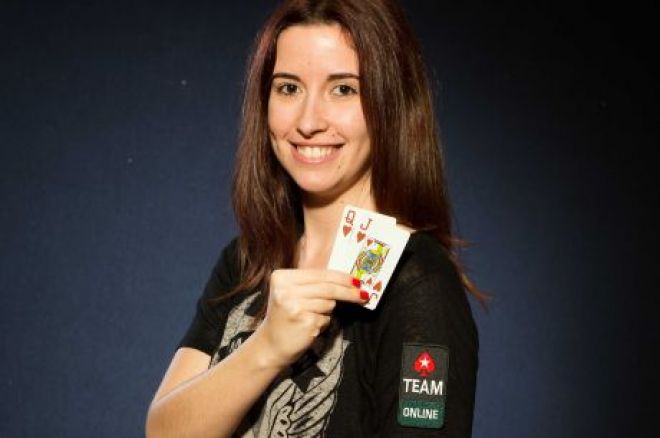 In a world where the majority of the successful players seem to come from a mathematical background, Lisbon-based Greek poker player Katerina Malasidou is a wonderful exception.
A member of Team PokerStars Pro Online since 2014, Malasidou decided to make poker her full-time job after getting a degree in French language and civilization and spending two years teaching French as a foreign language in Athens.
PokerNews.fr's Julien Tissot sat down with Malasidou to know more about her adventure in poker and to discuss her relationship with Portugal's member of Team PokerStars Pro Online André Coimbra, with whom she plans to get married in July.
PokerNews: You played Magic: The Gathering for years before you decided to transition to poker and play professionally. What else should we know about you?
Katerina Malasidou: That I am 30 years old, and that you can find me on PokerStars under "katerina289". Also, I can mention that it was my boyfriend, André Coimbra, that was the one who introduced me to poker back in 2010 when he was already a professional poker player and a member of the Team PokerStars Pro Online.
I have always enjoyed playing, and I met my fiancé at a Magic tournament in Athens. Our love for that game is still here, even if right now poker occupies an important place in our lives. We still continue to participate in small Magic tournaments when we can.
Before you started to play poker at a professional level, you worked as a French teacher in Athens, is that correct?
Yes, before I decided to move to Portugal I graduated from the University of Athens in French language and civilization, and I have taught French as a foreign language for two years. After that, I went to Lyon, France, to improve my knowledge and to get a qualification to teach French as a foreign language. So, it was somehow normal for me to look for a job in education.
Unfortunately, the career of a language teacher is not very easy in Portugal. After I moved to Lisbon, I accepted a job in the accounting department of a large company. A few months later, I decided that this was not what I wanted to do, and I guess that's why poker is my only work now.
Why did you choose to move to Portugal?
Because I fell in love with a Portuguese man and we both realized that, in order to make things work between us, one of us had to move away from his country. André made the first step, but after six months in Greece, he told me that he wanted to go back to Portugal, which was something I could understand since it's never easy to live in a country where one does not speak the language.
That's why when I went to Portugal I made learning Portuguese one of my main priorities. Also, I love foreign languages, and that makes the adaptation a lot easier.
Let's talk about poker now. How did manage to ink a deal with PokerStars?
In October 2013, PokerStars sent an email to all the Supernova and Supernova Elite players to explain that they were looking for candidates for Team Online. I sent my application thinking that I had nothing to lose, and only a few months later I was among the new members of Team Online!
Greece is experiencing a complicated economic crisis and numbers have shown that poker has also been hit hard. What do you think about Greece's poker scene?
I started playing poker in Portugal, so, surprisingly, I do not know very well how things are in Greece. From what I hear, poker — the live games especially — has certainly been hit by the crisis.
At the same time, I see more and more of the Greek players online, perhaps because poker offers an opportunity to earn money to those who are willing to work hard and who take the challenge. In a country where the unemployment rate is constantly on the rise, poker may look like an interesting solution.
What about you, what kind of player are you?
I play mostly six-max hyper-turbo satellites, which allows me to play short sessions. Usually, I start to play around 15, and I keep playing until midnight or longer, depending on the sessions and the players I face. It's rare for me to get on sessions that are longer than two consecutive hours. Normally, I try get some 10-minute breaks every now and then to get a coffee or something to eat. I think these little breaks are essential.
In 2014, Greece's Sotirios Koutoupas won the European Poker Tour in Deauville and then proudly posed for some photos with the Greek flag. How did that make you feel?
I know Koutoupas, and I was very happy to see a Greek player getting that kind of success in an EPT event. If there is one thing all Greek people have in common, is that we are very proud of our country. It was clearly a great victory for him, but at the same time it was a great victory for Greece.
One year later, also in Deauville, the participation of a consistent number of men in the EPT Ladies Event raised some criticism. What's your opinion on that?
That's something I simply do not understand. Their motivation seemed clear because they thought that a women-only tournament would have been an easy win for them. Too bad that's not actually true. But then I wonder, what's the pleasure in playing at a table where you are clearly not welcome? Could one really take pride in winning an event like that one? I don't think so.
I know that the ladies tournaments have been discussed and also criticized in the past, but I think that those events are good to bring more women in poker. For a new player, it can be intimidating to sit at a table where she feels in the minority. A ladies tournament provides a welcoming environment, and it is the perfect introduction to poker. That's why I do not understand why men would want to participate.
You don't seem to play much live poker. Do you mind me asking why?
I chose to focus on online poker from the very beginnings. Live poker is a completely different game, and one of the most important things for me is to be able to play several tournaments at the same time.
On my computer, I play on up to 12 tables at a time, and there is always action. Live tournaments also require one to travel regularly, and I must say that to get up in the morning and to play your poker games from home is quite comfortable.
I've heard that, besides poker and Magic, dance is another one of your passions. Is that true?
Yes, dancing is very important to me. First, because I think that physical activity is important for everyone, especially for those people who spend hours in front of their computer like I do. Then, because dancing allows me to deal with bad runs and difficult moments in poker. When I dance, I feel immediately better and able to deal with the challenges of the game.
What are your plans for the coming months? Do you already know what will you play?
I am going through a downswing right now, so I am concentrating my efforts on studying the game. The Spring Championship Of Online Poker (SCOOP) is coming soon, and I want to be in a good shape for that.
Plus, I am actually getting ready for my wedding, as André and I will get married in July. That's probably going to take some time away from poker, but it's a very important time in our lives and it is worth it.
Want to stay atop all the latest in the poker world? If so, make sure to get PokerNews updates on your social media outlets. Follow us on Twitter and find us on both Facebook and Google+!