Man vs. Machine: Pros Ahead of "Claudico" Over $450,000 After Seven Days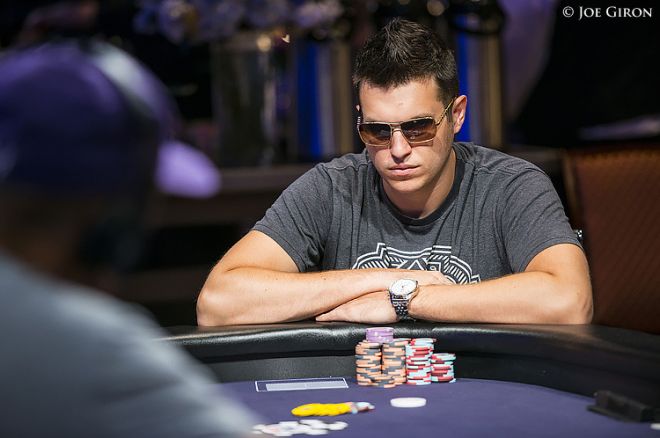 Several quality poker bots developed in the past year, but as far as the poker world is aware, there has yet to be one created that can defeat the top professional poker players in the arena of no-limit Texas hold'em.
Last week, a two-week poker battle began between "Claudico", a poker bot whose artificial intelligence (AI) was developed by a computer science team at Carnegie Mellon University (CMU), and four professional poker players, Doug Polk, Bjorn Li, Dong Kim, and Jason Les. That goal was to see whether a machine can beat a man at the game. The competition is dubbed "Brains vs. AI".
The four matches, which began on April 24 and run through May 7, will see the four poker players pit their wits against "Claudico" in individual heads-up matches, by playing 20,000 hands each for a chance at $100,000 if they go on to beat the bot. To complicate the task, the machine is programmed to learn while it is playing, meaning a strategy that might have worked yesterday for the poker players may not work today.
With a week in the books, it isn't looking good for "Claudico," who is down a combined $458,902 to the group of professional poker players as of the end of April 30, according to the CMU computer science department.
Let's take a look at how each player is fairing against this advanced AI-powered poker machine.
Doug Polk vs. "Claudico"
Polk by far has had the greatest success in the epic man-versus-machine battle, boasting $400,368 in winnings. The poker bot isn't the only one able to learn from its opponent and adjust its strategy, as Polk had his best days on April 28 and April 30 when he won $155,194 and $133,433, respectfully.
While there is still time for "Claudico" to make an epic comeback, many watching this heads-up battle feel that the machine is no match for one of the world's greatest heads-up players.
You can watch "Claudico" play against Polk on a 30-minute delay when play resumes today at twitch.tv/Claudico_vs_DougPolk.
Bjorn Li vs. "Claudico"
Li is proving that the domination Polk has shown is not a fluke. After seven-days of play, Li is ahead by $272,479 against the CMU-developed poker machine.
Li has been ahead most of the competition, but did have a rough day on April 29 when he lost $91,579 to the machine. Li was able to rebound on April 30 when he recovered most of the previous day's losses by winning $87,890.
You can watch "Claudico" play against Li on a 30-minute delay when play resumes today at twitch.tv/Claudico_vs_BjornLi.
Dong Kim vs. "Claudico"
"Claudico" has proven to be more challenging to Kim, who after a back-and-forth battle is marginally ahead $14,121 with seven days in the books. After five days of heads-up play, Kim found himself in the hole for $71,104. He was able to dig himself out of this hole by winning $61,222 on April 29 and $4,339 on April 30. While it seems "Claudico" will need to radically change its strategy to beat Polk and Li, it appears the match against Kim could still go either way.
You can watch "Claudico" play against Kim on a 30-minute delay when play resumes today at twitch.tv/Claudico_vs_DongKim.
Jason Les vs. "Claudico"
While it is true "Claudico" is losing three out of four of the heads-up battles, it has shown itself to be more than Les can handle. Les is currently down $228,066, a deficit which will be hard to climb out of. Les struggled out of the gate, and things have not gone better for him as the match has progressed. While it is still possible Les will be able to figure out how to best play against "Claudico," it appears that this might be the one match where machine proves to be stronger than man.
You can watch "Claudico" play against Les on a 30-minute delay when play resumes today at twitch.tv/Claudico_vs_JasonLes.
Conclusion
With three out of four of the professional players ahead of the poker bot so far for a combined $458,902, it appears that man is still greater than machine when it comes to no-limit Texas hold'em. Even if "Claudico" is unable to mount a comeback, it proves that AI is stronger now than ever, as it did give some problems to Kim and is dominating Les.
If you haven't been watching the matches live, in addition to getting your recaps at PokerNews you will also have the chance to check out some of the action on Poker Night in America, who will be broadcasting clips from the competition in future episodes shown weekly on the CBS Sports Network.
Stay tuned at PokerNews as we witness whether man is stronger than machine at no-limit Texas hold'em.
Want to stay atop all the latest in the poker world? If so, make sure to get PokerNews updates on your social media outlets. Follow us on Twitter and find us on both Facebook and Google+!