Philippe Dana on His Love For The Game: "A Poker Game is an Opportunity To Have Fun!"

Giovanni Angioni
Julien Tissot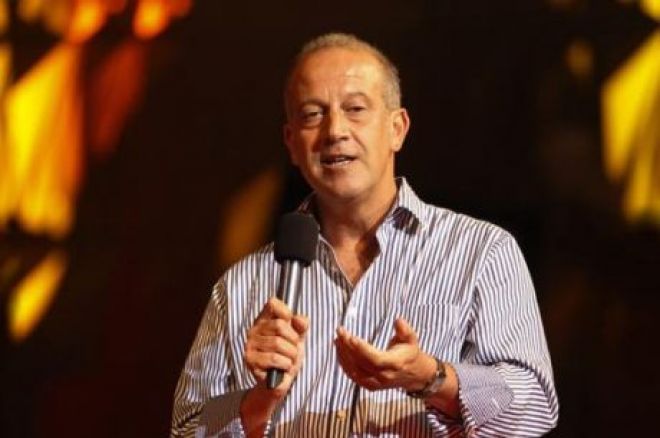 As the legendary presenter of the popular children's TV program Ça Cartoon for decades, France's Philippe Dana has been one of the most popular faces on the premium cable television channel Canal Plus.
Dana, host of the 12/13 show on Radio France and author of a book titled Les invités de la fête (The Party's Guests) that focuses on his long adventure in TV journalism, is also a poker enthusiast who has never made a mystery of his deep passion for the game.
PokerNews France's Julien Tissot recently met with Dana to discuss his various poker adventures, and to discuss why he choose to include the game in his first literary work.
PokerNews: Let's start with the basics. Can you tell us how poker became a part of your life?
DanaI have been playing for 20 years now. I started by playing draw poker, and it was Jean-Louis Cap, the Director at Canal Plus, who introduced me to hold'em.
Once this variant came around, everyone started to play, and I used to play with friends. Then, the Aviation Club de France began to organize some special VIP-only hold'em tournaments that I had the chance to play. Back then, you could find there actors, sportsmen, and singers.
What do you like about poker?
I love the social side of the game of poker, and I like to play with friends after a dinner. A poker game is often an opportunity to laugh, to chat, and to have fun together. We usually play small limits, and sometimes it can happen that after a session, we leave with winnings for [as low as] €7.
You have worked for many years at Canal Plus, the first generalist TV channel to ever air poker in France. Do you have any special memories about that?
I love watching poker on TV, and I think it was a great idea to leave the commentary of the World Poker Tour to Patrick Bruel.
I know that you have a funny poker-related anecdote about something that happened during the Cannes Film Festival. Can you tell us something about it?
You are right, I think it happened seven or eight years ago. I had the opportunity to play a game with Bruno Fitoussi, Bruce Toussaint, and Christophe Carrière among others. We played on the beach, right next to the sea - and at that time we all thought we knew how to play poker. At the end of the evening, however, Fitoussi turned to us and said, jokingly, that we were awful players.
Seeing it in perspective, I think he was right. I believe that we were not good at all. Poker is a game that takes some time to master, and one needs to evolve all the time.
What would you say are your strengths and weaknesses are in poker?
Talking about my strengths, I would say that I think I am good at reading others - and this became possible because I have taken the time I needed to grasp the tells of my opponents.
As for my weaknesses, I think the main one could be the fact that sometimes fatigue and a lack of concentration lead me to make mistakes.
In your first book, you talk about a poker game played in Tangier, Morocco. Can you tell us about it?
Tangiers is a gorgeous place that I love and where the singer Christophe spent a lot of time. In my book, I tell the story of an evening when he wanted to play a game. To find five or six people to play with, he went out and tried to recruit everyone he had met, including a pharmacist. The game was a pretty epic one, with a lot of improbable hands being played.
Do you play online?
Yes, I occasionally play on Winamax. I also have the pleasure of being invited to the parties that the room organizes at its headquarters, where the people are friendly and there's a kind of cool atmosphere.
How about Las Vegas - are you a Sin City kind of person?
I have been to Vegas when I was very young, and I didn't even play. You know, I don't dream about it. I am not in poker for the competition, I'm in poker for the fun!
Get all the latest PokerNews updates on your social media outlets. Follow us on Twitter and find us on both Facebook and Google+!