Jason Mercier Captures Two SCOOP Titles in Back-To-Back Days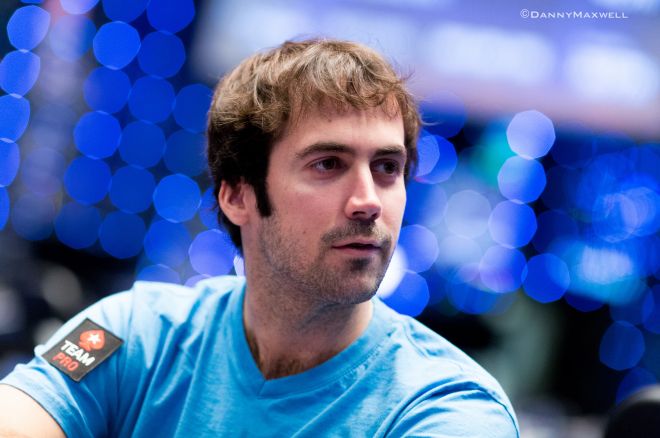 As of Wednesday morning on the West Coast of the United States, 24 of the 138 events from the 2015 PokerStars Spring Championship of Online Poker (SCOOP) had been completed. Of those 24, Team PokerStars Pro Jason Mercier captured two titles, and he now holds three SCOOP victories in his career. The series has only been running for three days.
"It feels great, of course," Mercier said when asked how it feels to win two SCOOP titles in back-to-back days. "I'm happy to be in a groove and playing and running well."
On Monday, May 11, Mercier was one of 56 entries in the SCOOP-05-H: $2,100 FL Badugi. The event had a $50,000 guarantee, and that was successfully more than doubled with a $112,000 prize pool. The top seven spots reached the money and Mercier was joined by notables Talal "raidalot" Shakerchi, Adam "Adamyid" Owen, and Andre "Chillolini" Messmer at the final table.
According to the recap from the PokerStars Blog, Mercier made his move with six players left and became the first player to climb over 100,000 in chips. After Shakerchi fell in sixth and Messmer hit the rail in fourth, Mercier had a sizable lead over Owen and "Kekkhou" during three-handed play. "Kekkhou" busted in third to Mercier, and that gave the two-time World Series of Poker gold bracelet winner a 2-1 chip lead heading into heads-up play.
Thirty minutes and 73 hands later, Mercier sealed the deal, finishing off Owen with the three-card
versus the
. That gave Mercier the win and $39,200 in first-place prize money, while Owen was awarded with $25,200 for second place.
SCOOP-05-H: $2,100 FL Badugi Results
| Place | Player | Prize |
| --- | --- | --- |
| 1 | Jason Mercier | $39,200 |
| 2 | Adam "Adamyid" Owen | $25,200 |
| 3 | Kekkhou | $16,800 |
| 4 | Andre "Chillolini" Messmer | $11,200 |
| 5 | Talal "raidalot" Shakerchi | $8,400 |
| 6 | MarkBang | $6,160 |
| 7 | villepn | $5,040 |
The following day, Mercier bagged another SCOOP title, this time taking down SCOOP-08-H: $2,100 NL Draw. Another event with a $50,000 guarantee, this one attracted 43 entries and generated a prize pool of $86,000.
Mercier was one of six players to reach the final table, and he was joined by notables Mike "SirWatts" Watson and Vladimir "GVOZDIKA55" Schemelev. Only the top five places would reach the money, though, and that happened after Russia's "Flying Smile" busted to another Russian, "berserk64," in sixth place. After that, Schemelev busted in fifth place and Watson went out third to set up the heads-up battle between Mercier and "berserk64."
Like he did the day before, Mercier entered the final duel with a big chip lead. This time he was up more than 3-1, according to the PokerStars Blog, but this match proved to be a bit tougher. "berserk64" battled back to even with Mercier, but then around the two-hour mark of heads-up play, Mercier stormed back in front.
On the final hand, the two were all in before the draw. "berserk64" and Mercier both took three cards, and in the end it was Mercier's
for two pair that defeated "berserk64's"
.
"berserk64" earned $23,220 for his runner-up performance, but this one would be all about Mercier, as he collected $34,400 for the win and earned his second SCOOP title in two-night's time. As mentioned earlier, Mercier now holds three career SCOOP titles. In 2014, he won the SCOOP-34-M: $215 8-Game event for $21,242.
SCOOP-08-H: $2,100 NL Draw Results
| Place | Player | Prize |
| --- | --- | --- |
| 1 | Jason Mercier | $34,400 |
| 2 | berserk64 | $23,220 |
| 3 | Mike "SirWatts" Watson | $12,900 |
| 4 | MIBondiola | $8,600 |
| 5 | Vladimir "GVOZDIKA55" Schemelev | $6,880 |
With these two victories, Mercier has positioned himself atop two of the four SCOOP leaderboards, the one for the high buy-in events and the overall leaderboard. With his early cushion, PokerNews asked Mercier if he'd be pushing extra hard to attempt to finish on top.
"Probably, "Mercier said. "I may have taken some days off throughout SCOOP, but now I might just play every high SCOOP event that runs."
Switching Between Live and Online, and Preparing for the WSOP
As many of you know, Mercier was just in Monte Carlo for the 2015 PokerStars and Monte-Carlo® Casino European Poker Tour Grand Final. After investing a lot of time and energy into a heavy schedule of live events, we wanted to know if Mercier finds it hard to transition from live poker to online poker in such a short period of time.
"I'm used to playing both live and online," Mercier said. "They are different animals, of course, but for me the transition is easy."
Following SCOOP, Mercier will be making the transition back to live poker when he dives head first into the WSOP. Now that we know how he feels about jumping back and forth between the two mediums, we wanted to know how much having an extensive and varied SCOOP schedule right before the WSOP better prepares him for the summer.
"I like to play at least a few days of SCOOP to warm up for the summer," Mercier commented. "It's especially nice for a mixed-game player like myself because SCOOP offers just about every variant. This year I'm going to play the whole SCOOP schedule and hope to run that straight into a profitable summer."
As you know, his two SCOOP wins this year came in badugi and five-card draw. While Mercier believes SCOOP is a good warm up for the summer, neither of these variants offer standalone gold bracelet events at the WSOP. What does Mercier think about these two games being added to the WSOP schedule with their events in the future?
"I would love that," he said. "I'm not really sure why there isn't a badugi event already, and I think no-limit five-card [draw] runs smoothly as a tournament similarly to no-limit 2-7."
The 2015 PokerStars SCOOP continues through May 24, and you can stay tuned to PokerNews for more updates from the series.
Get all the latest PokerNews updates on your social media outlets. Follow us on Twitter and find us on both Facebook and Google+!