Allen Kessler Proposes New Structure for WSOP Limit Events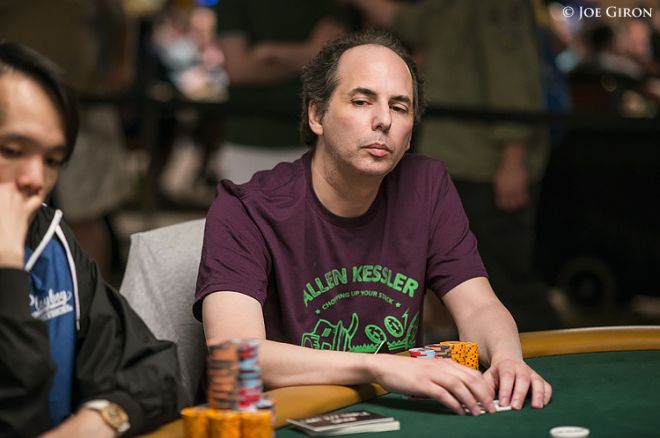 Since the beginning of the 2015 World Series of Poker, there has been some consternation over the new structures of the smaller buy-in (less than $10,000) limit events. WSOP officials increased starting stacks by 66 percent and added double levels to the beginning of the tournaments to create more early play.
However, a cluster of pros voiced disapproval over the amount of time the tournaments are taking to reach the money. In some cases, it hasn't happened until late on Day 2, causing the players to sacrifice two full days to play only to come up empty-handed if they bubble. That cuts into their hourly rates, they say, as well as costs them the opportunity to register other tournaments in pursuit of bracelets.
"Basically, what they've done is listen to a small minority of people who think that more chips and more levels get them more play and it is better for poker," David "ODB" Baker told PokerNews in a recent interview. "Really, they are tricking the people who don't know any better."
One person who opposes that stance is Allen Kessler. He's well-known in the poker world for his knowledge of structures. Early in 2014, he created one that the Mid-States Poker Tour adopted, which has seen almost unanimous approval from the tour's players. He applauded the changes the WSOP made and says he isn't the only one pleased.
"I like the new structures a lot," he said. "For anything other than the limit mixed games, there's overwhelming approval. For the $5K no-limit, it was never below a 50-big blind [average stack] and it finished in three days. There's nothing else you can ask for."
As for the limit tournaments, Kessler also believes the structures have been a huge improvement.
"It's such a better value to play now compared to last year, it's not even close," he said. "In limit hold'em, you had 4,500 chips and you played 300/600 very early in the tournament, so you basically could play one hand."
This year, Kessler took 49th in the $1,500 Limit Hold'em event for $3,474. He never saw the average stack below 12 bets, which is key because it's important to have more than 10 bets to have a playable stack, he said.
Kessler did agree with Baker that the main issue is the early levels of the limit events, such as Event #13: $2,500 Omaha/Seven-Card Stud Hi-Low. That one seems to have been the tournament that had players up in arms the most, as it stretched to four days and barely got into the money on Day 2.
Kessler believes he's come up with a solution that will work for both sides. He posted a new proposed structure on social media that eliminates the current three double levels that begin the tournament and replaces them with a standard progression of increasing limits, including a new 250/500 level. Under Kessler's proposal, limits would be 400/800 at Level 6 rather than the current 200/400, but that faster early play would be smoothed out with double levels of 1,200/2,400 at the start of Day 2 and 10,000/20,000 at the start of Day 3, "when it really matters." At that point, his structure pulls even with the current structure and everything would be the same.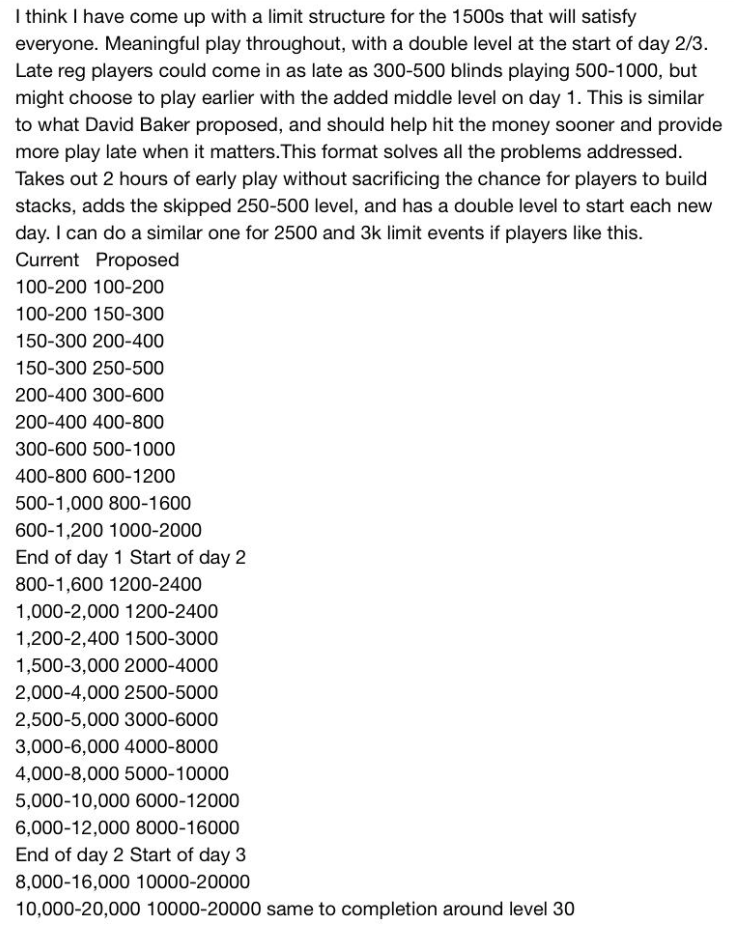 "I got approval from even the high-limit pros who are criticizing [the new structure]," Kessler said.
Indeed, players such as Matt Glantz, Randy Ohel, and Blair Rodman voiced their approval via Twitter. Kessler said he doesn't expect them to be able to implement any changes immediately, but hopes his proposal will be considered for 2016.
"It's tweaking what they have now," he said. "If you look at my structure and compare it to what we actually did play, it's way better."
Want to stay atop all the latest from the 2015 WSOP? If so, make sure to get PokerNews updates on your social media outlets. Follow us on Twitter and find us on both Facebook and Google+!