Phil Hellmuth Falls Short of Bracelet No. 15: "If This Were Chess, I Would Have Won"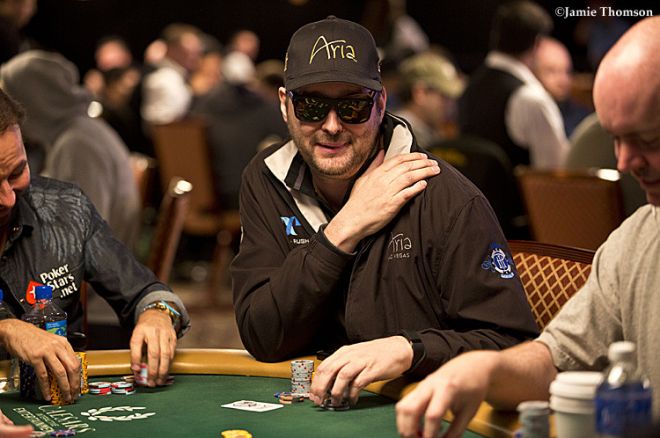 Poker legend and notorious "Poker Brat" Phil Hellmuth fell short of capturing his record 15th bracelet in the $2,500 No-Limit Hold'em event at the 2015 World Series of Poker, busting in 16th place for a record 111th WSOP cash.
Hellmuth was among the leaders coming into the event's third day and told PokerNews Wednesday night, "I'm not going to blow this."
Today, he built up his stack close to the six-figure mark, then went card dead before trying and failing to push the loose-aggressive Raghav Bansal off a hand and ultimately running nines into Jeff Gross' aces to bow out.
"Last year I blew five or six no-limit hold'em tournaments when I got deep," he told PokerNews immediately after busting out. "Today I played like a superstar. It's just so sick. I'm proud of the way I played. If this were chess I would have won the tournament.
"I had king high (in the hand with Bansal). I thought it was good. He was playing every hand. It came
. I check-raised him and he had it. I thought I was pretty unlucky that he happened to have it that time. He was playing every hand. I don't regret that."
The all-time WSOP leader in cashes and bracelets — having won his 14th earlier this summer in the $10,000 Razz Championship — Hellmuth said he simply couldn't win a pot when it counted today.
"I had 900,000, almost a million, and I did not win a pot," he said. "I just went down, slowly down, never picked up any hands, never won any pots. They tried all their stupid little plays on me which usually gets me to two million, but today their stupid little plays worked."
"They'll never figure it out. I'm sitting there playing super tight. I'm the best hold'em player in history and when I come in raising, you get out of the way. Instead they came in reraising every time. Which is modern poker - fine. That's how I also get two million in these things all the time. So, do I have any regrets - No.
"Finally I pick up two nines and I run into aces, which is a little unlucky. I kind of felt like I deserved a nine, but the weird thing about deserving stuff, afterwards you feel like you deserve better, but no one decides that."
Proud of his latest run at bracelet No. 15 and ready for more, Hellmuth stood fast that he played great.
"This might have been the fourth best hold'em tournament I've ever played and I finished 16th instead of winning it," he said. "The lucky thing is the best hold'em tournament I ever played, I won, but that doesn't have to happen that way in our game. You can sit there and play perfectly and with 20 players left get it in with aces and the amateur has jacks and just smashes a jack. That's what happens."
While the bracelets keep adding up in another game, Hellmuth's last hold'em bracelet came in 2012 when he won the WSOP Europe Main Event. However, he maintains he's still the best no-limit hold'em player on the planet.
"I do things no one else has ever done," he said. "I will bet you that of all the people left in this tournament I was the only one that was never all-in in this tournament in two days, and that happens to me all the time. I know something they don't know. It's a little risk adverse strategy because sometimes you're not playing really big pots with queens or kings, and that part can hurt your stack size. But I've won so many of these things without ever being all in it's a beautiful thing when it works.
"I'm proud, I deserve better, but I played great and if I keep playing like this I'm going to win bracelet No. 15 anyway. It's just a shame I'm out of chips because this was a really good spot for me. They're all putting way too much money in when they're not supposed to. There's a few really good players in there, but this was a really good spot for me. Some of the players were ready to give me their stacks, but it didn't work out that way. I'm frustrated."
Want to stay atop all the latest from the 2015 WSOP? If so, make sure to get PokerNews updates on your social media outlets. Follow us on Twitter and find us on both Facebook and Google+!