An Insider's Look at Phil Hellmuth's Private 14th WSOP Gold Bracelet Celebration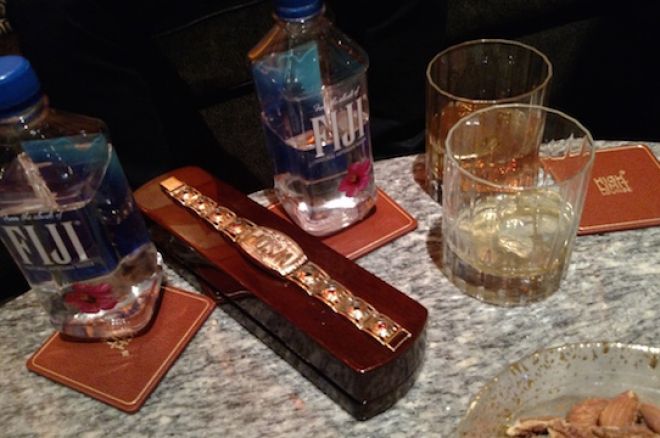 What did Phil Hellmuth do last night after winning his record 14th World Series of Poker bracelet? I had the chance to find out as the "Poker Brat" saw fit to invite me to the intimate celebration at ARIA's High Limit Lounge, and I'm going to share a few details.
Before I jump into it, let me give you a brief rundown of my history with Hellmuth. Six years ago I was just a fan boy. Four years ago I watched him win his then record 12th bracelet by taking down the $2,500 Razz event at the 2012 WSOP. A year after that, I was in France when he captured No. 13 in the WSOP Europe Main Event.
In France, Hellmuth had grown use to my presence, and even invited myself and some PokerNews colleagues to his early-morning celebration at a club across the street. There were dozens of people there, just as many bottles of champagne, and an overjoyed Hellmuth. There was also an all-out brawl between the Germans and some players from another country, which resulted in scores of people being escorted from the club (including a 100% innocent Kyle Julius).
In the intervening years, I've interviewed Hellmuth on numerous occasions, spent some time with him in Australia, and even played against him in a televised Poker Night in America cash game. Top that all off with the fact we're both from Wisconsin and know a lot of the same people, and you could say we've become chummy; hence my invitation to join his bracelet jamboree.
After writing the recap for Hellmuth's victory in Event #17: $10,000 Razz Championship, I quickly packed up my things and headed over to ARIA. I initially expected a large gathering, but being the 1 a.m. hour, the casino was a ghost town. There would be no blowout party; instead, it turned out to be a small gathering of Hellmuth's friends and family all seated in a circle in the corner.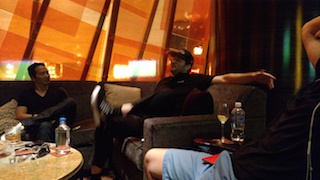 I approached and was immediately welcomed by Hellmuth, who was sitting with his wife, his charity coordinator Mike "Wisco" Murray and a date, fellow poker pro Brandon Cantu, and Bill Lee, a Silicon Valley investor who has backed such companies as Tesla, SpaceX, Hootsuite and Zaarly. He's also involved in Big Fish Games.
The former CEO of Remarq, which according to GeekWire sold to Critical Path for $265 million in March 2000, actually flew down on his private jet to watch Hellmuth's quest for the bracelet. Interestingly, Lee admitted that had Hellmuth not won, he would have gotten back on his jet and flown home without letting anyone know he'd come in the first place.
Fortunately Hellmuth sealed the deal, and Lee rang him up shortly after the win (a call that actually interrupted his winner's interview). On a side note, Hellmuth dedicated bracelet No. 14 to the recently departed Dave Goldberg, a noted Silicon Valley magnate and CEO of SurveyMonkey. He added that bracelet No. 15 would go to Lee.
Say what you will about Hellmuth and his unrelenting name drops, but I can attest that he actually does know some power players. To that end, he scored floor seats from the owner of the Golden State Warriors for Game 5 of the NBA finals (they're going for around $50,000 right now), and plans to take Lee. It was during this time that Hellmuth, who was talking about a private poker game back home, delivered one of the night's best lines:
"Don't ever be late for someone else's jet, and never bluff the billionaire."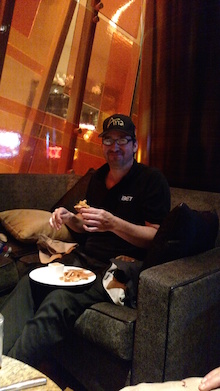 Anyway, back to the revelry. Hellmuth was drinking Macallan 25 Year Old Sherry Oak, and kindly asked if I'd like the same. Being a scotch man, I graciously accepted. Not only was it the best scotch I've ever had, it was the most expensive at around $1,100 a bottle. I drank four.
Most of the night comprised of Hellmuth and Lee telling stories, each with varying degrees of interest. Hellmuth's wife soon excused herself, and from then on an array of people filtered in and out. Two of Murray's friends stopped by, and then 2011 WSOP Player of the Year (who happened to beat out Hellmuth for the title) and Main Event third-place finisher Ben Lamb stopped by with his brother's friend, who was a fan.
Lamb departed, but returned later in the night, which proved an interesting turn of events.
"We both have egos, Phil," Lamb said at one point.
"It's your own ego that gets you in trouble," Hellmuth retorted. The two continued to debate their respective poker skills, which at times became rather contentious.
"Do you have an ego?" Lamb asked.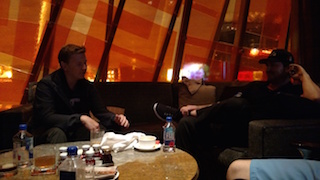 Hellmuth paused for a beat, and with more modesty than you might expect, genuinely answered, "I'm going to go down as the greatest poker player that ever lived."
The two squabbled for a bit longer before settling it in true poker players – by making a bet. The terms were simple: they weren't allowed to bring up the "who is better" topic when they saw each other in the future, and if one of them did, they were subject to a $5,000 penalty.
At the end of the night, with just the three poker players and myself remaining (Lee had left a bit earlier with Hellmuth's bracelet in tow to give to Goldberg's family back in California), poker strategy was all that was bantered about. I don't want to share any trade secrets, but suffice it to say I did my best to soak it up like a sponge. It's not everyday you get to learn from the best in the world.
So there you have it. I'd like to say Hellmuth threw the biggest Vegas bender of all time after winning his 14th bracelet, but that wasn't the case. It was simply good scotch, better people, and a single piece of poker history glittering on the table.
Want to stay atop all the latest in the poker world? If so, make sure to get PokerNews updates on your social media outlets. Follow us on Twitter and find us on both Facebook and Google+!