Remembering Eskimo: The WSOP's Nolan Dalla Reflects on the Three-Time Bracelet Winner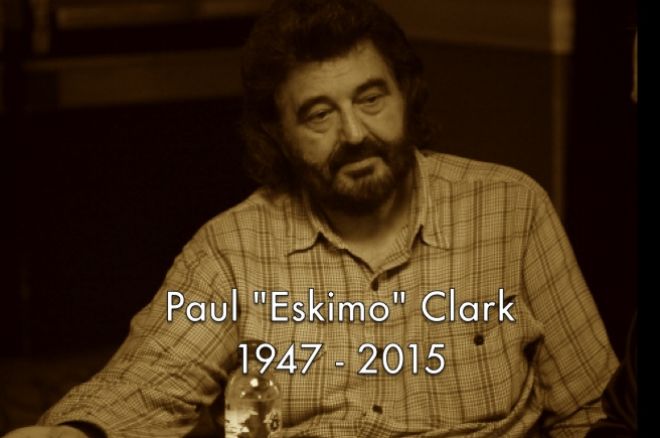 According to various reports including an online obituary, long-time poker player Robert Paul "Eskimo" Clark, 67, passed away back on April 15.
Born June 2, 1947, in Stockton, Missouri, Eskimo was one of seven children by George and Ella (Martin) Clark. He served as a medic in Vietnam, spent time in New Orleans, and eventually found his way into the poker world.
Eskimo's first-ever cash came in the 1988 World Series of Poker when he finished eighth in Event #5: $1,000 Limit Omaha for $4,560. Three years later, he won his first gold bracelet when he took down Event #14: $5,000 Limit Seven-Card Stud for $122,000. Eskimo would go on to capture two more bracelets — 1999 WSOP Event #2: $1,500 Razz for $84,610 and 2002 WSOP Event #7: $1,500 Limit Seven-Card Stud Hi-Low for $125,200.
However, Eskimo's biggest cash came in 2004 when he finished runner-up to Mike Kinney in the World Poker Tour World Poker Challenge in Reno for $310,403. All told, Eskimo amassed $2,734,782 in live tournament earnings.
At the WSOP, Eskimo, who developed a reputation as a bit of a curmudgeon, was well known for an incident that occurred during the 2007 WSOP. During Event #29 $1,500 Razz, he had a seizure midway through the tournament that required immediate medical attention. Eskimo was taken from the tournament area, but later returned and ended up finishing fourth for $31,186, the last WSOP cash of his career. That incident was documented on wickedchopspoker.com.
PokerNews asked WSOP Media Director and poker historian Nolan Dalla to recall any worthwhile Eskimo stories. Here's what he had to say:
"Probably the story most people will remember is the 2007 World Series razz event. He was the chip leader, and then about six or seven at night he hit the floor. They had a gurney in here, and actually called medics. They said to stop the tournament for obvious reasons.

"He declined medical treatment at first. Somehow he was able to muster enough skill, and maybe experience, to continue to play. They allowed him to play. Corporate was calling lawyers asking if they should allow him to play, if they're liable if he happened to expire during the tournament. So another half hour goes by and they were going to have him sign some forms, like a disclaimer that he was taking full responsibility.

"Then he hit the floor again. That's when they let people go to a longer dinner break. That's when they actually wheeled him out and resuscitated him. I don't know how far gone he was, but it was sufficient enough he had to be taken out.

"The kicker to the story is what nobody knows. Six o'clock he hits the floor, and 7:30ish hits the floor again, so he hits the floor twice. People are wondering the hell is going on here. They were concerned, but also this was a tournament, and poker players are pretty vicious and somewhat callous.

"Around 10 o'clock that same night, I walk out back to the outside food court. The food was really bad that year. They had all this fried food and all this garbage. It was just not good food, but they also had this smoking area out there. Mind you, he had hit the floor twice, was on a gurney, actually had the shockers on him, and I look over as I'm walking outside to take a break, I see, I kid you not, Eskimo is sitting there with a full platter of chicken wings in one hand, and a cigarette going full blast in the other. He's got the two worst things that are possible going. Sure enough, he finishes fourth in the tournament.

"In the other story, I was in Lake Tahoe at a Circuit event 10 years ago. The airport is smaller, it's not LAX or something, it's just a small regional airport. I'd seen Eskimo as we were both flying back on the same flight to Vegas. He couldn't find anyplace to smoke in the airport, and so he's looking around. The flight is delayed 30 minutes or something.

"He had no sense of humor, no personality, but he was gruff, just walking around looking for a place to smoke. He sees this little side door. Doesn't pay attention to the alarm sign, basically that the TSA will attack him. He just — whammy — hits the bar and goes out onto the tarmac at the airport. No one is allowed out there. He goes out there, where by the way there are jet aircrafts and refueling trucks, and he fires up a cigarette in front of the airplanes.

"It should have been on the front page of the paper. They should have shut down the airport. He gets about two puffs, security is all over him, and they were like, 'What are you doing, are you insane?'

"For some reason, they must have thought he was so innocent, they let him back in. 'Sir, put out your cigarette and get back to your plane.' Any other place would have arrested him. Only he would get away with something like that."
According to his obituary, Eskimo, who was cremated, is survived by three sisters — Nancy Cully, Judy Oberly, and Donna Burns – along with numerous nieces and nephews.
Want to stay atop all the latest from the 2015 WSOP? If so, make sure to get PokerNews updates on your social media outlets. Follow us on Twitter and find us on both Facebook and Google+!
Executive Editor US, PokerNews Podcast co-host & 2013 WSOP Bracelet Winner.