Dave "Devilfish" Ulliott Passes Away at Age 61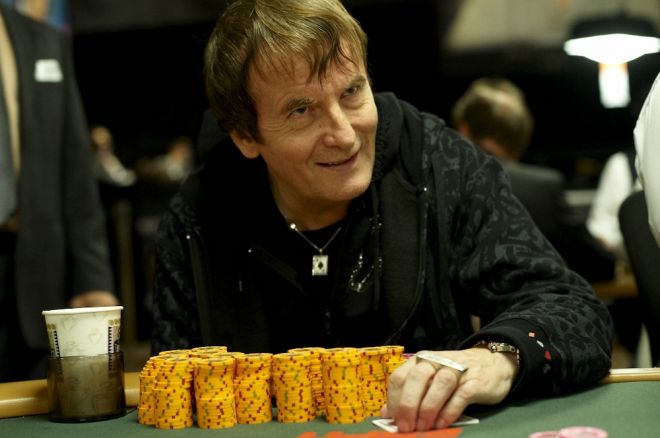 British poker legend Dave "Devilfish" Ulliott passed away on Monday, April 6. The announcement came via his son, David, on Twitter.
Ulliott leaves behind his wife Anpaktita, and his eight children Kerry, Lucy, Paul, David, Chris, Steven, Mike, and Matthew.
Ulliott, who was diagnosed with terminal bowel and liver cancer earlier this year, "died peacefully surrounded by his loved ones," his son added.
The 61-year-old poker veteran from Kingston upon Hull, United Kingdom, was one of the most acclaimed and celebrated poker players of his country.
With live tournament winnings in excess of $6.2 million, according to the Hendon Mob, Ulliott is the second biggest winner of all time in the UK, behind Sam Trickett.
Considered to be one of the true godfathers of poker in Europe, Ulliott was one of the most distinctive characters of the poker world.
Winner of the first-ever edition of Late Night Poker in 1999, Ulliott is widely considered as one of the players who contributed the most to the diffusion of different poker games in the UK, as his poker skills and sparkling personality were a true inspiration for thousands.
Ulliott has been around the international live poker tournament scene for more than 20 years, putting together successes and causing many controversies (and genuine laughs) at almost every corner of the globe.
In 1997, Ulliott won a World Series of Poker gold bracelet. In 2003, he added a World Poker Tour title to his trophy case.
Ulliott's health conditions raised concerns already at the end of March, when it became public that the cancer the player had been fighting against obliged him to take a break from his poker activities and seek some rest.
Sources close to Ulliott told PokerNews that Ulliott decided to spend some time with his family at Kingston upon Hull in the attempt to get better.
In an interview with the Hull Daily Mail published on April 1, Ulliott called his cancer as "one of those things."
"It is a hand that life has thrown at me," he said. "All my life I have had rubbish poker hands and I have managed to turn them around. It is what I am good at and this is no different.
"When I found out the news, I shouted the wife and told her we were going out for a meal," Ulliott went on to say. "But I said I'd better not order a dessert because things were not looking that good."
The International Poker Community Mourns The Devlifish
"I never have any remorse about many things, but I'm missing Dave already," commented friend and fellow UK poker player, Andrew "Giddy" Perendes.
"Poker is not poker without the name Devilfish."
After the news of Ulliott's death broke on social media, poker pros and friends immediately published countless messages to honor the player's memory, with some, as Phil Hellmuth, Erik Seidel, and Doyle Brunson asking for his immediate inclusion of the Poker Hall of Fame.
RIP @Devilfish2011 Devilfishes effusive personality, good heart and beautiful world class style of poker lit up televised poker for yrs!

— phil_hellmuth (@phil_hellmuth)
RIP @Devilfish2011 if you knew Devilfish, then you loved him. He's a poker legend who is going into #PokerHallOfFame I'll miss you Fish!

— phil_hellmuth (@phil_hellmuth)
Agree w @TexDolly, it'd be good to see @devilfish2011 in HOF. Devilfish's book is a great read also

— Erik Seidel (@Erik_Seidel)
Poker lost one of it's most colorful characters today. RIP Dave "DevilFish" Ulliot http://t.co/K9YdPahx7H

— Daniel Negreanu (@RealKidPoker)
I was expecting Devilfish to pass, but not as quickly. He sent me 3 Direct Messages on twitter just days ago.#RIPpokerhalloffame?

— Doyle Brunson (@TexDolly)
RIP to the devilfish. He was the life of any party or poker table he was at.

— Erick Lindgren (@EdogPoker)
Can't believe that Devilfish has lost his fight with cancer. He brought so much laughter to this world and will be deeply missed by many.

— John Duthie (@JohnnyDuthie)
RIP Dave always putting smiles on faces. Knew my name for 10 years, called me 'kid' every time. #Devilfish

— Toby Lewis (@810ofclubs)
Talking about Ulliott's life whilst discussing about the book Devilfish: The Life and Times of a Poker Legend, which Ulliott wrote together with Marcus Georgiou to tell his extraordinary adventure in the poker world back in 2011, former PokerStars pro and friend Victoria Coren Mitchell once wrote:
"In my book, For Richer, For Poorer: A Love Affair With Poker, I tried to explain how a girl like me, with every advantage in life, a famous father, a private education, a decent job and a voice like Princess Margaret, could end up doing something as disreputable as playing poker.

"In his new book, Devilfish: The Life and Times of a Poker Legend, Dave Ulliott explains how a man like him, from a council house 'so small we had to paint furniture on the walls,' with an innate gambling addiction and criminal friends, who had served two prison terms for burglary and safe-cracking, who was in so many street fights he started carrying a gun on the streets of Bradford, could end up doing something as respectable as playing poker."
Our thoughts and prayers go out to his family and friends. Rest in peace, Devilfish.