History in Spades: The Origin of the Devilfish Nickname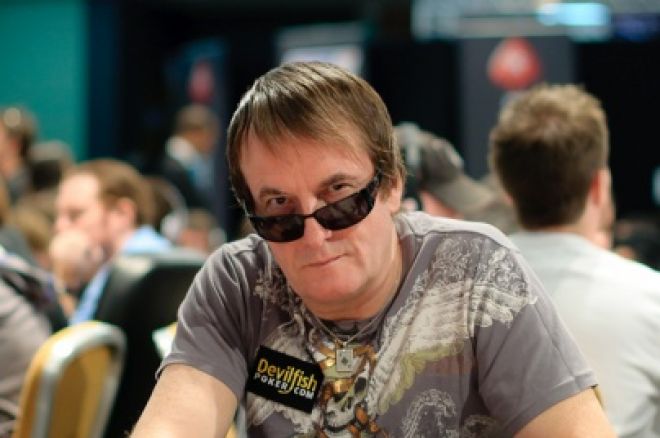 Nicknames are prevalent in the poker world. Chris "Jesus" Ferguson, Daniel "Kid Poker" Negreanu, Doyle "Texas Dolly" Brunson, Tom "durrrr" Dwan and Phil "The Unabomber" Laak, are just a few of the most popular nicknames associated with poker. In fact, many of these players are better known to fans by their nickname than their real name. However, when it comes to being recognized by a moniker, one man stands above the rest. David Ulliott was tearing up the poker scene in England long before he ever received a nickname, but it wasn't until he came to America that he became know to the public as the Devilfish.
So how did one of the world's most popular poker players gain the Devilfish nickname? It wasn't because he ate devilfish or used to go wrangling for the aquatic creature. On the contrary, the story of the Devilfish harkens back to a poker game in cheery old England hosted by a man named Stevie Au-Yeung.
As the story goes, or rather the prelude to the story, Ulliott was invited to the private game and made the trip to play. As he was on his way to Au-Yeung's house, in fact just 50 yards from the door, he had a change of heart. He felt others would only want to borrow money from him, and he wasn't in the lending mood. Instead, he decided not to play and went to the Strathmore Hotel for drinks. The next day, Ulliott received a phone call from one of the players at the game who told him that three men with shotguns had robbed the game during the night. Apparently they had come looking for Ulliott, who they understood to have been carrying a lot of cash. For whatever reason, whether it was fate or intuition, Ulliott's absence saved him a lot of money and possibly his life.
As he explained in his book, Devilfish: The Life & Times of a Poker Legend: "But I was back at Stevie Au-Yeung's soon enough. You can't let a little armed robbery keep you from a good game. This particular night became memorable for another reason. I was playing my usual game . . . trying to boss the table. Stevie stood there watching, and then he smiled and said that I was a devil fish.
"Now I'd been called some things in my time, but never that. He said 'devil fish' was the slang name for a Japanese fish, the tako fugu or blowfish, which was poisonous to eat if it wasn't prepared exactly right. I like the name 'Devilfish', but we just laughed about it and carried on playing. When I left the game I forgot all about it."
Forget about it he did, until he made his first trip to Las Vegas with a man named Gary Whitaker, his companion and driver for ten years. It was January 1997 and the pair ventured downtown to stay at the Four Queens Hotel. On the trip, Ulliott decided to enter the $500 buy-in Four Queens Poker Classic Omaha tournament. He not only made the final table but also made it all the way to heads-up play against none other than Men "The Master" Nguyen. While Ulliott had played for higher stakes, he had never played in such a prestigious event against a big-name opponent.
"I'd played before in rowdy games with blokes shouting and swearing, even fighting, but I'd never played a game like this with such a big audience. The crowd were really getting into it, shouting out to me and Men and cheering and groaning when cards were turned over. I started to edge ahead in the match and a supporter of Men's shouted out, 'Go on, the Master!' Gary, who was at the front of the rail, responded by shouting back, 'GO ON, THE DEVILFISH! I'd forgotten all about the nickname until Gary resurrected it. I thought 'Devilfish' sounded good now — in Vegas — and when Gary shouted it out it went down really well with the crowd too."
With the crowd behind him, Devilfish began to take down hand after hand and soon amassed 95 percent of the chips in play. Needless to say, it didn't take long for him to dispatch the Master and take down his first major tournament and the $21,000 first-place prize. The next morning, Ulliott received a pleasant surprise regarding the win, one that would forever cement his new moniker in the poker world.
Ulliott explains in his book: "One of the British poker players showed me a morning edition of the local newspaper. The sports page headline was all about my tournament win over Men 'The Master' Nguyen. It said: 'DEVILFISH DEVOURS THE MASTER!' I thought, I'm really glad they worded it that way and didn't put 'DEVILFISH DEVOURS MEN'.
Thus the legend of the Devilfish was born.
This weekend you can play in our $500 Freeroll at Luvin Poker and all you need to do is sign up - no deposit or points needed! It takes place on November 20 at 15:35 GMT, and you have right up until the last minute to register by joining Luvin Poker via PokerNews.
Executive Editor US, PokerNews Podcast co-host & 2013 WSOP Bracelet Winner.