Inside Gaming: Devilfish Poker Sold, Full Tilt Out of Washington, & HSP on the Poker Channel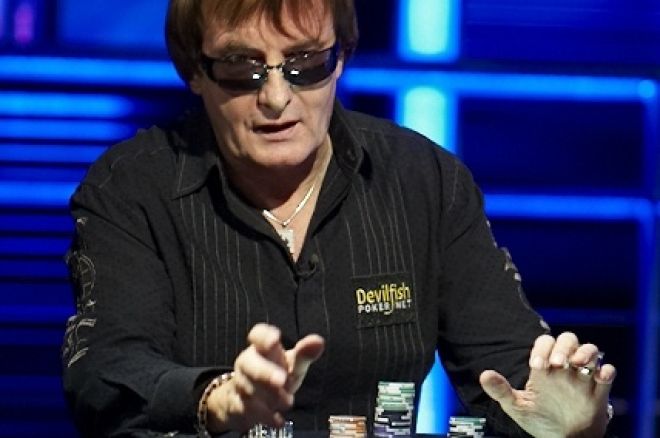 This week, we take a look at the recent developments involving David "Devilfish" Ulliott's online poker site, Devilfish Poker. In addition, we'll explore Full Tilt Poker's decision to block Washington state residents from real-money games, and the Poker Channel's deal with the Game Show Network regarding High Stakes Poker.
Devilfish Poker Sold, Future Unknown
Devilfish Gaming, the U.K. gaming site associated with David "Devilfish" Ulliott, will be selling the Devilfish Poker room for £330,000 to an unnamed AIM-listed firm. Originally launched on the Excapsa network and eventually having moved to Entraction, Devilfish Poker initially raised over £1 million from the placing of shares and was listed at a market capitalization of £3.2 million in late 2008. Since then, however, the site has never posted a profit.
While the number of registered users on the site is over 18,500, only 5,000 of those had been active cash or tournament players. In the latest reports, the site had just 525 active players per month with quarterly revenues under £300,000. Devilfish Gaming, which operates a casino and bingo sites, in addition to poker, will receive £40,000 in cash and the rest in shares of the acquiring unnamed company. "The sale has not yet been completed and is subject to satisfactory completion of due diligence and legal process. A further announcement with more detail will be made once the sale has been completed," according to the announcement.
In a separate statement, Devilfish Gaming announced that David Boden resigned as chairman, effective immediately. "The Board wishes to thank David for his contribution to the company during his period of tenure," the statement said.
It is not clear if Devilfish Poker will continue to operate or even if the Devilfish will remain involved with the site. If not, there very well may be a new, popular poker pro on the market.
For more on the story, visit www.igamingbusiness.com.
Full Tilt Poker Out of Washington
Full Tilt Poker is one of the most popular online poker sites in America and the second largest in the world. Unfortunately for residents of Washington, they'll no longer be able to play real-money poker on the site.
Following a ruling by the Supreme Court to uphold a ban on online gambling in Washington last month, PokerStars blocked state residents from its site. Now FTP is following suit. While FTP initially remained open to Washington players after the ruling, the company announced this week that it had changed its stance.
"In accordance with Washington State law, as it is currently interpreted, any player logging in from a Washington-based IP address will be prohibited from real-money game-play," FTP said in a statement. "Our number one priority is, and always has been, providing the best possible online poker experience to all of our players, and it is with great regret that we make this announcement. We would like to assure all players that their funds are safe and secure in their Full Tilt Poker account."
While Washington residents can access real money play when outside the state, no one within the state will be able to play the real-money game, including nonresidents just visiting the state. This is the first time FTP has blocked players from the U.S. since the Unlawful Internet Gaming Enforcement Act of 2006.
For those in Washington who are dissatisfied, FTP advises them to join the Poker Players Alliance and to "contact your local representatives in Washington State to make your feelings known."
Check out www.insidepokerbusiness.co.uk or www.gamblingcompliance.com for more information.
High Stakes Poker Coming to the Poker Channel
Europe's largest dedicated gaming television network, The Poker Channel, has acquired the exclusive broadcast rights for three seasons of High Stakes Poker in Europe and Russia through a three-year deal with the Game Show Network (GSN).
High Stakes Poker has proven to be one of the most popular poker shows on television and was an instant his for GSN. On the show, players put up their own money and play no-limit Texas hold'em against other top poker professionals. Usually, the table holds millions of dollars with pots often building into the hundreds of thousands.
According to the agreement, The Poker Channel will air High Stakes Poker during its prime-time schedule in 30 European markets including Great Britain, Germany and France. One episode from seasons two through four will air every week and will be available online at PokerChannelEurope.com one day after being broadcast.
"High Stakes Poker is arguably the most popular poker show of all and deserves a permanent place in our primetime schedule in all 30 countries," said Chris White, managing director for the Poker Channel. "We're delighted to have reached an agreement with GSN that enables so many viewers to watch it on television for the first time. The appetite to watch and learn poker continues to grow around the world and High Stakes Poker is at the heart of this."
For the full story, visit www.igamingbusiness.com.
If you want more off the PokerNews experience, be sure to like us on Facebook and follow us on Twitter.