The Online Railbird Report: Negreanu Wins $333,000 on PokerStars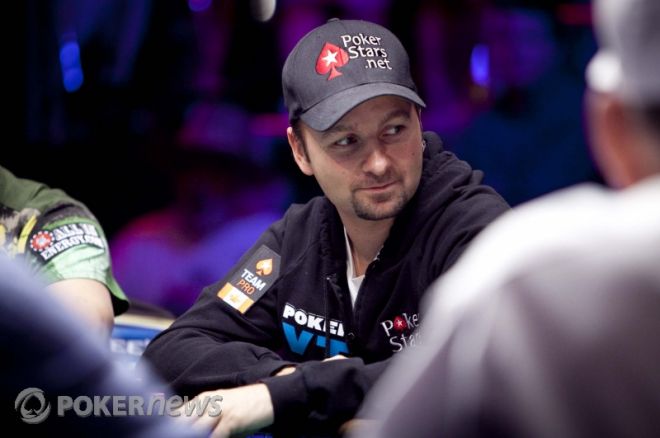 While Full Tilt Poker is the primary hotbed for high-stakes online cash games, the action was kicked up a notch this week on PokerStars by the presence of the site's most famous endorser: Daniel Negreanu. He has blogged a great deal about how much he's worked on his online game this year, and he set out to prove it this week, logging some hours in his eponymous "Daniel's Room." Over on Full Tilt, the cap pot-limit Omaha action heated up with Gus Hansen and Phil Galfond booking wins.
Welcome to Daniel's Room
While recovering from the 2010 World Series of Poker, Negreanu has become a daily fixture in the $100/$200 no-limit hold'em game on PokerStars. He played five substantial sessions in the last five days, winning $332,770 over the course of 1,325 hands. Before this run, he was stuck more than $305,000 for the year on Stars, but is now showing a $42,000 profit over 10,278 hands. His opponents this week included Tom "kingsofcards" Marchese, Jason Mercier, Bijan "Mr Zahmat" Zahman, Aaron "aejones" Jones, Will "molswi47" Molson, FiSHeYe1984, Justin "Boosted J" Smith, Joel "Odonkor1" Nordqvist and Sussie Smith.
During Tuesday night's session "KidPoker" found himself on the right side of not one, but two $100,000 pots. Playing four-handed, Sussie Smith opened for a $700 raise holding
, and Negreanu three-bet to $2,600 on the button with
. Sussie Smith called, they saw a
flop, and Smith checked to Negreanu, who bet $3,800 with top pair, top kicker. Sussie Smith came in with a raise to $12,000, despite having missed the flop completely, and Negreanu called. The turn was the
, and Sussie Smith checked again. Negreanu bet $8,200 and Sussie Smith came over the top for all the bones, shipping his entire $97,333 stack in the middle on a pure bluff. Negreanu called off the $27,200 he had behind with his aces up and took down the $100,200 pot.
Later on, Negreanu picked up
under the gun and opened for $600. Molson reraised to $2,000 with
on the button, Negreanu four-bet to $5,800, and Molson called. Negreanu led out for $6,200 on the
flop and Molson called. The
landed on the turn, and Negreanu bet another $9,200. Molson flatted again, and they went to the river which fell the
. Negreanu bet $28,750 and earned another call. Ship the maximum value and the $100,200 pot!
Cap PLO is the game du jour
Over on Full Tilt, most of the high-stakes action this week revolved around the $100/$200 and $200/$400 cap pot-limit Omaha games. Justin "Boosted J" Smith, David Benefield, Ilari "Ziigmund" Sahamies, NEKOTYAN, and Jared "harrington25" Bleznick all got in on the action, along with Phil "OMGClayAiken" Galfond, who sat in the cap games despite expressing his disdain for them in a post on his Bluefire Poker blog.
"I really dislike cap PLO. I think it's a boring game with few complexities, and those complexities are more about math and running hand scenarios through calculators off the table than they are about psychology, leveling, and adjusting to opponents and game flow. If cap PLO are the only games running, I'll play, but I hope people start playing something else," Galfond wrote.
Galfond may not love the cap games, but he did post a $51,000 win this week over 567 hands of PLO at limits ranging from $25/$50 to $200/$400. One of his biggest confrontations came in this three-way capped pot that topped out at $47,000. Sahamies opened for $1,400 on the button, Benefield three-bet to $4,600 from the small blind, and Galfond repotted to $15,200 from the big blind. Both Sahamies and Benefield called, the betting capped preflop.
Galfond

Sahamies

Benefield
Galfond turned a king-high flush on the
board and took down the pot.
Hansen turns around weekend losses
Gus Hansen experienced bigger swings than any of his high-stakes peers this week, playing a mix of $1,500/$3,000 7-game and $200/$400 cap PLO. Saturday saw Hansen shed more than $396,000 at PLO and 7-Game, but he was able to recoup a sizable percentage of those losses on Tuesday when he went on a PLO heater to the tune of $232,000. That's quite a feat, especially considering that the cap game allows each player to commit a maximum to $16,000 to any given pot.
One of Hansen's largest single-hand wins in the cap game came in this $49,000 pot. Playing six-handed, Hansen opened for $1,400 from under the gun, David Benefield three-bet to $4,800 from UTG+1, Luukie21 flat-called on the button, and Hansen came along, as well. The flop came down
, Hansen led out for $11,200, and both opponents called. With $16,000 apiece in the pot, the action was capped and the cards went on their backs.
Hansen
(top two pair and a flush draw)
Benefield
(overpair)
Luukie21
(bottom pair and a smaller flush draw)
The
on the turn made Hansen a full house and the
on the river made him quads to win the $48,600 pot.
Who's up? Who's down?
This week's biggest winners (7/23-7/27): Jared "harrington25" Bleznick (+$430,000), Daniel "KidPoker" Negreanu (+$333,000), Luukie21 (+$301,000)
In the red: Ilari "Ziigmund" Sahamies (-$344,000), Niki Jedlicka (-$318,000), world1969 (-$181,000)
Are you following us on Twitter yet? Well why not?