The Online Railbird Report: The Calm Before the Storm?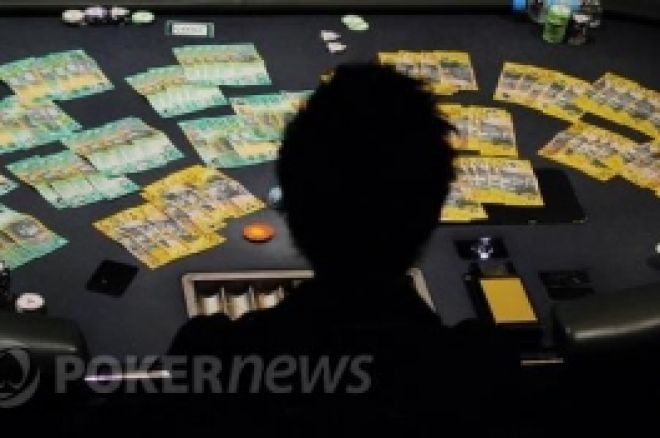 Over the last few days, the high-stakes cash game action on Full Tilt slowed significantly while everyone's favorite Swedish game catalyst took a breather. "Isildur1" took several days off following his heavy losses to Brian Hastings and Phil "OMGClayAiken" Galfond, but reappeared on Monday night and was back to his old tricks in no time. While Isildur1 was in temporary hibernation, Sami "LarsLuzak" Kelopuro shined at heads-up no-limit hold'em and "geoff7878" emerged as the week's biggest winner with some successful sessions at cap pot-limit Omaha.
Isildur1 is back in action
Isildur1 ended his short break from online cash games on Monday, signing on to Full Tilt Poker and sitting at $50/$100 pot-limit Omaha. He found a taker in Cole Southand left the tables an $82,000 winner. At one point, South asked Isildur1 if he wanted to raise the stakes to $100/$200, but Isildur1 was short on time and promised to return later in the day.
Indeed he did, and the action blew up in short order. Isildur1 stuck around for over 5,700 hands, playing heads-up sessions with South, Galfond, Justin "ZeeJustin" Bonomo, and Tom "durrrr" Dwan. South dropped another $27,500 to Isildur1 in 2,000 hands of primarily $50/$100 and $100/$200 PLO, and Bonomo shed nearly $200,000 in 3,000 hands of $100/$200 and $200/$400 NLHE. Dwan and Galfond posted wins, picking up $85,000 and $32,000 respectively in short heads-up sessions at the $300/$600 tables
Isildur1's biggest hand against Galfond came when he hit the flop perfectly and was able to extract maximum value on his hand. Playing $300/$600 PLO, Isildur1 opened for $1,800 from the button, Galfond three-bet to $5,400 and Isildur1 called. Galfond led out for $4,800 on the
flop and Isildur1 smooth-called. The turn brought the
. Galfond slowed down and checked, Isildur1 bet $14,600 and Galfond called. When the
fell on the river, Galfond checked again, Isildur1 moved all-in for $45,698, and Galfond made the call for nearly his entire stack. Isildur1 flopped the nut boat with
and collected the $140,996 pot while Galfond mucked.
Kelopuro back on the upswing at heads-up NLHE
Sami "LarsLuzak" Kelopuro weathered a disastrous 2009, losing close to $4 million at the virtual tables, primarily in the nosebleed-stakes PLO games. He's been diligently grinding it out at lower limits this year, and this week saw a flurry of heads-up NLHE action for the 23 year-old Finn. On Friday he took $33,000 off "URnotINdanger2" in 1,182 hands of $100/$200 NLHE, then posted a $39,000 win against Issac "luvtheWNBA" Haxton after only 360 hands at the same limit.
One of Kelopuro's bigger wins came in this $56,000 pot against URnotINdanger2. URnotINdanger2 opened for $600 and Kelopuro called from the big blind. Kelopuro led out for $888 on the
flop, URnotINdanger2 raised to $2,676 and Kelopuro called. The turn came the
and Kelopuro check-called a $5,600 bet. The
hit the river and Kelopuro checked again. URnotINdanger2 moved in for $18,909 and Kelopuro called, his top pair with
good against his opponent's busted flush draw with
.
Monsterpotten of the week: Sahamies picks off South's bluff
Playing heads-up $300/$600 PLO in the wee hours of Tuesday morning, Ilari "Ziigmund" Sahamies and Cole South were each sitting more than 200 big blinds deep when the following hand unfolded. Sahamies opened for $1,800 from the button, South three-bet to $5,400 and Sahamies came back over the top for $16,200 total. South made the call and they saw a
flop. South checked and Sahamies checked behind. South led at the
on the turn for a pot-sized bet of $32,400 and Sahamies looked him up. The river fell the
and South moved all-in for $85,195. Sahamies called off the $72,600 he had behind.
The hands? Hold on to your hats...
South
(busted straight draw)
Sahamies
(third pair)
Neither player hit the flop in a significant way, South flopping a gutshot and Sahamies middle pair. South decided to take a shot on the turn when he picked up some more straight draw outs, and although Sahamies hadn't improved, he decided to call here, perhaps to see what South would do on the river if a blank fell. The
was indeed a blank for all the draws out there and somehow Sahamies was able to see through South's all-in move, making a hero call on the river with nothing but third pair-- a move he could only make if he was near-certain that South was on nothing but a bluff. Sahamies' guts, gamble, and fortitude earned him the $242,400 pot.
Who's up? Who's down?
This week's biggest winners (3/16-3/22): geoff7878 (+$395,000), POKERBLUFFS (+$335,000), harrington25 (+$218,000)
In the red: Alexander "PostflopAction" Kostritsyn (-$225,000), Cole South (-$220,000), Gus Hansen (-$192,000)
The highest-stakes cash game action all unfolds on Full Tilt Poker. Open up an account today and see for yourself.