The Online Railbird Report: It's Déjà vu All Over Again for Brian Hastings and Isildur1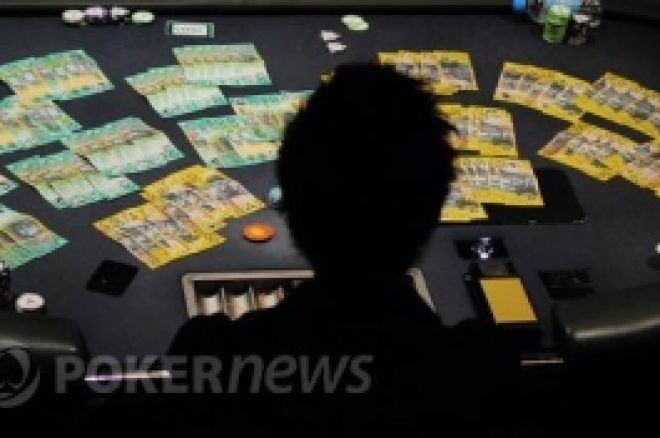 The high-stakes cash game action has been relentless over the last few days on Full Tilt Poker. After dropping $1.6 million to Phil "OMGClayAiken" Galfond late last week, "Isildur1" tried to reclaim some of those losses via heads-up PLO matches with Brian Hastings and Ilari "Ziigmund" Sahamies, but instead watched in horror as another $1.8 million of bankroll evaporated. Also experiencing some wild swings were Gus Hansen, Brian Townsend, and Tom "durrrr" Dwan, who ended the week as the biggest winner, earning more than $1.1 million.
Hastings pummels Isildur1, wins $1.5 million
How does that old saying go? "You can shear sheep many times, but you can only lead them to slaughter once?" Regardless of the exact wording, the sentiment applies here, as Brian Hastings followed up the $4.2 million account-busting win over Isildur1 he enjoyed last December with a $1.5 million buzz cut on Monday night. Hastings and Isildur1 went heads-up for 2,776 hands of $500/$1,000 pot-limit Omaha across six tables, Hastings ending the evening with $1,445,177 in profit. The sum represented, more or less, the amount the mystery Swede was up during the "Isildur 2.0" era, prompting many railbirds to speculate that Hastings had cleaned out Isildur1's Full Tilt Poker account.
It is also worth noting that Hastings ran approximately $900,000 over expected value in this match. In the now-legendary December match, Hastings also ran above EV to the tune of $3 million.
The $400K pots were flying between these two, the largest one of all coming in at $486,000. Both players started the match about 250 big blinds deep, Hastings' stack slightly covered by Isildur1's. Hastings opened for $3,000 on the button, Isildur1 raised to $9,000, and Hastings four-bet to $27,000. That wasn't enough for Isildur1, who repopped it to $81,000. Hastings made the call. The flop came down
and Isildur1 led out with a pot-sized bet of $162,000, setting Hastings all-in. He made the call for the $161,986 he had behind, turning up
for a wrap draw. Isildur1 led with
for top two pair, his hand holding up through the
on the turn and the
on the river.
Apparently, Isildur1's coffers were not completely empty, as he signed back on to Full Tilt only a few hours later and hopped back on to the $500/$1,000 PLO tables with Ilari "Ziigmund" Sahamies. 1,210 hands later, Isildur1 had dumped off another $300,000 to Sahamies, ending the day more than $1.8 million in the red.
Gus Hansen bleeds out $805K in 7-Game, Townsend heals ailing bankroll with $500K win
It's been a rough month so far for Gus Hansen and Brian Townsend. The Great Dane is down over a million in March while Townsend is staring at a year-to-date loss of over $2 million. Hansen endured most of those losses in a $1,500/$3,000 7-Game bloodbath over the weekend, losing more than $805,000 in 2,045 hands. Townsend, however, was able to claim the biggest win in that game, posting more than $500,000 in earnings over the course of 1,877 hands. Joining them at the tables were Joe "Nizot Skizared" Cassidy, David Oppenheim, Patrik Antonius and Tom "durrrr" Dwan.
In a cooler to end all coolers, Hansen turned the nut full house in a no-limit hold'em hand with
on a
board. He got his entire stack in, only to watch "thecranium" flip over
for quad deuces. Thecranium took down the $129,875 pot while everyone was left wondering what sort of Danish curses Hansen was uttering.
Monsterpottens of the week
Dang's wheel runs over Galfond's aces: Playing six-handed $300/$600 pot-limit Omaha, Isildur1 opened from UTG+1 for $2,700. Phil "OMGClayAiken" Galfond three-bet to $9,600 from the button, Di "Urindanger" Dang flat-called from the small blind, "1sneaky" called from the big blind, and with the action back on Isildur1, he made it $48,600 to go. Galfond wasn't having any of that and repotted to $165,600 only to have Dang move all-in behind him for $240,486. 1sneaky folded, Isildur1 called all-in and Galfond called all-in, creating a $622,965 pot.
Dang

Galfond

Isildur1
Dang outflopped both his opponents, the
flop giving him a wheel. No one had spades, so Dang didn't even have to fade a flush draw, the turn and river coming the
and the
to give him the pot.
Dwan runs it twice against Sahamies: The "run it twice" option isn't just for episodes of High Stakes Poker anymore, and Tom "durrrr" Dwan put it to good use in this $513,000 pot he played on Monday night. Ilari Sahamies opened for $3,000 on the button, Dwan three-bet to $9,000 and Sahamies called. Dwan led out for $13,000 on the
flop and Sahamies called. The turn came the
and Dwan bet another $34,000. Sahamies raised to $146,000, Dwan moved all-in and Sahamies called. Dwan showed
for a set of aces, a straight draw and a flush draw while Sahamies turned up
for a wrap draw.
After deciding to run it twice, the first river card fell the
, making Dwan aces full. The second river was the
and with the nut flush, Dwan scooped both halves of the $512,976 pot.
Sahamies' set holds against Isildur1's draw: During their $500/$1,000 PLO match on Monday night, Sahamies opened for $3,000 and called Isildur1's $9,000 three-bet. Isildur1 led out for $13,000 on the
flop and Sahamies smooth-called. The turn came the
and Isildur1 fired again, making it $38,000 to go. Sahamies raised to $158,000, Isildur1 moved all-in for $298,995, and Sahamies called, turning over
for a set of sixes. Isildur1 flopped the nut flush draw with
and turned two pair, but he couldn't improve his hand, the river falling the
to give the $475,988 pot to Sahamies.
Who's up? Who's down?
This week's biggest winners (3/9-3/15): Tom "durrrr" Dwan (+$1.17 million), Brian Hastings (+$1.14 million), Ilari "Ziigmund" Sahamies (+$946,000)
In the red: Gus Hansen (-$1.29 million), Cole South (-$1.28 million), Isildur1 (-$1.11 million)
Top earners, 2010 to date: Tom "durrrr" Dwan (+$3.59 million), Alexander "PostflopAction" Kostritsyn (+$2.43 million), NEKOTYAN (+$1.86 million).
The highest-stakes action online all unfolds on Full Tilt Poker. Open up an account today and see for yourself.