The Online Railbird Report: Andy Bloch Racks Up $300k in 48 Hours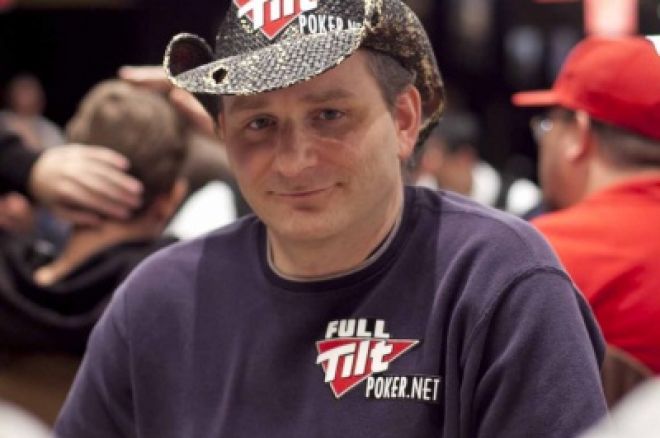 With only four more days of the Main Event remaining, the 2010 World Series of Poker is coming to a close. While most of the nosebleed-stakes crowd is still holed up in the live games at Bellagio and Aria, others have caught their flights home and are slowly returning to the online grind. While many of his peers were still grinding away in the Main Event, Andy Bloch made the best of his early bustout and hopped online, turning a profit that would get some players unstuck for the entire WSOP in the course of a single night. Not faring as well were Gus Hansen, who had a cold run in the 7-Game, and Observer84, who dropped six figures in a $100/$200 heads-up no-limit hold'em match.
Bloch busts from Main Event, wins $300k online
"The good news is what I won last night on Full Tilt would have taken a week more to win at the WSOP and I get a weeks vacation," Andy Bloch tweeted on Saturday afternoon, shortly after busting out of the WSOP Main Event. With his tournament obligations out of the way, Bloch decided to unwind with a stint at the 7-Game tables on Full Tilt. Bloch sat in for 624 hands and departed with $141,000 in profits, inspiring the above tweet.
Less than 48 hours later, Bloch hopped back into the 7-Game and ran hot once again, racking up nearly $163,000, pushing his total earnings for the week past the $300k mark. In this session, while Bloch was raking in the pots, Gus Hansen was doing more than his fare share of donating, dropping over $197,000 in just short of 2,000 hands.
Huge swings for Sagstrom
Better known by his old handle "Erik123," Sweden's Erik Sagstrom plays under the name "DIN_FRU" these days. While Sagstrom was out and about in Las Vegas for most of the summer, hitting up the games in Bobby's Room and the high buy-in events at the WSOP, he took his action back online this week, playing several long sessions of heads-up and short-handed limit hold'em against a rotating cast of characters that included Phil "OMGClayAiken" Galfond, O Fortuna PLS, IHateJuice, Malestra Pam, and garet777.
Sagstrom won $81,000 on the $500/$1,000 and $1,000/$2,000 short-handed limit hold'em tables on Sunday but took a nosedive the next morning, dropping $103,000 in a three-handed $1,000/$2,000 game. His worst loss, however, came in a 1,055-hand heads-up match with Malestra Pam on Monday afternoon when he booked a $269,000 loss. Sagstrom was able to win at least some of that cash back later that evening, playing a far more successful $500/$1,000 heads-up match with IHateJuice in which he banked $74,000. Overall, Sagstrom was a $97,000 winner this week.
Zick123 takes Observer84 for $166k
Some of the bigger no-limit action in recent days came in a $100/$200 heads-up match between Observer84, a longtime high-stakes regular, and Zick123, a more infrequent visitor to these games. The two played more than 1,700 hands, Zick123 bursting out of the gate and never falling into the red at any point during the match. Zick123 finished up with $166,000 in earnings including this $92,000 pot.
Zick123 opened for $600 on the button and Observer84 reraised to $2,400 from the big blind. Zick123 came back over the top with a four-bet to $6,400 and Observer84 made the call. The flop came down
. Observer84 checked to Zick123, who bet $7,500. Observer84 responded with a shove for more than $121,000 and Zick123 made the call. They decided to run the turn and river twice.
Zick123

Observer84
Zick123 needed to dodge a diamond and got there both times. The first turn and river fell the
and the
while the second came the
and the
. Zick123's top pair held, and he raked in the $92,000 pot.
Who's up? Who's down?
This week's biggest winners (7/6-7/12): Andy Bloch (+$304,000), NEKOTYAN (+$244,000), Zick123 (+$208,000)
In the red: Observer84 (-$224,000), Jared "harrington25" Bleznick (-$215,000), DAT MOOSE (-$130,000)
Top earners, 2010 to date: Tom "durrrr" Dwan (+$3.45 million), Phil Ivey (+$2.02 million), jungleman12 (+$1.99 million)
OMG I'm so stuck: Brian Townsend (-$2.53 million), Matatuk (-$1.49 million), Justin "ZeeJustin" Bonomo (-$1.44 million)
The highest-stakes action on the Internet all unfolds on Full Tilt Poker. Open up an account today and see for yourself.