The Online Railbird Report: Ziigmund's $2 Million Week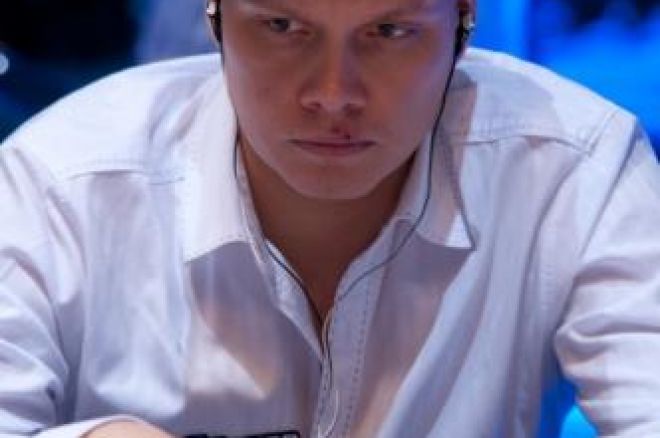 In a post on his blog aptly titled "Usain Bolt," Ilari "Ziigmund" Sahamies wrote the following about his huge week at the online tables: "I have slept like 10 hours in last 100 hours which means Im little bit tired....I have ran like Usain Bolt and have been so unbelievable lucky so I have to be happy...and I am," wrote Sahamies.
Indeed the volatile Finn had a banner week, pulling more than $2 million out of the pockets of Tom "durrrr" Dwan and Cole South. Over the last seven days, we also saw Daniel "KidPoker" Negreanu log some serious hours over at PokerStars, while Patrik Antonius unsuccessfully attempted to snap his losing streak.
Sahamies up, "durrrr" down, South suffering
Tom "durrrr" Dwan had his 2010 heater temporarily cut short this week after dropping more than $1.3 million to Ilari "Ziigmund" Sahamies. Sahamies and Dwan played two long matches of heads-up $500/$1,000 pot-limit Omaha over the course of two days. Dwan lost $900,000 in the first match and $441,000 in the second.
Sahamies continued his run-good, picking up $181,000 from Cole South in a short session that same evening. Dwan was also successful against South, earning $350,000 from the CardRunners pro at $200/$400 and $300/$600 PLO. After winning more than $3.5 million in the first two months of the year, South is still stuck in the middle of a massive downswing, shedding $2.65 million in March.
One of the few bright spots of the week for Dwan was this $364,000 pot he took down against Sahamies, winning both ends after running the river twice. Dwan had more than $181,000 to start the hand while Sahamies was sitting $700,000 deep. Holding
, Dwan opened for $3,000 and Sahamies called with
. Dwan flopped a full house when it came down
but Sahamies took the lead, firing out $6,000 with his two pair. Dwan smooth-called and the
hit the turn, giving Sahamies tens and sixes. The Finn loaded another bullet, making it $18,000 to go. Dwan raised to $47,400 and Sahamies re-potted to $160,200, perhaps in an attempt to move Dwan off his hand. "Durrrr" wasn't going anywhere, though, and moved all-in. Sahamies called and they decided to run the river card twice. Both rivers, the
and the
favored Dwan, who scooped up the $363,916 pot.
Negreanu gets on the grind at $100/$200 NLHE
Daniel "KidPoker" Negreanu has never been one for putting in long hours at the high-stakes online cash game tables, but this week, while on business in London, Negreanu played more than 3,300 hands of $100/$200 6-max no-limit hold'em on PokerStars. That might seem like a small number of hands compared with some of his nosebleed-stakes brethren, but unlike most of his peers, Negreanu prefers to play only one or two tables at a time. "KidPoker" booked a $122,000 win last week, but lost $49,000 of it back in the last seven days, leaving him about $73,000 in the black.
Negreanu's largest single-pot haul of the week came in at $54,000. Playing six-handed, the action folded around to Negreanu in the small blind. He raised to $600 and Will "molswi47" Molson defended his big blind. Negreanu led out for $800 on the
flop, Molson raised to $2,500, and Negreanu three-bet to $6,400. The rest of the money went in after Molson reraised to $12,200 and Negreanu shoved for $26,455. Negreanu held top pair with
but had to dodge a slew of outs as Molson turned up
for a straight flush draw. The
on the turn made Molson's flush and Negreanu trip aces, the board pairing with the
on the river to earn him the $54,110 pot.
Griffin relieves Antonius of $115K at HA
Remember HA? Those half pot-limit hold'em, half pot-limit Omaha games everyone went crazy for last year? They've been dormant for quite a while now, but Ashton "theASHMAN103" Griffin and Patrik Antonius shook the dust off the $200/$400 tables last night with a 250-hand match. Despite the change in opponent and location, Antonius still couldn't pull himself out of his downswing, losing $115,000 in short order.
Griffin and Antonius' largest pot came in at $95,000 and unfolded during a pot-limit hold'em round. Antonius opened for $1,200 with
, Griffin three-bet to $3,600 with
and Antonius called. Both players flopped gutshot straight draws when the first three came down
, Antonius holding the best hand with ace-high. Griffin bet $5,100 and Antonius called. The turn was the
, making Griffin's straight and giving Antonius the nut flush draw along with a pair of fives. Griffin fired again, making it $11,900 to go, Antonius shoved for $38,897 and Griffin called. The river was a blank for Antonius, the
falling to give Griffin the $94,194 pot.
Chat of the week: Sahamies gets saucy with South
Ilari "Ziigmund" Sahamies' expletive-ridden chat box rants are the stuff of legends, and this week, he treated railbirds to another gem. While playing heads-up with Cole South, Sahamies lost his Internet connection while involved in a huge pot. He could not reconnect in time and South took down the monsterpotten, inspiring some choice words between the two online rivals.
Ziigmund: u r ****** sick
Ziigmund: GG
Cole South: ?
Ziigmund: ha dnuts with flushdraw
Ziigmund: thnx man
Ziigmund: gg ****** cheater
Cole South: um
Cole South: u cant be serious
Ziigmund: just go with your cardrunners m8s to meating
Ziigmund: yea im serious
Ziigmund: ****** never seen like that
Ziigmund: huh
Cole South: u werent dc'd, u have bet me out of pots PLENTY of times and i have a note of it on you
Cole South: against durrrr when he is DCd i am fine giving him his equity back after the fact
Cole South: bc i know he would do the same
Cole South: against u
Cole South: i would return when my conn saves
Cole South: and be bet out and have u say "f off and die"
Cole South: if u are scared and want to play a 10 hand session like usual
Cole South: thats fine
Ziigmund: u r ****** great
Ziigmund: u saw i m out everywhere
Ziigmund: and u bet right away everywhere
Cole South: ....no
Ziigmund: yes
Cole South: we were in 1 pot, that was the pot i bet in
Cole South: u werent DCd
Ziigmund: just keep those
Cole South: i have a note on you
Cole South: that you DO bet on when i DC
Cole South: which is fine
Cole South: but unlike durrrr or someone i cant return the favor of course
Ziigmund: just do it for someone else
Ziigmund: like Gus
Ziigmund: not for me
Ziigmund: GG
Cole South: such a joke
Who's up? Who's down?
This week's biggest winners (3/23-3/29): Ilari "Ziigmund" Sahamies (+$2.17 million), Ashton "theASHMAN103" Griffin (+$495,000), Gus Hansen (+$420,000)
In the red: Tom "durrrr" Dwan (-$1.58 million), geoff7878 (-$676,000), Phil "OMGClayAiken" Galfond (-$469,000)
March madness (3/1-3/29): Ilari "Ziigmund" Sahamies (+$3 million), Di "Urindanger" Dang (+$1.43 million), Tom "durrrr" Dwan (+$1.3 million)
March misery: Cole South (-$2.65 million), Patrik Antonius (-$1.37 million), PixKim (-$846,000)
The highest-stakes action on the Internet all unfolds on Full Tilt Poker. Open an account today and see for yourself.