Suspected Bots on PokerStars Accused of Winning $1.5 Million in Pot-Limit Omaha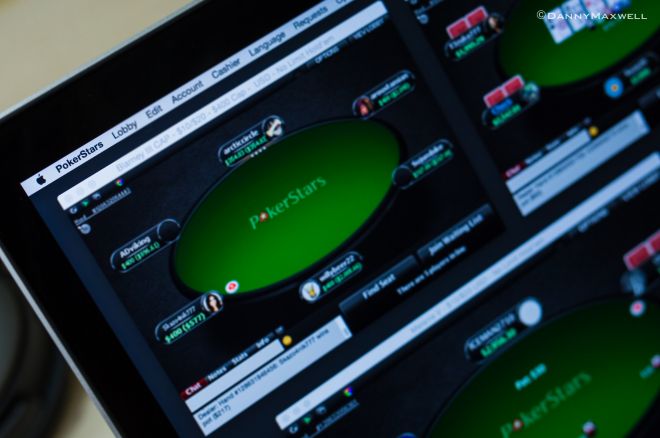 The world's biggest online poker room, PokerStars, recently confirmed that they are investigating a situation involving suspected cheaters using artificial intelligence while playing in mid-stakes pot-limit Omaha games.
Internet detectives estimate that the suspected players, primarily from Russia and Kazakhstan, won almost $1.5 million at the $0.50/$1 and $1/$2 pot-limit Omaha tables. It is believed this amount could be even higher when taking into account benefits received through PokerStars VIP and Stellar Rewards programs.
It is speculated that cheating may have also occurred on the room's sister site, Full Tilt, and on 888poker, the second largest online poker room according to ring-game traffic data provided by PokerScout.
The accusations are quite alarming. It was generally believed that existing bots could dominate limit hold'em, and recently poker bot "Claudico" showed promise against four of the top heads-up no-limit hold'em pros in the world, Doug Polk, Bjorn Li, Dong Kim, and Jason Les. However, until recently many believed that bots were not sophisticated enough to be able to take advantage against regular players in the complex pot-limit Omaha poker variant.
The investigation was brought to the public eye on the TwoPlusTwo poker forum, where posters "Grethe" and "Oink", both regular players in these games, shared their concerns with the poker community this past March. This took place after these players asked PokerStars to investigate on the matter.
The accusations being made aren't just a player complaining about bad beats, as there is plenty of statistical data to support something fishy took place. This includes players playing in similar patterns preflop with nearly identical squeezing patterns, which occur with these players much more frequently than the typical regular players at these stakes.
The statistic evidence becomes more damning based on an in-depth analysis by TwoPlusTwo poster "Schwein" analyzing differences using the "Squared Euclidean distance" method between a handful of legitimate players and those suspected of using artificial intelligence.
The chart below shared by "Schwein" highlights that typically players have a difference value of anywhere between 600 to 1,200. However, the players suspected of using artificial intelligence are only differing by a few dozen points.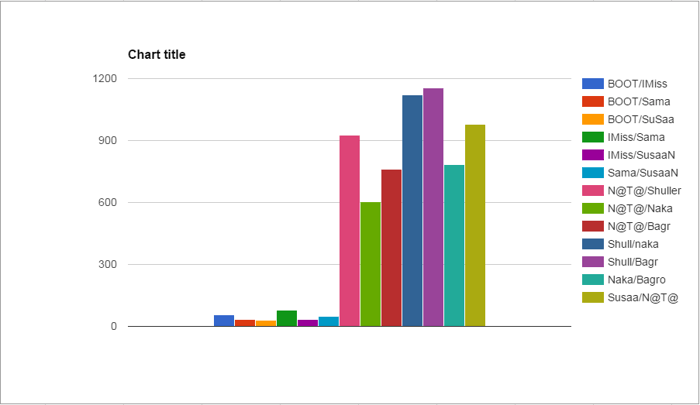 Interestingly enough, some help to identify the problem may have come from a controversial source in Russia. "Schwein" reported utilizing information from "Russian PTR," an invitation-only tracking site disallowed by PokerStars that shares playing statistics on players from many different poker networks with its members. While many believe sites such as this should be shut down, it is intriguing how having this type of transparency was able to spark the public outcry with potentially indisputable evidence.
To add to this, there are patterns which are leading some to believe that the bots are sharing hole cards when they are at the same table. The players suspecting this point out that by having the knowledge of four other hole-cards, a player may decide to continue or discontinue a draw since the odds may have increased or decreased in their favor of winning the hand against their opponent's range.
PokerStars Confirms Investigation
Without going into too many details, PokerStars confirmed to "Grethe" that cheating was taking place in an email from the PokerStars Game Integrity Team. The online poker room claimed to have started an investigation prior to it being reported.
Hello Grethe,

Greetings from PokerStars.

At the outset, I would like to apologize for the length of time it has taken for us to get back to you on this matter. Please understand that this was a particularly complex investigation. We are unable to comment on an investigation that is ongoing, and we wanted to take the time to ensure that we reached the correct resolution.

Prior to your original email to us reporting this matter, we had already been investigating the accounts in question. We are now able to confirm that we have closed a number of these accounts which were found to be violating our Terms of Service. If you were deemed to have been harmed by unfair play as a result of these violations, you should have received a compensatory credit by now, as well as an email notifying you of the credit.

Thank you once again for taking the time to write to us with your concerns. We want a clean game just as much as you do - both PokerStars and you directly benefit from honest and fair games, and we want to work constructively with you (and anyone else, for that matter) to ensure that our games are fair.

If you have any other questions or concerns, please let us know. Best of luck at the tables!

Regards,

Ian Y
PokerStars Game Integrity Team
Additionally, PokerStars has confirmed the investigation to PokerNews, and have promised to give us an update as soon new details will emerge.
Players have reported on TwoPlusTwo that they have received refunds, albeit with very little explanation. The amounts being refunded are relatively small in comparison to the number of hands played against the suspected accounts leading some to believe that their refunds could be a result of an unrelated case of cheating.
TwoPlusTwo poster "Seaking" reported on May 25, "I got $62.63. I don't think it's from playing these specific suspected bots/colluders though."
"Jabonator" agrees with this sentiment, "I got like 17 bucks, and I've played a total of over 10K hands vs. these guys, so I as well doubt this is the reason."
"Grethe" quickly posted after this that he didn't receive any funds yet, despite being stuck for over $1,000 against the suspected players. To add to the speculation, other players have reported receiving refunds playing at higher stakes than it was thought the bots were playing at.
While it is possible that these refunds are due to an unrelated case, many others believe that the relatively small amount of refunds is due to the small amount PokerStars was able to confiscate from these accounts as part of their ongoing investigation. It is speculated that the suspected cheaters were typically keeping minimum funds in their accounts by frequently withdrawing their winnings.
"They give refunds from the funds they are able to seize and then they calculate what was your exposure to the violators," TwoPlusTwo member "freewilly12" posted. "For obvious reasons, botters keep the bare minimum in their accounts. My view is they caught more accounts than was reported and that is why players who never logged hands on PLO50 and 100 got refunds, too. Would be interesting to know for example which high volume zoom accounts stopped playing last few months."
New Investigation
For a short-period of time, many believed that the games were once again "safe" with most if not all of the suspected accounts being shut-down. While it is true that many of the originally reported accounts have been closed by PokerStars, there are new reports of additional accounts popping up with similar styles of play.
TwoPlusTwo poster "Loctus" shared with the poker community that PokerStars has acknowledged that there still may be a problem and that they are investigating. It also appears they are attempting to discourage posters from sharing individual screennames, claiming that this may be considering slander, and may tip off potential cheaters that they are being investigated. While this may be true, the original posting of screennames was needed for Internet detectives to dig further into the play of the suspected parties.
Furthermore, as you can see from the correspondence below, that PokerStars believes that not all the players accused of cheating were actually doing so.
Thank you for your report. Your email was escalated to me as an expert in bot detection and as a member of the PokerStars Game Integrity Team.

We are indeed aware of the online discussions alleging a group of accounts to be operating poker bots. Please rest assured that we do not tolerate such activity on PokerStars. We have an extensive arsenal of detection tools in order to ensure that each player is a human being and playing without the use of prohibited programs.

Firstly, we note that the discussions include a list of accounts that are assumed to have been closed due to lack of recent activity. We can confirm that a number of these accounts have indeed been closed for violations of our Terms of Service, but this does not hold true for every account mentioned. Due to our strict privacy policy, we are unable to disclose User IDs in the context of fraud, nor offer comment as to why accounts we might have previously investigated may not have any recent activity.

As for the numerous active accounts mentioned, we do understand the concerns surrounding their playing statistics. Our access to all hand histories on PokerStars allows us to analyze any similarities in playing statistics between these accounts, as well as every other account. However, similar playing statistics alone is not sufficient proof wrongdoing, and we must do our due diligence to ensure that the correct resolution is reached. Our investigation includes, but is not limited to, reviewing their software and playing environments, how they interact with the PokerStars client, as well as analyzing their activity in real-time and conducting Turing tests.

We kindly ask for your patience while we thoroughly investigate this matter. We also recommend that the identities of suspects be reported to us directly, not only to avoid slandering potentially innocent players, but also to avoid tipping off potential offenders. If you have any further information to provide regarding this matter, we will take it into consideration.

PokerStars will advise you of the outcome of the investigation as soon as possible.

Regards,

Dmitry
PokerStars Game Integrity
Stay tuned at PokerNews as more develops in this situation.
Want to stay atop all the latest in the poker world? If so, make sure to get PokerNews updates on your social media outlets. Follow us on Twitter and find us on both Facebook and Google+!