Man Proves Greater Than Machine: Players Win $732,713 Against Bot "Claudico"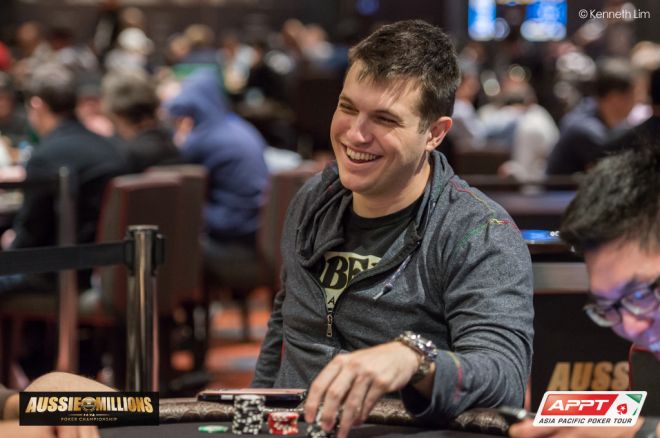 From April 24 to May 8, four of the best high-stakes heads-up players in the world competed against "Claudico", a poker bot powered by artificial intelligence (AI) that was developed by a computer science team at Carnegie Melon University (CMU). The goal was to see whether or not man is still better than machine at no-limit Texas hold'em.
The results are in, and man still proved to be superior than machine, even though "Claudico" put up a good fight.
In total, the four poker players — Doug Polk, Bjorn Li, Dong Kim, and Jason Les — bested "Claudico" for $732,713 worth of virtual money. In total, there $170 million in virtual money bet during the 80,000 hands played out over the two weeks of the "Brains vs. A.I." challenge.
According to the CMU computer science department, early on it was Polk in the lead, ahead $400,368 against "Claudico" after the first week. It appears the machine caught onto some of Polk's tricks, though, as at the end of the competition, he found himself ahead by $213,671, giving back almost half of his first week's winnings.
Despite losing money in the second week, Polk does not believe "Claudico" is a world-class player. "There are spots where it plays well and others where I just don't understand it," Polk stated on the website tracking the competition. "Some of its bets, for instance, were highly unusual. Where a human might place a bet worth half or three-quarters of the pot, 'Claudico' would sometimes bet a miserly 10 percent or an over-the-top 1,000 percent. Betting $19,000 to win a $700 pot just isn't something that a person would do."
While Polk had his share of difficulties in the second week of the competition, Li just got stronger and stronger during the competition. Li was ahead by $272,479 after one week, and propelled this to a total profit of almost double that with a total of a $529,033 win when the competition ended on May 8.
Kim was up and down throughout the competition, but when the final cards were dealt, he beat the CMU-powered poker bot for $70,491.
Les was the only player to lose money during the competition, notching a $80,482 loss. This doesn't tell the true story, though, since Les was down $228,066 after one week. This means during the second week he experienced some success against "Claudico," almost inching his way to profit after a great second week.
All the winning players will not receive the exact sum of money that they won. Instead, players will be rewarded from a prize pot donated by Microsoft Research and the Rivers Casino in Pittsburgh, Pennsylvania, where the competition took place.
The action was streamed live on Twitch.tv, however, you will still be able to catch highlights on future episodes of Poker Night in America shown weekly on the CBS Sports Network.
Want to stay atop all the latest in the poker world? If so, make sure to get PokerNews updates on your social media outlets. Follow us on Twitter and find us on both Facebook and Google+!