Woody "plplaya" Deck Overcomes Adversity to Win Third SCOOP Title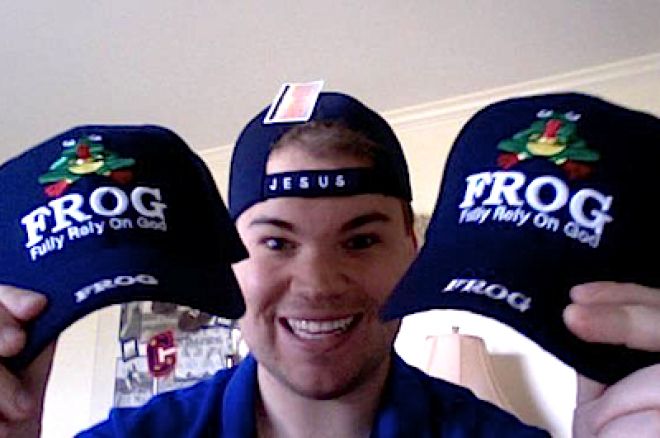 During this year's Spring Championship of Online Poker (SCOOP) on PokerStars, Woody "plplaya" Deck won not one, but two gold watches by winning the Event #13-M $215 Stud for $10,206 and Event #39-H $700 H.O.R.S.E. for $32,992. With his H.O.R.S.E. victory, Deck became the 14th player to ever earn three or more SCOOP titles.
Deck is no stranger to the big stage, first making a name for himself when he won back-to-back heads-up titles at the 2005 Barcelona Heads-Up Poker Circuit. He is known in the poker world as one of the most fearless mixed-game players in both online and live poker.
Things haven't come easy for Deck. The player, still feeling the effects of Black Friday, at first traveled to Tijuana, Mexico, to play under dangerous conditions before traveling elsewhere in the world including the Netherlands where he played this year's SCOOP festival.
We recently sat down with Deck to learn more about his recent accomplishments, along with his future plans during this year's World Series of Poker (WSOP).
PokerNews: What was it like to win your third SCOOP title? How does your third win compare with the other two?
Deck: The first SCOOP win was the most intense. There was no more poker for me if I didn't win it. I had come agonizingly close and suffered a lot of terrible luck during that SCOOP. I was playing it in Tijuana, as I was stuck in San Diego until my wife earned her citizenship in the US. I had to commute each day back, which took sometimes hours at the risk of being kidnapped or murdered.
I developed a routine for a couple years there for the PokerStars events to avoid trouble at the border, but it was always an unreal madness. The most crazy day was during the WCOOP, when I had the chip lead with two tables left, and ended up suffering a horrendous beat to go out 12th or so. It took my wife and I over four hours to get back across the border, which got shut down because of a regional power outage the encompassed all of Southern California to Nevada and most of Northern Baja. It was over 45 degrees in the van we paid to jump ahead in the pedestrian line. By the time we got home, I was just thankful to be alive.
As it happened, that beat was the best thing that could have ever happened to me, as the power went out only three minutes later. No cell towers in Mexico were working, I was cutoff from even being able to handoff the tournament. I was destined to fail.
So fast forward to the SCOOP win. I didn't want to pay for a hotel room, so I played most of the tournament in a public slot-machine parlor and tipped well so people left me alone. Then it was clear I would have to wait until dawn to cross, so I reluctantly had to get a room. Of course the Internet was sketchy, and that was a driving force to make a deal. I was so afraid of losing like I did before, even though I felt I had it locked up.
The second win in the stud SCOOP was pure determination. I hadn't played any poker since the TCOOP series, and for the time between my two fifth-place finishes in TCOOP and SCOOP, all I did was to plan how I was going to win in this SCOOP. I had avoided the limit stud events online, because I thought there was much more variance than in PLO8, but I actually put the work into to discover that I couldn't have been more wrong.
Finally, the last win in H.O.R.S.E. was by far the easiest. I knew what I was doing was working given close calls in a couple other mixed-game tournaments. You can't accumulate chips in limit tournaments every time like you can in big-bet games, but when you do, you can protect your lead more, and you get more situations to exchange equity in your favor. Limit has more consistent results for the better players. It might be harder to close, and harder to accumulate, but it is more consistent.
Tell us a bit about the H.O.R.S.E. event. What do you feel are your strongest and weakest games? How confident were you going into the event?
Razz is my weakest, because I find it hardest to control the pot size versus weaker players, and often you get stuck at a table that over values openers, and likes to reraise and three-bet. This is usually a bad strategy since the hand values run so close and it is too easy to lose control of the hand. If you watch the bigger mixed games, a decision to reraise someone in razz is based on more factors than just seeing low cards. In MTTs, you can't reload, so pushing thin edges in a high-variant game is very bad.
I was very confident going into the H.O.R.S.E. $700 is over my bankroll limitations, so it was a big decision to play. I am in a big hole financially, even after these wins, without any job opportunities other than the business I have been trying to make succeed for three years. Black Friday wiped out many options I always thought I would have if times got tough, and even worse, it affected many of my closest friends catastrophically. The idea of winning again and starting to network some contacts outside of poker weighed heavily in my decision to play. Everyone loves a winner, and even though I have always been one, people need constant proof to believe that you are.
Tell us about how tough the final table was?
Well, everyone played a different style and had a different pedigree. I was aware of what the players were thinking at each level. I was thinking ahead of them. The main threat was Michael "SirWatts" Watson. I always get at his table during the WSOP. Although he's never presented a problem for me, he always worries me because I know how deep of a thinker he is. I can't really say enough nice things about him as a person, but as a player I don't want him anywhere near me. It was just variance that he ran bad, opening the door for me to attack.
Was there ever any discussion of a deal?
I am always willing to chop, especially when I had just got done going over some painful utility of money calculations for my own personal situation. I needed money, but money doesn't affect my play.
Aurangzeb "Ozzy87" Sheikh didn't want to deal, because he's a high-stakes player and this was a relatively small prize money. I respect him, but he was obviously getting tired, and although I was impressed with his play in the previous hours, I smelled blood at the final table. I did not think he would win.
The other player kind of deluded himself into thinking he was a favorite because he played low-stakes H.O.R.S.E. all day, but I didn't care that I was the better player, I needed the money more than I need to measure appendages. I offered him $200 extra. I wouldn't offer even the great Brock Parker anything extra to chop had I not needed the money, so for him to ask for $1,000 was a bit amusing to say the least. I knew his style didn't matchup well against mine, so he's probably only winning that match 30-35 percent of the time the way he played. Was a nice bit of karma for sure.
How were you feeling when you were down to one bet during three-handed play? Were you confident that you could come back at that point?
When I was down to about one big bet, I didn't think anything. I knew two months ago that when I made a mixed-game final sick things would happen. Anything can happen at a limit final, you have to just keep the aggression up. I was, however, inspired by Calvin "cal42688" Anderson in the $2K 8-game final the night before. He was an absolute pest short stack to get rid of. I told the remaining players that I would torture them both like Cal. It's not bragging, because I did it.
What are your plans this summer for the WSOP?
I have sold most of my action and will be playing each tournament as a $200-$500 event. I had someone (an ex-professional player and former WSOP bracelet winner) ask me if I was for real and why I would do that. The answer is because I wouldn't be playing at all not doing this, and that it's about winning for me. Winning opens up so many doors. I just crave winning.
Poker doesn't define me, success in life does. I am very fortunate in almost every way but my current financial situation. That's the easiest thing to change when you have ability. A lot of currently wealthy people would gladly trade places with me knowing they could just make back the money and be better off. I don't let it stress me, but at the same time I take every decision I make seriously. I can be a bit of dick (no pun intended) at times if anyone gets in my way of what I want to accomplish.
Image courtesy of the PokerStars blog.
Want to stay atop all the latest in the poker world? If so, make sure to get PokerNews updates on your social media outlets. Follow us on Twitter and find us on both Facebook and Google+!