Brian Hastings Says Depression Led to Mistakes; Happiness to Bracelets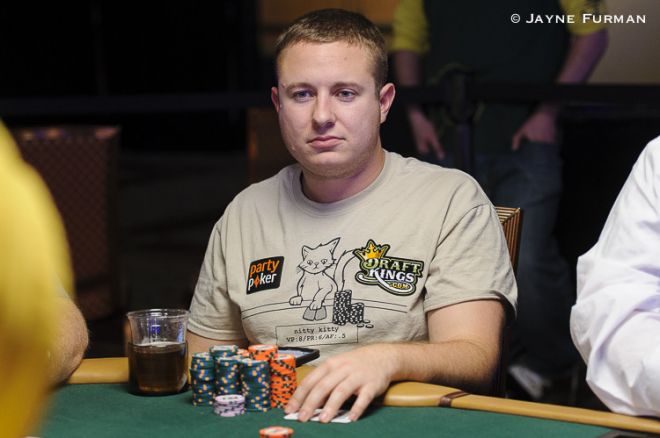 Brian Hastings absolutely crushed the 2015 World Series of Poker.
Yes, he had won a WSOP bracelet before, taking down the prestigous $10,000 Heads-Up No-Limit Hold'em event in 2012. But the kid from Pennsylvania who rose to the highest stakes in the history of the game online, helped put training site CardRunners on the map, and once chopped enigmatic online poker phenom Viktor "Islidur1" Blom down to size over a two-session heads-up match that left the Swede close to $6 million lighter and the poker world buzzing, had the kind of summer most players can only dream of.
The results included two bracelets, with wins in the $1,500 Six-Handed 10-Game Mix and the $10,000 Seven-Card Stud Championship, but there was also a final table bubble in the $3,000 Six-Handed Limit Hold'em, an 11th-place six-figure cash in the $111,111 One Drop High Roller, and a deep run in the 2015 WSOP Main Event, where he finished 49th.
Not only did Hastings collect close to $1 million in cashes, he cleaned up in six-figure bracelet-win prop bets and came into WSOP Europe in Berlin, Germany, trailing only Mike Gorodinsky in the 2015 Global Poker Index WSOP Player of the Year race.
This week in Berlin, Hastings told PokerNews all the recent success is mostly due to his head being in the right place.
"I think being in the right state of mind was the biggest factor, and luck helps too," he said. "My approach to this year's WSOP was much more focused than in any prior year. I was about six months into my relationship with Sonya [Bubulka] and truly happy for the first time in years. As someone coming from an online background, my live poker skill set had been lagging behind a bit also, but in the year leading up to WSOP I played a live $75/$150 mixed game at Seminole Coconut Creek in South Florida twice a week. This game helped me get into the flow of live poker and work on stuff like reading tells, patience, and table talk. I think it helped take my live poker game to another level.
"The greater financial incentives added via my side bets certainly helped me to focus as well."
Happy both personally and professionally, Hastings rode into Berlin for the 2015 WSOP Europe ready to make a run at the POY title.
"It would be a great honor," Hastings said of winning POY. "When I first started playing poker in high school, I remember gathering around the TV and watching the WSOP with my friends. We'd talk about how cool it would be to play in it someday. I've already done plenty of that, but to win Player of the Year would be a great achievement to me.
"The race has been fun; I'm good friends with Mike Gorodinsky, Anthony Zinno, and Shaun Deeb, my three biggest competitors, and I think we're all having fun competing for this prestigious honor. Unfortunately, Berlin has been a disaster for me results-wise through seven events, as I haven't come close to a cash. But fortunately the €10K Main Event and €25K High Roller are still left to play and count for a lot."
The truly unfortunate part of Hastings' story is that the silver lining that was his summer, came with a bit of a dark cloud.
Just as he was busy winning his second bracelet of the year, accusations surfaced that Hastings may have been previously involved in online account sharing and playing on a virtual private network (VPN). Bombarded with questions and allegations, he admits now he may not have handled what was an overwhelming situation with the greatest of tact, but wants the poker community to understand exactly what led to the mistakes he made and that he is truly sorry for all of it.
"After Black Friday I tried the expat route and rented a place in Vancouver for three months and got set back up online," he explained. "In spite of generally enjoying the city, making new friends, and having success playing, I became deeply depressed. I moved back in with my parents for a few months, doing little more than watching TV and playing chess and Sporcle quizzes.
"I found a new home in South Florida after that and focused more on live poker, but quickly grew disenchanted with the poker scene there also and fell back into depression. I considered non-poker career paths and started learning to code a bit, but depression made it hard to focus. I did poker coaching for a bit, but my depression made it extremely hard to muster up the energy to give 100-percent effort to that, so I cut it off after a while.
"After two years of therapy, trying hard to find alternative solutions, and continuing to feel helpless, I made a regretful lapse in judgment. I just wanted to be able to play the game I love, and that made me who I am today, in the way I used to be able to. My depressed state of mind prevented me from thinking about the situation in the way others have thought about it for a while and I realize now. For that, I apologize."
At this point, Hastings would like to move past the issue and do whatever he can to help bring legal and regulated online poker to the United States.
"It would be great if American politicians could choose common sense over special interests and regulate online poker nationwide," he added. "I'm skeptical that it will happen soon, but I'd like to do my best to help in any way I can. I still love the game of poker just as much as I did when I first started playing, but I hate the position the industry is in today. Hopefully common sense prevails in the end and we can all play online poker in our own homes again soon."
POY runs aside, Hastings really doesn't consider himself to be much of a traveler, and is looking forward his future with Bubulka, that includes a new place to live back in Pennsylvania. And while poker may be one of the things included in that future, it won't be the only thing.
"I'm not sure exactly what the future holds for me," he said. "I'm probably going to play some online poker on New Jersey sites, and hopefully Pennsylvania sites soon. I'll play some live poker in and around the Philadelphia area, but I don't see myself traveling the circuit much. It has just never really been my thing. I may start Twitch streaming while I play online as well.
"I'm also trying to figure out an alternative career path to start working toward. Luckily, I have the luxury of time to figure out exactly what that is. Most clearly for me, I'm looking forward to Sonya and I settling into our new apartment, exploring Philadelphia, and starting a family sooner rather than later."
As the 2015 WSOP Europe rolls on, be sure to stay tuned to PokerNews for continued coverage.
Want to stay atop all the latest in the poker world? If so, make sure to get PokerNews updates on your social media outlets. Follow us on Twitter and find us on both Facebook and Google+!