Justin "PocketProfits" Wong Talks Online Poker in NJ, Improving His Game, and Balance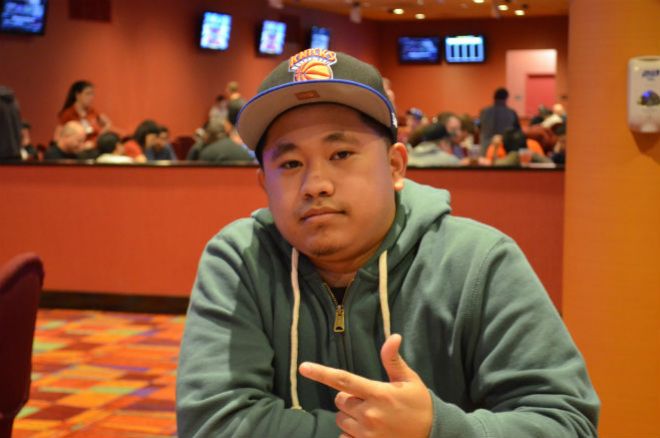 There are currently only three states in the United States where online poker is legal and regulated: New Jersey, Delaware, and Nevada. New Jersey is by far the most successful state of the three, with ring games running around the clock and big tournaments daily, especially on Sundays, when partypoker NJ and BorgataPoker.com host at $50,000 guaranteed tournament and 888poker NJ and WSOP NJ host a $30,000 guaranteed tournament.
To further increase the optimism in the Garden State, players are hopeful that a new boom will take place in 2016 when it is expected that PokerStars and Full Tilt will launch after receiving gaming licenses in coordination with Atlantic City's Resorts Casino.
One of the state's most successful players is Justin "PocketProfits" Wong. According to PocketFives.com, Wong has amassed $212,444 in online poker tournament winnings on New Jersey regulated online poker rooms since the first regulated sites opened in November 2013. His biggest win came on Nov. 15, 2015, when he took first place in the partypoker NJ/BorgataPoker.com $50,000 Guarantee for $11,712. He also notched five-digit wins twice in the past when he won both the WSOP.com/888poker NJ Sunday $40,000 Guarantee for $11,000 in May 2015 and the WSOP.com/888poker NJ Sunday $35,000 Guarantee for $10,589 in January 2015 under his "SetMining" screen name.
PokerNews recently sat down with Wong to learn a bit about his poker endeavors, play in New Jersey in general, and what he expects to see down the road. Wong, who by day is a 26-year-old accountant, shared with us that he has been playing online poker for over a decade and believes balance is the key to his success.
"I'm a 26-year-old accountant from New Jersey," Wong stated. "I got into poker during the summer of 2004 by playing friendly $5 and $10 buy-in sit-n-gos. Then I played in a friendly league in high school, where a buddy of mine hosted a series of small multi-table tournaments, where we played for lunch money. I didn't take the game as seriously back then, but I was hooked on the competitive aspect from the start. It wasn't until 2012 that I decided to take the game seriously, and make an effort into studying and improving my game.
"I then began to grind live cash games part time while attending Rutgers Business School. After having difficulty landing a job straight out of college, I decided to take a year off and play poker full time. This was right around the time online poker became regulated in New Jersey. Although I did well for myself in 2014, I was able to land a full-time job the following year, and decided to put my college degree to use. While working a full-time job during the day, I still manage to play online poker five nights a week."
Having the security of full-time job has given Wong a key to his poker success. He points to that key as being balance in his life.
"I find that working a day job has given me more of a balance to my life, and more of a sense of accomplishment, other than just playing a game," Wong said. "It can get pretty stressful playing and thinking poker all day, day in and day out, which is why balance is key to success."
While Wong admittedly did not play much online poker before Black Friday, he is one of the many New Jersey residents that is happy that online poker is regulated in the state to avoid problems players in the rest of the country that choose to play on unregulated sites have been experiencing.
"I was more of a recreational player prior to Black Friday, and when I did play, it was usually live at a casino," shared Wong. "So I wasn't playing a ton online back then. I wish I would have taken the game seriously a bit earlier, as I've heard so much about how soft the games online were back then. However, I have had some experience playing online after Black Friday, on an unregulated site, Lock Poker. Many players, including myself, were basically robbed. Thankfully, I didn't have too much money on the site. It is nice to know that I'm now playing on regulated sites, where my money is safe."
Winning three five-digit prizes in a year is an accomplishment for many online poker players. This is even more the truth in New Jersey, where, unless a tournament festival is taking place, players usually only have one opportunity to do so per week. Wong shared with us that his latest win when he was playing on BorgataPoker.com was the sweetest one for him.
"My latest win meant a little more to me, mainly since I haven't had as much success on BorgataPoker.com, than I have on WSOP NJ," explained Wong. "I've also fell short of making the final table in that tournament on a few occasions, then to win it in my first appearance, was pretty sweet. It's funny because, two weeks prior, I swapped a little action with my friend Steven "stevenmadara" Madara while we were both playing in the same tournament. He happened to take third place as part of a three-way chop, and I told him I owed him one. Then two weeks later, I got an outright victory, to return the favor and then some."
Wong credits some of his success to studying and also having a good group of New Jersey poker players to discuss hands and situations with.
"Over the past few years, I've put a lot of work into my game, through watching videos, going over hand histories, talking hands with friends, and studying all other aspects of poker," elaborated Wong. "The perseverance of continuing to grind through all the ups and downs, knowing that poker is a volume-based game, where you have to put in the time to get the results. It's pretty satisfying when all of that hard work starts paying off. Some of the main people in NJ I speak with about poker include Madara, Michael "JohnnyDrama" Haberman Jr., Jesse "NoXcape" Elliot, Rich "MuckYourLife" Rodrigo, and Mitchell "Charliebrown" Friedberg. These are all good and successful players in their own right."
In general, Wong appears to be happy with how regulated online poker has shaped up in New Jersey.
He explained that, "Overall, I'm fairly satisfied with the current situation of online poker in New Jersey. Although, it would be nice if we could expand our player pool, by joining with other states that already have regulated online poker in Delaware and Nevada. A bigger addition could potentially be Pennsylvania, if they decide to legalize online poker in the near future. However, I do realize how fortunate I am, to be living in New Jersey and being able to play regulated online poker."
Despite his wishes for an expanded player pool, Wong doesn't believe that the return of PokerStars in 2016 will change everything. But, he does believe that it should have a positive impact on the overall online poker ecosystem in NJ.
"I'm pretty excited for the arrival of PokerStars NJ," shared Wong. "Although I don't think it will change much, we can always hope the PokerStars brand will attract more recreational players back to the game who aren't currently playing on the sites offered in NJ at the moment. I'm definitely looking forward to adding a few more tournaments to my nightly schedule, and hopefully bigger prize pools in the future."
Wong also discussed with us some recommendations he believes would further improve the online poker experience in New Jersey.
"It would be nice if we could get a few more bigger prize pools to compete for during the week, along with more online tournament series to spice things up," said Wong. "The current sites should also work on improving their support teams. Many players, as well as myself, have received sub-par customer service in the past. Hopefully PokerStars NJ's entrance into the market will raise the bar for all aspects of online poker in New Jersey."
With the new year coming along, many poker players are already setting their goals for 2016. For his part, Wong plans to keep the work-and-poker balance he already maintains while also adding exercise to his routine to try to put forth a more healthy lifestyle.
"It's tough to set monetary goals in poker, because they're pretty uncontrollable and unpredictable," Wong said. "My goal is to find more time to study and improve my game, as I haven't been able to put in as much time as I'd like, since I started working full time job. All I can do is try make the right decisions, and I know the results will follow in the long run.
"As far as life goals, I plan on continuing to work my day job, and hopefully move up within the company. I also intend on finding some time for exercise, and improving my eating habits, as sitting down in a chair all day in my cubicle and then sitting down again playing online poker at night can be a pretty unhealthy lifestyle."
Get all the latest PokerNews updates on your social media outlets. Follow us on Twitter and find us on both Facebook and Google+!