Inside Gaming: Rock Gaming Rebranding as JACK; Georgia Lawmakers Considering Casinos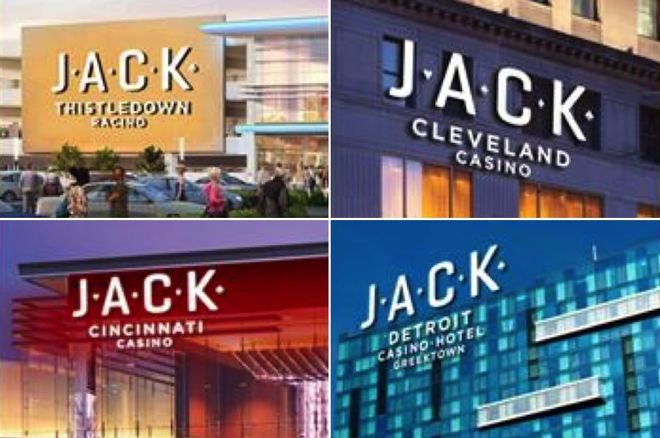 This week's installment of Inside Gaming focuses on various casino-related items, including news of Rock Gaming's announcement that it will be rebranding its casinos in Ohio and Detroit, a vote by Georgia lawmakers in favor of bringing casinos to that state, and a new obstacle faced by Wynn Resorts' efforts to build a new casino in Massachussetts.
Rock Gaming to Rebrand as JACK Entertainment
On Tuesday Rock Gaming LLC announced its intention to rebrand under a new name — JACK Entertainment LLC. The change means new names for the company's three Ohio properties — the Horseshoe Casino Cleveland, the Horseshoe Casino Cincinnati, and the Thistledown Racino in North Randall — and the Greektown Casino-Hotel in Detroit.
The move comes as part of an effort by Rock Gaming to separate further from Caesars Entertainment Corp. following the company's acquisition of Caesars' 20% share in the Ohio properties early last year. As we reported here in November, the rebranding was understood to be coming following the transition.
"If you don't know JACK, you soon will," begins the press release from Rock Gaming announcing the change, with further statements from JACK Chief Marketing Officer Darlene Monzo signaling an attempt to hit the ground running with the new brand.
"JACK is voice of adventure," says Monzo, further personifying the brand as "that rare friend who entices you to step outside of your comfort zone, forget your fears, have fun and live in the moment, for the moment." Other statements similarly suggest a desire to attract a younger demographic as a distinct alternative to traditional casino marketing strategies and offerings.
Not everyone is as excited about the change. Former casino executive Alan Silver, now an assistant professor at Ohio University, laments the rebranding and decision by the company to try to divorce itself from the rich history associated with the Horseshoe moniker.
"A casino brand has to suggest an all-encompassing package of amenities: gaming, restaurants, entertainment, facilities, etc," Silver told Ohio.com. "In my opinion, the name 'Jack' simply does not have the sort of cachet that the Horseshoe brand once stood for.... Frankly, 'Jack' sounds more like a truck-stop casino or diner."
The first property to undergo the name change will be Thistledown property, to be known as JACK Thistledown Racino starting March 9. In early May the Cleveland property will become JACK Cleveland Casino, the JACK Cincinnati Casino will be christened in early June, and later this year the Detroit property will be renamed JACK Detroit Casino-Hotel Greektown.
The launching of a new player loyalty program — ClubJACK — will accompany the brand change as well, meaning current customers will no longer be part Caesars' Total Rewards program.
For more details on the rebranding, visit Cleveland.com.
Georgia House Committee Votes in Favor of Casinos
On Thursday a committee of the Georgia state House of Representatives approved measures that would pave the way to bring casino gaming to the Peach state.
The state's House Regulated Industries Committee voted unanimously in favor of a constitutional amendment to have Georgia citizens vote this fall on whether or not to allow casinos in the state. The committee also approved a bill enabling the construction of four casino resorts in the state, including two in the metro Atlanta area.
The Atlanta Business Chronicle notes that if the constitutional amendment is passed by the full legislature, an item asking voters to voice their opinion on whether or not to allow casinos would appear on this November's ballot. If the bill likewise makes it up the legislative ladder, communities would then hold referendums over whether or not to approve casinos. Of note, Governor Nathan Deal has made known his opposition to casino gambling.
The bill includes a 20% state tax rate, increased from the 12% included in an earlier version. The original bill had also called for the construction of six casinos, not four. Proponents of bringing casinos to Georgia speak of the need to produce revenue for the state's educational programs, in particular the HOPE scholarship.
Meanwhile the downtown civic organization Central Atlanta Progress and the Atlanta Downtown Improvement District has enlisted the help of a third party to study the effects of casinos on the region and better educate the state's voters regarding the issue.
"There's not enough data out there for people to really understand the pros and cons and how this will affect particularly Atlanta," A.J. Robinson, head of the CAP and ADID, told AJC.com. "We're business folks," he continued. "We'd like to look and analyze and see what this is really all about. There's a lot of data out there, but it hasn't been presented to us or really anyone in a way to make an intelligent decision."
Read more about the bill and debate over casino gambling in Georgia in The Atlanta Business Chronicle.
New Appeal Puts Wynn Everett Construction on Hold
Rounding out this week's Inside Gaming is a third casino-related story, this one having to do with a sudden halting of plans for Wynn Resorts' new casino in Everett, Massachusetts near Boston.
Just last month we were reporting how a long-running conflict between Wynn Resorts and the city of Boston had come to a conclusion following an agreement reached between Steve Wynn and Boston mayor Marty Walsh by which the city of Boston would receive additional revenue from the new casino. The plan had been to break ground on the new construction this spring, with a target date for opening in late 2018.
However on Wednesday Wynn Resorts announced that the spring groundbreaking has now been postponed indefinitely thanks to another city's mayor stepping forward to object, in this case Joseph Curtatone, mayor of Somerville, who has appealed an environmental permit for waterslide construction.
A report from Boston.com shares various concerns of Curtatone regarding the Everett casino, as well as his previous opposition to it, while also including a number of the project's proponents' calls for Curtatone to withdraw his challenge and allow the project to go forward.
At a press conference this week, Wynn Everett President Robert DeSalvio announced how the appeal necessarily puts the starting date for construction in limbo, noting how as a result, "basically, the construction of the Wynn resort is effectively on hold."
Learn more about the new obstacle faced by the Wynn Everett at Boston.com.
Want to stay atop all the latest in the poker world? If so, make sure to get PokerNews updates on your social media outlets. Follow us on Twitter and find us on both Facebook and Google+!