Inside Gaming: Caesars Transitions Ohio Casinos to Rock Gaming; Christie to Decide on Casinos Legislation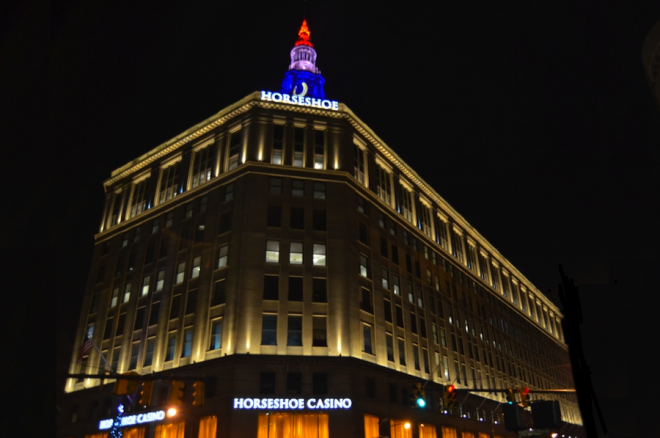 This week's installment of Inside Gaming shares news regarding Caesars' earlier sale of its share of three Ohio casinos and the transition of their operation to Rock Gaming, the possibility of bills being signed into law in New Jersey that will significantly impact Atlantic City casinos, and a multi-million dollar jackpot won in Washington state that turned out to be worth only a little over $80.
Caesars Transitions Operation of Ohio Casinos to Rock Gaming
Earlier this week Caesars Entertainment Corp. announced its plan to complete the transition of its three Ohio-based casinos to current partner Rock Gaming to whom Caesars sold its 20% share in the properties back in February. The transition will involve removing the "Horseshoe" name from the properties. It also means the properties will no longer be part of Caesars' Total Rewards program going forward.
It was in January of this year that Caesars' largest operating division, Caesars Entertainment Operation Co. (CEOC), filed for Chapter 11 bankruptcy. A month later came the news that Caesars would be selling to Rock Ohio Ventures (a subsidiary of Rock Gaming) its remaining minority share in the Horseshoe Casino Cleveland, the Horseshoe Casino Cincinnati, and the ThistleDown Racino in North Randall, Ohio. That sale also included the Ritz-Carlton in Cleveland and Caesars' interest in the Turfway Park thoroughbred racetrack in northern Kentucky.
(Incidentally, the Horseshoe Casino Cleveland (pictured above) was the site of an unusual story involving a dealer accused of cheating, reported here earlier this week in "Cleveland Poker Dealer Accused of Cheating, Caught Hiding Card Up His Sleeve.")
As we reported here back in February, at the time of the sale it was announced that Caesars would continue to manage the Ohio properties and that they would all remain part of the Total Rewards network. However, with this week's announcement that is no longer the case.
"This is an exciting time for us and we are eager to take the reins of day-to-day operations," said Rock Gaming CEO Matt Cullen in a press release from Monday regarding the transition. "We view this as an opportunity to leverage our unique culture and vast network of companies to grow the business and further connect the casinos to the downtown areas where they reside."
The release notes both the plan to rebrand the properties and the intention to introduce "a new loyalty program that offers a robust set of perks and benefits." Also noted is a plan to let customers benefit from their current Total Rewards status in the new program. "Rock Gaming will be rolling guests' current Total Rewards Tier Status, Tier Credits and Reward Credits over to the new loyalty program."
Further details regarding both the properties' rebranding and the new program "will be announced in the coming months." Meanwhile all of the properties will remain open and operate as usual.
Caesars will be conducting its quarterly conference call on Monday afternoon to discuss 3Q results as well as other issues faced by the company at present, including the information regarding the status of CEOC.
Read more from Rock Gaming about the transition and its plans going forward.
Christie to Decide by Monday on Legislation Affecting Atlantic City Casinos
Those with an interest in Atlantic City and the recent struggles being endured by the remaining casinos on its famed Boardwalk are anxiously watching to see how Governor Chris Christie will be acting with regard to five bills passed by state legislators who believe the new legislation will considerably help the city's finances. The presidential hopeful has until Monday to decide whether he will sign the bills into law, ask for amendments, or veto them.
The most controversial of the bills is the Casino Property Taxation Stabilization Act, commonly referred to as the PILOT. As the Press of Atlantic City explains, PILOT would "allow casinos to make fixed annual payments instead of highly variable property-tax payments," thus considerably reducing uncertainty for the casinos going forward.
Rather than assess the casinos property-tax payments each year, PILOT "would let casinos... instead cumulatively make $150 million in payments in lieu of taxes annually for two years, then $120 million for each of the next 13 years."
Opponents of the legislation such as Atlantic County Executive Dennis Levinson believe it to be a "ruinous proposal" unfairly favoring the casinos. Describing PILOT as "one of the worst pieces of legislation that anyone has ever seen," Levinson called it a "sweetheart deal for the casinos for 15 years" which necessarily will mean passing onto taxpayers burdens created by future spending in the city.
PILOT was one of five bills passed in June. Others include one to dismantle the non-profit Atlantic City Alliance which has marketed and promoted the city for the last three years though at an annual budget of $30 million. Another bill would cut casino-paid taxes which have funded the Casino Reinvestment Development Authority, instead using those taxes to pay down the city's debt.
Christie has yet to indicate one way or the other what his intentions are with the legislation, helping heighten suspense regarding what will happen with them.
Learn more about the bills their possible future impact on Atlantic City casinos at the Press of Atlantic City.
Washington Casino Slots Award of $8.5 Million Claimed Malfunction, Woman Wins $80 Instead
Finally, this week comes a report of an Oregon woman, Veronica Castillo, who was visiting the Lucky Eagle Casino in Rochester, Washington with her mother where for a thrilling five minutes or so she was led to believe she'd won a greater than $8.5 million prize playing slots.
After hitting a jackpot on the Jurassic Riches game, it showed her balance going over the $8.5 million mark and continuing to grow as others excitedly gathered around. Soon, however, casino security arrived to declare the machine had malfunctioned, noting how a printed out ticket showed her winnings actually to have been just $80.35.
Elation swiftly turned to disappointment, and Portland's KGW reports Castillo now has plans to get an attorney. "She said she'd like the prize money," the station reports, "but more than that she wants this not to happen to other people." Calls by KGW to the Lucky Eagle Casino and the Washington State Gaming Commission have not been returned, and it is not clear as yet whether the incident is being investigated.
Read more and watch Castillo discuss the brief moment when she'd been led to believe she become a multi-millionaire at KGW.
Photo: "Cleveland Horseshoe Casino and Terminal Tower," Erik Drost. Creative Commons Attribution 2.0 Generic.
Want to stay atop all the latest in the poker world? If so, make sure to get PokerNews updates on your social media outlets. Follow us on Twitter and find us on both Facebook and Google+!