Jason Mercier's Peers Sound Off On His Incredible Run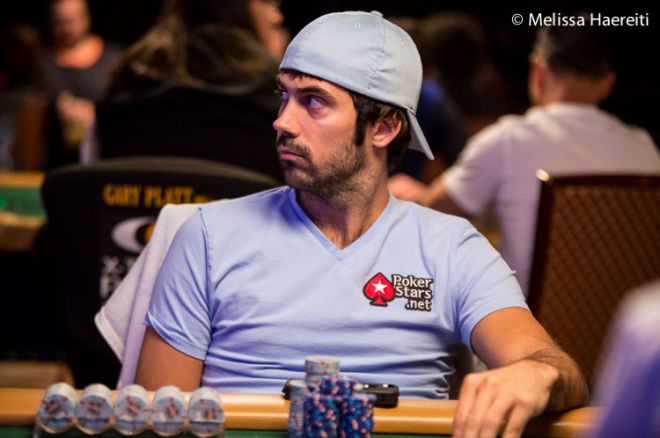 Jason Mercier could be on the precipice of something historic.
First, he took down the $10,000 No-Limit 2-7 Single Draw Championship for $273,335. Then, he narrowly missed a second bracelet by finishing runner-up in the $10,000 Razz Championship for $168,936 after being bested heads up by Ray Dehkarghani. Just days later, he finished the job again, taking first in the $10,000 H.O.R.S.E. Championship for $422,874.
That's two bracelets and a runner-up finish in a week, all in $10,000 championship events. It's roughly $900,000 in prize money as well as countless side bet wins, as he was reportedly booking at 18-1 before the series that he would win two bracelets. He's also given Vanessa Selbst, or whoever she sold her action to, a mighty sweat on a now-infamous 180-1 bet for a possible $1.8 million payoff that he would win three bracelets.
It's definitely looking like the Summer of Mercier, so PokerNews turned to some of his peers and noted WSOP historian and media coordinator Nolan Dalla for some perspective on what Mericer is accomplishing.
"I think it's cool that he's giving Vanessa a really big sweat," said two-time bracelet winner Brian Rast. "He's obviously having a great run. It's impressive, it's cool, and good job Jason."
"I think it's amazing and it's the story of the summer for sure," said six-time bracelet winner Daniel Negreanu. "Just the audacity to take 180-1 odds and put up $10K to win three bracelets when most people make bracelet bets in hopes of winning one... for him to go win and then come second, which is really deflating to be so close, and then jump into the next one and win that one, it's remarkable."
Chance Kornuth concurred that the story is at the forefront of everything in the poker world and has been a headline-grabber not just for media but players as well.
"I'm definitely paying attention," he said. "I think almost everyone in the poker world has been paying attention to what Jason's done. It truly is unbelievable, out of this world, a sick rush."
A rush indeed, and Dalla reported that it came on the heels of an ice-cold run, according to Mercier's winner's interview after his second braclet. Mercier estimated that he had possibly bricked his last 30 or so tournaments before catching fire a week into the 2016 WSOP.
Brandon Shack-Harris is a player who knows a thing or two about a scorching-hot WSOP run. In 2014, he narrowly missed out on WSOP Player of the Year honors after a close race with George Danzer. Shack-Harris collected one bracelet, in the $1,000 Pot-Limit Omaha, and got two seconds and a third, with one of the runner-ups coming in the $50,000 Poker Players Championship. That all came in a four-week stretch, where he was awarded about $1.4 million in prize money.
Shack-Harris said if Mercier's mentality is like his own, the records and prestige aren't even really a consideration right now. It's simply on to the next tournament after any given score. Historical significance and reflection can come only when the grind is over.
"When you're in the middle of it, for me, I wasn't thinking about it at all," he said. "I was coming up short, so it didn't feel like a huge victory. And it's a grind, so you don't really have time to process it either. You're just kind of going through the motions, and when the dust settles, you sit and think about it."
Shack-Harris did note that as well as he did, it doesn't stack up with what Mercier is accomplishing, so it's hard for him to say for sure how Mercier will feel. That is, unless, the Florida native experiences another near-miss.
"He's sealed the deal twice so far and doesn't have to contend with George Danzer for player of the year," Shack-Harris said with a smile while on break from a fifth-place run in the $1,500 Omaha Hi-Low event. "I had a good series, I guess, but I came up short a whole bunch. In retrospect, it didn't feel like what it's going to feel like for Jason, I think."
Kornuth is also in the midst of an impressive heater, stringing together more than $1.6 million in cashes at barely the halfway point of 2016. Included in there is a pair of victories over tough high roller events, one at Aussie Millions and the other at EPT Grand Final.
Being on fire involves not simply a hot stretch of variance, but it also informs your play, he said. Confidence grows, and with it, the ability to make correct decisions, which causes a sort of feedback loop that could be characterized as the opposite of a vicious cycle.
"I'm sure he's playing incredible and making very few or no mistakes," Kornuth said. "One of the things about being on a heater is you're so confident that you're able to trust all your reads. Even in these mixed games where he's getting 12 or 13-to-1, he's making the right folds and the right calls because he's trusting his reads."
Beyond simply trying to break the bank of the collective poker world with his numerous side bets, Mercier is one bracelet away from tying the record for a single summer with three with more than 30 events left on the schedule.
And as PokerNews Editor-in-Chief Donnie Peters pointed out on Twitter, it's not inconceivable that he could set a new record with four pieces of WSOP gold. Saturday night he bagged up an excellent count of 95,200 in the $3,000 Six-Max Pot-Limit Omaha event and is looking once again like a threat for gold.
While acknowledging that the run Mercier is on is "certainly up there" in terms of the best he's seen, Negreanu cautioned that it's too early to put it into any real historical context.
"You can look at it now and say it's been great, but there's been a lot of great feats," he said. "We'll judge it when it's done. Let's just see how much he adds and what he puts together and then we'll have a look and see where it ranks in history."
Dalla has been a staple of the WSOP since 1992, when he first covered the series for CardPlayer before becoming media director in 2002. He's been paying attention to the WSOP for even longer than that, first arriving in 1985 as simply a fan.
He noted that for a given one-week stretch, this Mercier run is hard to top. But overall, he echoed Negreanu's general sentiments, rattling off Jeff Lisandro, Phil Hellmuth, and Layne Flack as players who have had similar runs over the course of a single series.
"There's no question it's an extraordinary feat," he said. "I'm not so sure yet, and I stress the word yet, that we can say he's separated himself from what I'd call the pack of historical greatness. To see the concentration of Mercier's feats within just seven or eight days is maybe unprecedented, but it remains to be seen if he can separate himself from the pack."
In the coming weeks, Mercier will have that chance, and it will be with the eyes of the poker world fixed squarely upon him.
Want to stay atop all the latest in the poker world? If so, make sure to get PokerNews updates on your social media outlets. Follow us on Twitter and find us on both Facebook and Google+!