Podcast Hero Joe Ingram Takes On the World Series of Poker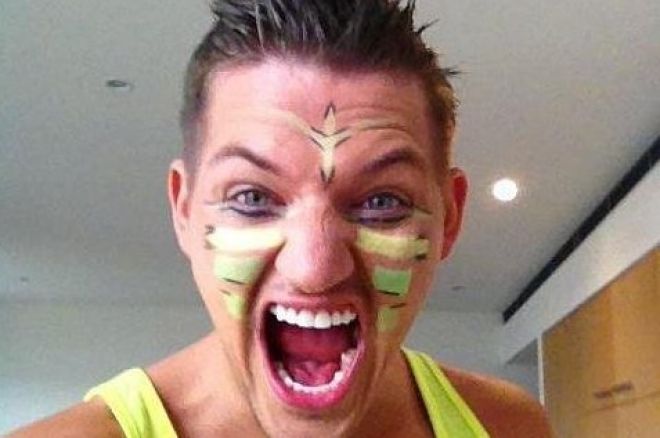 Who finished 39th in the $3,000 Six-Max Pot-Limit Omaha at the 2016 World Series of Poker would normally be of little interest to anyone but the player's friends and family. But when Joe Ingram — also known as "Chicago Joey", "JoeIngram1", and "Apex Papi" — updated his status on social media after busting out 39th on Sunday night, it likely put some stress on the servers.
Over the past two and a half years, Ingram has developed a tiny low-to-no budget YouTube-based podcast about pot-limit Omaha cash-game play into one of the most entertaining, informative, and watched shows about poker, and life, on the internet today.
It wasn't always this way, but nowadays, when the host of the Poker Life Podcast speaks, the poker world is listening.
"I think when you start something like this, you dream that it could get big, or it could get popular, but you never really know what's going to happen," Ingram told PokerNews. "I think the audience has grown because there's really nothing else like it.
"When I started having guests on, and I saw the types of conversations I was having, and feedback I was getting, I really saw it had the potential to be huge. I mean, you're getting to see a conversation between two people who play high-stakes poker, who may have also done some other interesting things with their lives, and the type of conversations those two people are going to have is going to be a lot different than you might find in the typical poker interview."
Right now, Ingram's success is being measured in the size of his ever-growing audience, the respect of his peers, and the amount he's learned about poker, and life, through the podcast. He's never really tried to monetize, and says he really didn't get into this side of the game with any financial goals at all, a move that's only helped increase his credibility in the increasingly media-savvy poker community.
"I think people that start everything out just trying to make money might miss out on the opportunity to create a lot of great things, because they're so focused on the short-term ROI," he explained. "The podcast for me is huge life EV (expected value), because I get to have conversations with people who are some of the smartest people in the world, who also happen to be great poker players. Plus, you gain an audience of people who are happy to see your stuff.
"I think If you have a big audience and a lot of people who like your stuff, like you, or like the type of stuff you can create, there's always ways to make money down the road. So I don't worry too much about it right now."
Ingram's unique personality shines on the podcast, as he enthusiastically engages some poker's elite with a fun, conversational interview style, shouting out to regular audience members, with too many "AKAs" to count, from beginning to end. And while his show is still one of the more popular places for pros to take shots at each other and talk about how bad the regulars are in their particular games, a lot of the subject matter has matured, taking Ingram along with it.
"I never really tried to learn anything else before," he said. "I was always so focused on poker. For six or seven years, the only thing I tried to learn about was poker. When I actually started talking to other people, I started thinking about new things, reading new books, and I actually started learning about some of the things, other than poker, that are out there in the world.
"Before I could only have conversations about poker and women. That's all I knew about. The conversations now are diving into a lot more philosophy, and I'm learning a lot."
Ingram admits that the success of the show, and all the recent introspection, may have changed him a little.
"I can see myself being a little more politically correct now, whereas before I was just firing shots at people and it was like 'bang bang, that's funny,'" he said. "Maybe before, I could take shots at well-known poker players because they were never going to find out, and they don't give a fuck anyway. Now they're going to care, they're going to react, they're going to act some type of way, or talk to people you're friends with or whatever.
"When it comes to needling or trolling people, maybe I can't do as much, but I can still talk about Phil Hellmuth, because he might be the only person in poker I don't really like. He's 'Mr. Big Time.' He spends all his time big-timing people, nonstop. You should really treat people how you want to be treated and if he wants to run around acting like an asshole all the time, that's how I'm going to treat him."
The growth of Ingram's audience will likely attract potential sponsors to the show one day soon, and while Ingram would welcome them, he's committed to staying honest with his audience and making sure money is one thing that won't change him.
"I would rather just make money doing something else than change who I am," he said. "And I think any sponsor I potentially would have would have to be in line with who I am anyway."
In between podcasts, Ingram can still be found doing what he's most comfortable doing: Playing deep-stacked high-stakes PLO cash.
He admits he's a relative newcomer to the PLO tournament scene, and if his first WSOP cash on Sunday taught him anything, he said it's that he needs to study up on short-stack PLO tournament strategy.
Overall though, he said he enjoyed the World Series experience and the opportunity it gave him to interact with his audience.
"It was really fun," Ingram said. " It was a good time. It was six-handed, so we got to see a lot of hands. The table draws were fun, I got to play with a lot of good players, and see a lot of my friends. I got a lot of love from people who watch the podcast, random people you'd never expect to say anything. So it was interesting, fun, and really cool.
"I've always wanted the [podcast] audience to be made up of my peers, people who play poker, who are good at poker, winning players, who want to watch something other winning poker players are creating. So it was really cool to play here and have all these players you might know from online and elsewhere say they love the stuff."
Want to stay atop all the latest in the poker world? If so, make sure to get PokerNews updates on your social media outlets. Follow us on Twitter and find us on both Facebook and Google+!