Ruth Hall Returns to the Monster Stack Two Months After Conquering Cancer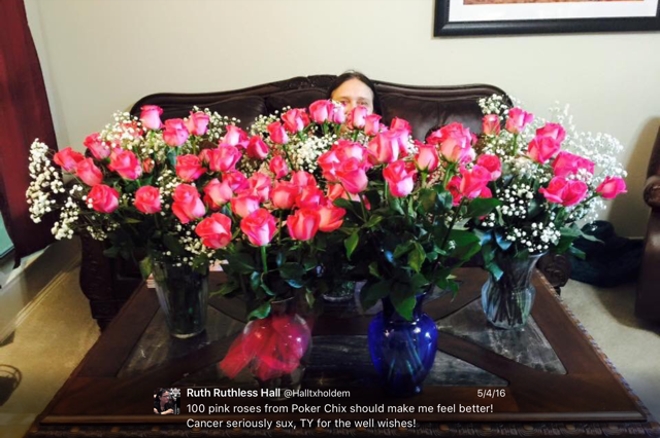 A little over a year ago, Ruth Hall found herself living every poker player's dream.
Following a first-place result in a $185 Daily Deepstack tournament at the Rio All-Suite Las Vegas Hotel and Casino, good for a $34,709 score and her largest live cash, Hall parlayed her momentum into a $1,500 seat in the World Series of Poker Monster Stack event — where she promptly proceeded to make another deep run.
Playing through a massive field of 7,192, she survived long enough to secure a 625th-place finish, and her first-ever cash in an open WSOP event.
For Hall, a tireless advocate for fellow female poker players who has posted 22 of her 68 career cashes in ladies-only tournaments, succeeding in an open bracelet event was surely a special accomplishment.
So it's no surprise that Hall chose the 2016 Monster Stack to make her return to the WSOP stage, just four months after surviving her second battle with breast cancer.
Diagnosis and Decisive Action
This February, Hall received the news that all cancer survivors dread: another occurrence had been detected.
"Cancer number two appeared on my annual mammogram," Hall told PokerNews as she prepared for the 2016 WSOP. "And I had a needle biopsy which provided confirmation."
After learning that her breast cancer had returned, Hall wasted no time deliberating, and she soon resolved to undergo a single mastectomy to remove the threat. But rather than schedule the surgery immediately, the consummate grinder had another score to settle: defending her title as the Nevada Ladies State Poker Champion.
"I delayed the surgery so I could compete in Reno," Hall remembered. "I was the reigning champion after all."
Although she wasn't able to keep her crown as the champ, Hall did place fourth in an open $240 no-limit hold'em tournament — her last recorded cash before beginning the recovery process.
"The mastectomy was in April and it took a month to start feeling better," said Hall. "I'm currently taking a five-year regimen of pills, rather than chemo bottles again, to treat a malignant infiltrating ductal carcinoma. It's the most aggressive form of cancer, a nine out of nine according to my oncologist."
Even as she recalled the traumatic details — major surgery followed by extended treatments and a grueling recovery — Hall's sights remained squarely fixed on the game she loves.
"You can either get bitter or get better, and you only live once," she said, looking ahead to the WSOP. "So my return to major poker events will be the Monster Stack. And I definitely won't be missing out on LIPS Ladies Week at Planet Hollywood in July. I also plan to play the Crazy Eights event at the WSOP and, of course, the Ladies Championship. If I have to rent a scooter and race Doyle Brunson down the hallway in the Rio, I will be there."
Finding the Path to Poker After an Unexpected Detour
For Hall, like millions of women around the world, living with the specter of breast cancer is nothing new.
The self-described "farmer's daughter" spent her childhood in the sleepy town of Milo, Iowa — which had a population of just 774 at last count — and with two older siblings already out of the nest, Hall was left to entertain herself.
And that she did, cheerleading for her school basketball and football, running track, playing fast-pitch softball, and co-ed power volleyball, and generally staying as active as the limits of small-town life would allow.
Athletics and physical activity remained a priority for Hall as she grew into adulthood, relocating to the Chicago area to take a position with Zurich Insurance, while raising her two daughters, Michelle and Melissa.
But without warning, Hall's energetic lifestyle was instantly put on hold, setting her down a path that would eventually lead to poker.
"My breast cancer diagnosis in 1997 put an end to active sports," said Hall. "I was treated with high-dose chemotherapy and radiation for a year, and I went into remission after five years."
Around that time, as breast cancer slowly surrendered its grip on her life, Hall embarked on a new journey, relocating to Dallas, Texas with her second husband Keith.
"We moved to Austin, Texas in 2002 to get out of the Chicago cold for cancer," said Hall. "I started a new life with my husband Keith, and my daughters soon followed as well."
Hall transitioned successfully into a new career as a corporate relocation sales specialist, rising to the rank of Regional Account Executive for Berger Relocation & Moving. But even as she thrived in this new field, Hall would soon be swept up in the "poker boom" of 2003, learning Texas hold'em alongside her husband and immediately taking to tournament play.
"In 2003, Keith started playing no-limit hold'em online, right after Chris Moneymaker won the Main Event," Hall recounted. "I had learned 'old school' poker like seven-card stud and five-card draw growing up on family vacations, so it didn't take long for me to catch on to another version of the game. As a middle-class family, playing weekly card games for entertainment was common, and we grew up playing hearts, spades, rummy, pinochle, and all the rest. Playing cards has always been a part of my life, and it always will be."
Through a combination of free bar poker, online play, and visits to local casinos, Hall steadily improved her game, but more importantly, she built the confidence that carries her to this day. By 2008, Hall was making regular trips to a trio of Oklahoma casinos, taking part in small daily tournaments and sharpening her skills.
"Poker presented an opportunity to feed my competitive spirit, which had been temporarily put on hold with cancer," said Hall. "It's a passion I share with my husband as well. I kept finding myself as the only female at the final table. I quickly realized that poker could be an outlet to not only compete, but to also earn a few extra dollars for the household."
Learning the Ropes with LIPS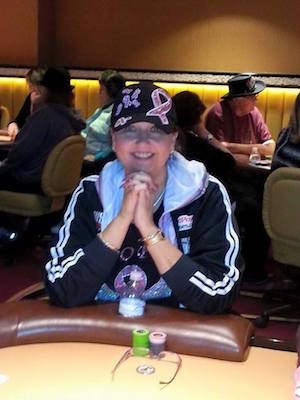 Hall's second career live cash produced her first outright victory, after she took down a $125 no-limit hold'em event on the Ladies International Poker Series tour. Little did she know at the time, but this win would spark Hall's tireless involvement in the world of women's poker, an effort she has immersed herself in every day since.
"Without LIPS, which sponsors ladies only events around the country, I would never have had the courage to enter an open event," said Hall. "LIPS serves as a stepping stone that housewives at home need to get off their computers and come grow the game in casinos. My poker mentor has always been 'The First Lady of Poker,' Ms. Linda Johnson of CardPlayer Cruises. She and Jan Fisher are always available for questions, which provides a great support system."
After working up the nerve to play alongside men, Hall quickly went to work leveling the playing field, notching her first win in an open event at the 2008 Mid-South Poker Classic just one month later. Having proven that learning the game through LIPS can empower women to embrace poker, Hall began the process of paying it forward by taking an active role with the LIPS tour.
'Today I'm a LIPS Liaison, helping women with any WSOP-related questions," said Hall. "As an ambassador for LIPS, as well as an advocate for women's poker overall, my personal platform is 'women helping women to grow the game of poker.'"
Alternating between open events and ladies only tournaments, Hall continued to amass an impressive résumé in small-stakes events. She finished as the runner-up in the 2009 Oklahoma State Ladies Championship, before bagging a Golden Nugget bracelet at the Grand Poker Series Ladies Championship that summer.
"Had I not practiced with the guys, I would not have won my 2009 Golden Nugget bracelet against the women," said Hall. "Switching gears between ladies-only and open events came naturally for me."
Finding Fellowship on Facebook
As her interest in poker grew, Hall realized that the best way to bring more women into poker was to foster the same sense of community she experienced through LIPS.
In January of 2013 she created a Facebook group dedicated to helping women prepare for the annual WSOP pilgrimage. The group discusses a wide range of topics, including what to wear when braving the chilly confines of the Amazon Room, advice on securing inexpensive hotel reservations, and where to find Las Vegas' best selection of ladies-only events.
Today, Hall's "Ladies Who Go to Vegas in the Summer" group includes more than 1,160 members, running the gamut from pros to first-timers.
"Encouraging more women to put on their big girl panties and go play has always been important to me," said Hall. "I helped organize a poker group in Texas to help ladies learn the TDA rules, and how to qualify for the WSOP through local satellites. I also run a poker support group on Facebook for women who have questions about Las Vegas, tournaments like LIPS Ladies Week, and of course, the WSOP itself. My goal is to see more women make final tables and not have them feel like they don't belong."
Florida-based grinder Hyndi Khomutetsky has done just that since joining Hall's group last month, finishing as the runner-up in a Daily Deepstack at the Rio, before placing eighth in a Goliath Phamous Poker Series event.
It's impossible to know whether Khomutetsky's participation in the group prompted her recent run, but she's positive that crossing paths with Hall has had a tremendous impact.
"My mom passed away from breast cancer when she was 48 years old," Khomutetsky told PokerNews. "So I have to be really vigilant about getting myself checked every year. I'd been putting it off, but after seeing Ruth post about her recent diagnosis, I scheduled my mammogram right away. They found something 'suspicious' and I have an MRI scheduled next week."
Learning of Khomutetsky's story, Hall was simply glad to hear that sharing her own battle publicly may be motivating other women to take preventative measures.
"About a dozen women have mentioned getting their mammograms since I started posting," said Hall. "Ninety-five percent of breast cancer can be cured when it's detected early. If you find any indication of an anomaly with your breast during a self-exam, go to your physician. They will order a mammogram even if you are under the age of 40. I can't stress enough how important annual mammograms are. Early detection is the key to survival. It saved my life with my first cancer, and I hope to have another 15 to 20 years after beating it this time around.
"I would be happy if my encouragement saved just one life."
Posting to her Facebook group in the weeks after her surgery, Hall explained to friends and strangers alike why she feels so strongly about offering people a glimpse into her recovery:
"A good question came up, here's the best explanation I can offer: Part of sharing my experience so publicly on Facebook is a scare factor, to have women GO GET A MAMMOGRAM or at the very least do self-exams. I honestly believe that if my cancer 15 years ago, which was found at age 36, was not identified by a self-exam and confirmed by mammogram, I would not be here today fighting cancer number two. Doctors want you to be 40 or older for a mammogram, but I'm glad I didn't wait. My first cancer was the size of a walnut with a tail. The other part of why I share so much? The mastectomy gives me hope to physically beat it again, talking about it gives me faith in my belief mentally that I can win, your support gives me the strength emotionally to do so."
Recognition and a Ring
In 2014, in light of her participation with LIPS and her tireless commitment to growing the game among women, Hall was nominated for the 2014 Women's Poker Hall of Fame. Although she wasn't inducted on this occasion, Hall was honored simply to be considered for enshrinement alongside her mentors Johnson and Fisher.
"The friendships I've formed within the poker community have grown to become my poker family," said Hall. "There's a group of LIPS Ladies that have been together for years called the 'Poker Chix,' they sent me 100 pink roses after the mastectomy, and I would consider them my extended family."
Last September, in her second year grinding the WSOP Circuit, and only a few months before her second diagnosis, Hall won her first gold ring during the tour's Palm Beach stop. Fittingly, she did so in the Ladies event, outlasting 93 opponents for her first taste of WSOP glory.
And just to prove that she could do the same against a field filled with men, Hall went ahead and won an open nightly tournament two days later.
Today, the woman known as "Ruthless" to her friends is simply glad to be back among her second family, playing poker every day and refusing to relent.
"Returning to the tables has been emotional, because poker is my passion," said Hall. "But as I've told my friends, it's hard to beat someone who doesn't give up."
Want to stay atop all the latest in the poker world? If so, make sure to get PokerNews updates on your social media outlets. Follow us on Twitter and find us on both Facebook and Google+!