Duke Lee Gives New Meaning To Multi-Tabling with Top-25 Finishes in Crosstown Events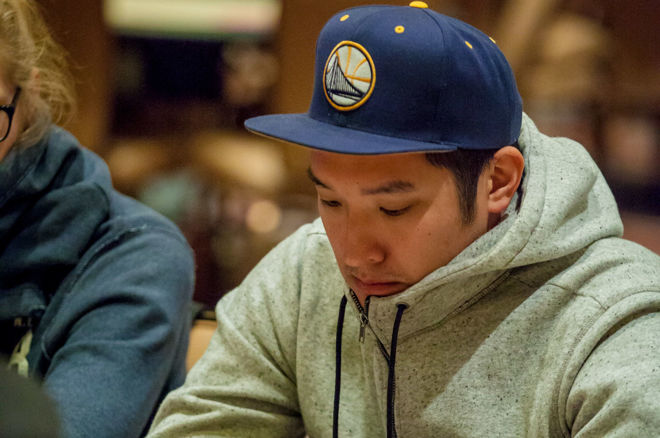 We've all heard of multi-tabling in poker, especially when it comes to tournaments. Whether live or online, countless players have done it throughout the years, and it's one of the more fun things to witness at the World Series of Poker when everyone is gunning to get in as much poker as humanly possible.
Generally speaking, though, multi-tabling live poker tournaments occurs in more than one event located at the same venue. For Duke Lee, however, it recently meant a crosstown trek between the M Resort Spa Casino for the Hollywood Poker Open and the Rio All-Suites Hotel and Casino for the WSOP. Lee was playing in both the HPO Season 4 $2,500 Championship Event and the WSOP $1,500 Monster Stack.
"Everyone at my table in the Hollywood Poker Open was talking all day about how players should double dip these two events, because the Monster Stack is too good of value to miss and we had already bought into the HPO event thinking that it was going to be a good tournament, and it was," Lee said about his decision to play both events. "We discussed strategy on how to do it all day, and I had originally just thought I would bust the HPO event and then late register the Monster Stack. But instead, everyone said you should play the full day of Monster Stack and a full day at the HPO and just deal with the overlap."
When Day 3 of the HPO $2,500 Championship Event finished Day 2, Lee remained in the final 21 players. His stack was 284,000 in chips, good enough for 18th on the leaderboard, and he was guaranteed $9,748.
Across town, Lee was also scheduled to start Day 2 of the $1,500 Monster Stack at the WSOP. Of the 1,998 players to survive in this event for Day 2 that was to begin at the same time at the HPO did — 11 a.m. local time — Lee had 116,200, which was good enough for 114th overall.
"I felt great," Lee said about bagging up a lot of chips after his Day 1 of the Monster Stack. "I knew that now that I had a big stack, I was able to blind off for a couple hours. Obviously, if I was able to go deep in the HPO event then I wouldn't mind just min-cashing the Monster Stack. We calculated it and figured I could just min-cash by letting my stack blind off. It was definitely a good problem to have. I don't have any regrets doing it, the double dipping, even though it was a 20-minute drive."
The top 1,040 places were set to pay out in the Monster Stack, but that wouldn't take more than a couple of hours to happen, and Lee had nearly 100 big blinds of comfort. It was at that point that he focused his efforts on returning for Day 3 of the HPO Championship Event, eyeing the $332,338 first-place prize.
At this point, some players might've adjusted their play knowing they had a second chance waiting for them across town, especially with the Monster Stack's top prize topping $1.1 million, or over three times that of the HPO event. And given that his chip position in the HPO event was at the bottom and his stack in the Monster Stack was towards the top, some might just look to spin it up in the HPO Championship as opposed to grinding the short stack and letting your Monster Stack chances blind off. So did Lee play any differently or have a different strategy going in?
"At that point, no, because I think the equity in the HPO event at that time was much higher," Lee said. "But I thought maybe that my opponents thought that I was playing slightly different, either maybe a little bit more aggressive and willing to get it in lighter."
"A few of the players at my table were at my Day 1 table, and they all knew that I had done it. I don't know if they adjusted too much off of it, but yeah."
In the end, Lee's HPO Championship Event run resulted in an 18th-place finish for $12,998. He made the first pay jump of the day, but could've had a lot more had his kings held up against the pocket tens of Calvin Anderson. Nevertheless, Lee collected his payout and hopped in a car to get back to his chips in the Monster Stack.
That's when Lee returned and fell right back into the grind. Not only did he reach the money easily in the event, but he worked his stack up to 416,000 to end Day 2 of the Monster Stack in 92nd position out of the remaining 276 players, guaranteed $5,542.
But then, things became even more incredible for Lee.
Not only did he reach the money and go on to bag up for Day 3, but Lee then proceeded to astonishingly make Day 4 of the Monster Stack. He finished in 23rd position among the final 26 players from the 6,927-player field with 1.165 million and had locked up $39,027 for himself. That result alone would be worth the third-largest of his live poker career.
In similar fashion to his exit in the HPO Championship Event, Lee could only last a couple of spots into the final day, busting in 24th place after he ran top pair into the pocket aces of David "The Dragon" Pham on a board of
.
All told, Lee bested over 7,500 entries in the two combined finishes, playing in two marquee poker tournaments 20 minutes across town from one another. Combined he won $52,025 and gave new meaning to the term "multi-tabling."
"I would definitely do it again, if it's two really good tournaments," Lee told PokerNews with a smile after collecting his Monster Stack payout. "The HPO was actually very tough at the end, but if I knew that both tournaments were going to be of high value, then yeah, I would do it again."
Want to stay atop all the latest in the poker world? If so, make sure to get PokerNews updates on your social media outlets. Follow us on Twitter and find us on both Facebook and Google+!