For the Love of the Game: Ryan D'Angelo Wins his First WSOP Bracelet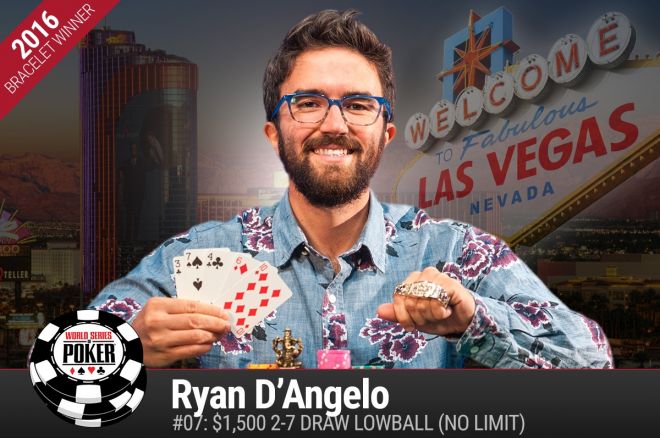 Finding tons of success in both online and live poker for the better part of the past decade, 30-year-old Ryan D'Angelo has built quite a reputation for himself as a No-Limit Hold'em player.
But on a blazing hot day in Las Vegas on Wednesday, a calm and cool D'Angelo won his first ever World Series of Poker Bracelet in a poker variant rarely spread outside high-stakes cash games and the WSOP, taking down the 2016 WSOP Event #7: $1500 2-7 Draw Lowball (No-Limit) title and the $92,338 first-place prize that came with it.
"I feel like I've worked on my game, tilt control, and everything, and I feel like it has all come together," D'Angelo said moments after the win. "It's kind of surreal right now. I'm just so grateful that this happened and I feel like its time for me to go on a big rush. This really is a great way to start to the World Series, its good to win a bunch of money and its good to stamp my name in poker history and grab the bracelet."
D'Angelo admitted he hasn't spent too much time, outside of about 100 online sit and go's, playing 2-7 Single Draw. Yet still, he felt playing heads up has allowed him to pick up on enough of the nuances of the game to at least compete.
The event drew 279 entries and boiled down to a final table Wednesday that featured John Monnette and Dan Kelly, two WSOP bracelet winners considered among the top poker players on the planet in any variant. However, D'Angelo came into the event's final day with the lead, and really cruised to victory.
"I was really centered the whole tournament and the cards came my way," he said. "It was like the perfect tournament. I was never at risk and I was always able to pick up pots here and there, and it's such a fun game.
"It's nice to play a game that I'm not really used to, and I think that's what everyone loves about the World Series, is the chance to play tournaments in varieties they are not used to."
Monnette made it all the way to heads up, but D'Angelo really won the tournament three handed, taking a 6:1 lead into a heads-up match that finished before it was started. D'angelo and Monette were about even three handed, but when short stack Tom Franklin doubled through Monette, D'Angelo took a lead over the two of them and put his foot firmly on the gas from there.
"I was the big stack, so I could just open up and apply pressure," he said. "There was a big pay jump between third and second and they weren't messing with me because of that, so I could just be opening liberally on the button and they were folding."
The rules of the game and the basic math is relatively simple, but most agree 2-7 Single Draw really hangs on a much more difficult concept: Reading your opponents. It's a five-card draw poker game where the player with the best low hand wins the pot. The aces are high, and flushes, straights and pairs count against your hand. There is a round of betting where you must come in with a raise before a single draw, and another round of betting after the draw. It's played no limit.
Because it so often comes down to trying to read what your opponent has, poker players that play more than hold'em often refer to 2-7 Single Draw as the purest form of poker. D'Angelo is certainly in that camp.
"It's so pure," he said. "After the draw its just do they have it, or don't they. It's a lot of meta game and leveling, and the meta game changes throughout because there are times when they might be bluffing more or bluffing less.
"It really is a pure form of poker, there's a lot of soul reading and does he have it or doesn't he?"
D'Angelo was set to register another event at the series coming straight off the win Wednesday, and it's interesting to note that if he does go on the heater he's starting to believe he's on the cusp of, he won't be the only winner.
He and wife Ronit Chamani donate a lot of time and money to the Food Gardens Foundation charity in South Africa, providing seeds and helping educate needy people on farming techniques in the region.
"They offer the opportunity for people to start growing food, providing for their family and maybe even selling it at the market," he said. "It's a great way to help people turn their lives around."
Stay tuned to PokerNews.com for more coverage the 2016 WSOP, brought to you by our sponsors, 888poker.
Are you ready for the 2016 UEFA European Championship this summer? BookieSmash has an extensive Euro 2016 preview and betting guide, as well as a list of the best sports books to bet on for the event.
Want to stay atop all the latest in the poker world? If so, make sure to get PokerNews updates on your social media outlets. Follow us on Twitter and find us on both Facebook and Google+!