Inside Gaming: Record Growth for Tribal Casinos; Sportsbooks Prepare for Olympic Games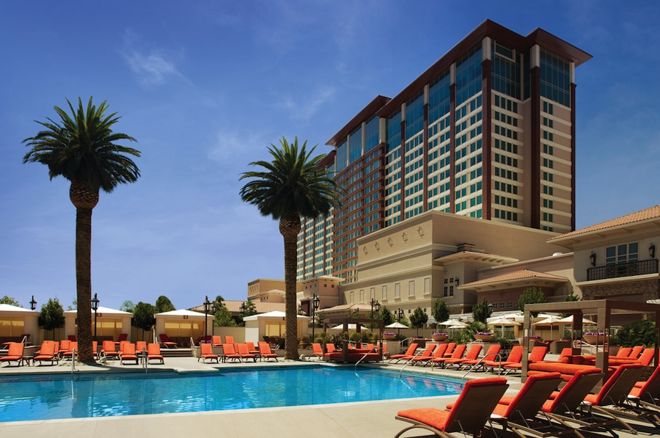 This week's installment of Inside Gaming begins with a report showing Native American-owned casinos enjoyed a collective record revenue increase in 2015, tells how Las Vegas sportsbooks are planning to take wagers on Olympics events for the first time in 15 years, shares news of illegal slot machines operating in Chile, and concludes with the story of a traveler winning nearly half a million dollars last night in McCarran Airport.
Tribal Casinos Report Largest Revenue Gain in a Decade
On Tuesday the National Indian Gaming Commission announced that gross gaming revenue among tribal casinos totaled $29.9 billion in 2015, a 5% increase over the previous year and the largest jump in a decade.
According to NIGC Chairman Jonadev O. Chaudhuri, "the strong regulation that tribes as well as federal regulators and other stake holders provides has played a key role in the stability and growth of the Indian gaming industry by providing consistency and predictability."
The 5% increase dwarfs recent year-over-year increases that have been reported by the NIGC. In 2014 tribal casinos were up 1.5% overall, in 2013 just 0.5%, and in 2012 they increased in revenue 2.7%.
The NIGC's findings include revenue reports from 474 tribal gaming operations run by 238 different tribes.
All seven of the designated regions across the country saw gains in 2015, with tribal casinos in the Sacramento region including the Thunder Valley Casino Resort (pictured above) increasing their revenue by 8.0% year-over-year. Other regions showing substantial increases were the Oklahoma City region (6.7.%) and the Tulsa region (6.5%).
Visit the NIGC for more on the historic gains for tribal casinos in 2015.
Las Vegas Sportsbooks Readying for Rio
The 2016 Summer Olympics are only a couple of weeks away as planning and preparations continue in host city Rio de Janeiro, Brazil. Meanwhile Las Vegas sportsbooks are also making plans for the Olympic Games, as they will be taking bets throughout the two-plus weeks of events for the first time since 2001.
Last year the Nevada Gaming Control Board voted to allow sportsbooks in the state to accept wagers on Olympic events, reversing a prohibition that had been in place for 15 years. According to a feature this week in the Los Angeles Times, "experts speculate Nevada books will accept around $20 million to $30 million in betting tickets on Olympic events."
The ban in 2001 came in response to pressure from federal lawmakers to outlaw betting on college sports. From that debate Nevada emerged still allowing wagers on college sports, but as a compromise decided to stop allowing betting on the Olympics.
The new rules permit sportsbooks to take bets on any event taking place among the 28 sports being contested in Rio, but most believe the books will be setting lines on only a few selected events.
Much of focus will be on men's basketball, says Jay Rood who directs the sportsbook at MGM Resorts. He told the L.A. Times he believed 70% of the action would be on men's basketball alone. Rood added that his book would like to take wagers on "hockey, some of the track and field... the volleyball, the swimming," focusing primarily on events that earn the most attention from the television audience.
Rood additionally "said he and most of his peers will limit setting odds to popular contests that are 'scored or timed, not voted upon by judges, with the exception of boxing, because that is the accepted form of scoring.'"
Jay Kornegay of Westgate Sportsbook also noted to the L.A. Times that setting lines on many Olympic events will require extra effort from the sportsbooks given the variety of events and relatively unfamiliarity of participants and teams when compared to the sports on which they usually focus.
"There's unusual names, countries and rules — in some cases, we don't even know the rules," Kornegay admitted. "So it's going to be a very selective menu at most books — basketball, soccer, golf. You're not going to see rowing, kayaking, fencing, handball."
The opening ceremony is set for August 5, with the games lasting through August 21.
Read more about how the Vegas sportsbooks' preparations for the summer games at the L.A. Times.
Study Finds Thousands of Illegal Slot Machines Operating in Chile
A recent study by the Chilean Gaming Board has shown that more than 33,000 illegal gaming machines are presently operating in Chile, G3Newswire reports.
For the survey, researchers visited more than 3,000 businesses that had been granted licenses to run gaming arcades. They "found that 1,327 of them housed machines that handed out cash prizes — something which is in direct contravention of Chile's gaming laws, as according to federal law, slot machines may only be present in casinos," reports G3Newswire.
The number of illegal machines is likely higher, as the survey did not cover "neighborhood shops" or other establishments for which gaming was not considered to be their primary business.
The Chliean Gaming Board's study found that many arcades operating throughout the coastal country house both straightforward slots (not allowed outside of casinos) and so-called "skill with prizes machines" that award cash prizes yet involve some element of skill.
The study results are being forwarded to each of the 88 municipalities of the South American country in order to aid authorities in their efforts to thwart illegal gambling.
See G3Newswire for more on Chile's illegal slots problem.
Traveler Wins Over $478K from McCarran Airport Slot Machine
Finally, anyone who has ever traveled to Las Vegas via the McCarran International Airport is familiar with the whirring sounds of bells and buzzers emanating from slot machines located in most of the terminals and elsewhere. There are more than 1,300 of the machines in McCarran, in fact, to greet travelers arriving in Sin City or to give those who are departing one last chance to gamble before they leave.
Last night one such traveler decided to take a Wheel of Fortune machine for a spin, and he was glad he did. A Randall H. of Dublin, Ohio won an eye-popping $478,835.72 at the airport last night, as shared over McCarran's Twitter feed.
According to KVVU-TV of Las Vegas, a local resident won $933,080 at McCarran back in late March, also on a Wheel of Fortune machine.
Maybe next time we land we shouldn't be in such a hurry to get our baggage.
Photo: Thunder Valley Casino Resort
Want to stay atop all the latest in the poker world? If so, make sure to get PokerNews updates on your social media outlets. Follow us on Twitter and find us on both Facebook and Google+!