Inside Gaming: MGM Introduces Mobile Platform, Macau Encouraged to Focus on Slots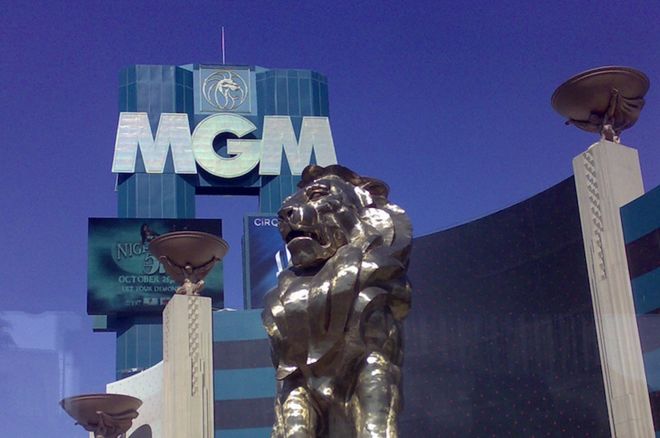 This week's installment of Inside Gaming shares the announcement of MGM Resorts' new "mobile play" platform enabling guests to play casino games outside the casino, passes along some highlights from the United Kingdom Gambling Commission's latest report, looks at a new strategy being recommended to turn things around in Macau, and gives an update on the ongoing Trump Taj Mahal workers strike.
MGM Resorts' "Mobile Play" Platform Carries Games Outside Casinos
Tired of being inside the casino but still want to gamble? Well, if you're at an MGM Resorts property in Las Vegas, a new option has arrived.
This week MGM Resorts announced the launch of a new mobile gaming platform, called easyPLAY® Mobile Tournaments, an offering the company describes as "the first digital and interactive tournament to be offered by a regulated casino in the United States."
The platform lets guests at any of the nine MGM resorts in Las Vegas compete with each other in a number of different "tournament"-styled casino games including slots, bingo, video poker, and more. The games — available only through the MGM properties' wi-fi — can be accessed via patrons' mobile devices and computers, as well as through specially-designated tables located throughout the properties.
Highlighting the platform's launch is an "All Summer Long Winner Takes All Progression Slot Machine Tournament" costing $5 to enter and sporting a $10,000 first prize. Other free-to-play contests are available as well.
In a press release describing the new offering, Tom Mikulich, Senior VP of Business Development for MGM Resorts International, described the platform as providing guests "an exciting, new opportunity to play their favorite games" while enjoying other amenities than those found inside the casino.
"The tournaments are extremely user-friendly... and bring an element of competition that our guests will enjoy whether they are sitting at a bar enjoying a drink or simply hanging out by the pool," said Mikulich.
Learn more about the new platform as it is described in MGM's release.
UK Gambling Commission Issues Annual Report
This week the United Kingdom Gambling Commission issued its annual report compiling both its own activities and providing an overview of the current state of the regulated industry. A list of "facts and figures" also includes in summary fashion details about the industry's size and operation.
According to the UKGC, the gambling industry employed over 104,800 people between April 2014 and March 2015. Of note, the passage of the Gambling (Licensing and Advertising) Act implemented in November 2014 which applied regulations to all remote gambling operators (including online) only partially affects the period being considered.
There were 8,819 betting shops in operation during the period, 1,772 arcades, 615 bingo venues, and 148 casinos which hosted nearly 21 million customer visits. Meanwhile as of September 2015 a total of 719 remote gambling activity licenses were held by 427 distinct operators.
A total of 47% of adults responding to a UKGC survey said they participated in gambling at least once in the previous four weeks, down from 55% the year before, with 14% of adults responding that they had gambled online at least once during the previous month. The National Lottery proved the most popular form of gambling, with 33% of adults saying they'd purchased tickets within the previous month.
For those curious to learn more, here's the UKGC's report and here are those "facts and figures."
Macau Operators Encouraged to Focus More on Slots, Less on VIPs
We've been keeping you informed about the ongoing slide in gaming revenue in Macau where a 25th-straight month of decline was recently reported. Indeed, the report of 15.9 million Macau Patacas in gross gaming revenue (just under $2 billion USD) for June 2016 represented the lowest total in nearly six years for casinos in the Special Administrative Region.
As operators scramble to find ways to reverse the downward trend, those who monitor and report on them have some ideas to share. This week Paulo Martins Chan, Director of the Macau Gaming Inspection and Coordination Bureau, released a statement advising "the need for structural adjustment of the gaming industry if Macau is to diversify its economy and achieve sustainable development," reports Asia Gaming Brief.
In particular, Chan "suggested that casinos could provide different types of slot machines — which would close the gap between VIP and non-VIP rooms." The recommendation comes on the heels of a meeting between the Burau and representatives of Gaming Laboratories International and BMM Testlabs, two international certifying companies for slot machines.
As has been noted by many industry observers, anti-corruption efforts by the China's president Xi Jinping, including a variety of measures designed to eliminate graft and limit the potential for money laundering, have had an impact on the once thriving business of casino junket operators.
Such junkets would help facilitate "VIP" high-rollers' movement of funds, settling of debts, and managing of loans, but restrictions on their activities have reduced VIP traffic to Macau, in turn affecting gaming revenue as a whole. This circumstance, in part, motivates the recommendation to focus more on non-VIP clientele.
Read more about the Bureau's advice to Macau operators at the Asia Gaming Brief.
Trump Taj Mahal Workers' Strike Enters Third Week
Two weeks ago we reported how nearly 1,000 workers at the Trump Taj Mahal hotel and casino had gone on strike after failed negotiations with their union UNITE Here.
Last week we shared an update on the story, noting how the workers continued to strike in protest of low wages and cuts to health benefits (among other complaints).
Today marks two weeks since the strike began, and if anything the two sides are further apart now than they were when the work stoppage began.
On Wednesday the Associated Press reported how things had grown "more contentious," with the management team of owner Carl Icahn having issued an "ultimatum" to those on strike to "accept the company's health care offer by Monday or it's gone."
Tony Rodio, president of Tropicana Entertainment who runs the Trump Taj Mahal for Icahn, informed the strikers via letter if they failed to accept the proposed plan, the offer would be withdrawn at 5 p.m. Monday. Meanwhile Bob McDevitt, president of UNITE Here, responded by explaining to the AP how the "company offered them health insurance that was essentially half what every other property agreed to."
The casino continues to operate, as dealers are not among the workers on strike.
For more on the details of the ongoing impasse, check out the AP's report.
Photo: "MGM" (adapted), Kristin Kokkersvold. Creative Commons Attributions 2.0 Generic.
Want to stay atop all the latest in the poker world? If so, make sure to get PokerNews updates on your social media outlets. Follow us on Twitter and find us on both Facebook and Google+!