Five Thoughts: Mercier Plays It Cool, Negreanu Loses His, and DP Heads to the WPT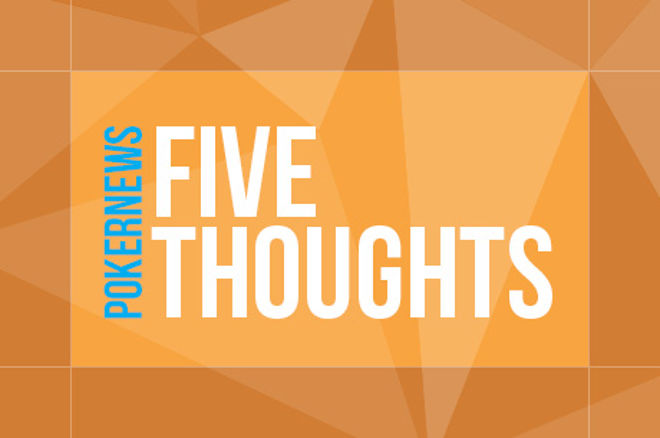 After a brief hiatus, Five Thoughts has returned just in time to tackle a few pressing issues of the week.
1. Mercier Runs It Twice
Only weeks removed from one of the most successful summers in recent World Series of Poker memory, Jason Mercier's accomplishments have been duly celebrated.
But thanks to his now infamous 180 to 1 bracelet bet against Vanessa Selbst, Mercier's memorable run has also thrust poker into the mainstream media - no small feat in 2016.
The coverage began with a well-written glimpse into the method behind Mercier's multitabling madness, penned by David Hill for The Ringer.
Hill managed to convey both the thrill of tournament poker played at its highest levels, and the game's potential to put even the most disciplined pros under its thrall, showing readers the level of focus elite players like Mercier exhibit every waking hour. What Hill didn't do was resort to lazy rhetoric and cast committed poker pros as compulsive gamblers.
As for Dan Le Batard, newspaper columnist and ESPN media personality, he and his team just couldn't resist the low-hanging fruit when interviewing Mercier.
Le Batard and crew opened by introducing Mercier as a "poker junkie," setting the stage for a line of questioning by his co-host that bordered on demeaning.
Do you have a gambling problem?

What is the best high you've had playing poker?
Mercier handled the situation with class and composure, proclaiming simply "I love playing poker."
He did, however, voice discomfort with the approach the show's hosts took after the show aired:
Degenerate, junkie, addict -Not exactly my fav words 2 describe myself as 1 of the best in my profession # oh well, ill just keep printing!

— Jason Mercier (@JasonMercier)
A sportswriter by trade – one who hosts the monthly Dan Le Batard Celebrity Poker Tournament in Florida – Le Batard should know that top performers in any profession exhibit a rabid commitment to honing their craft.
After all, Le Batard has infamously attacked basketball legend Shaquille O'Neal for possessing "underwhelming work ethic." If O'Neal, one of the most decorated basketball stars in history, didn't work hard enough for Le Batard, surely Mercier's regimen of playing "almost every day" should suffice?
As Le Batard knows quite well, competitors who do the work day in and day out are known as "gym rats" – not junkies.
2. Negreanu's Missive Misses Mark
Hidden among hundreds of politically charged tweets posted by both men, an interesting exchange occurred recently between Daniel Negreanu and Mike Matusow.
Responding to a retweeted criticism of Donald Trump posted Erik Seidel, Matusow replied with a seemingly innocuous joke: "Erik, I thought you don't do drugs?"
Negreanu decided to jump in. But instead of his politics, Negreanu went after Matusow's use of the word "drugs," dredging up past indiscretions and ridiculing an ongoing effort to treat mental health issues.
@themouthmatusow @Erik_Seidel says the guy who has a fried brain from years of drug use and still on buckets of pills.

— Daniel Negreanu (@RealKidPoker)
Without knowing the details of Matusow's relationship with Negreanu, one which dates back to the late 1990s, only they can determine whether this was just two buddies ribbing one another, or something more. Matusow didn't respond, and Negreanu didn't delete the tweet, so it's likely that no blood was drawn between the two.
But based on their overwhelmingly critical replies, dozens of Negreanu's followers and fans felt Negreanu crossed the line.
Leaving aside the D.A.R.E-inspired portrayal of recreational drug users having a "fried brain" (Matusow readily admits that he's battled addiction in the past), Negreanu roundly dismissed Matusow's well-documented struggle with mental health issues.
In 2016 the stigma associated with mental health is slowly being eroded, and for good reason. The National Institute of Mental Health (NIMH) estimates that 10 million Americans currently suffer from "serious functional impairment due to a mental illness."
And while some still consider many mental illnesses to be nothing more than modern day malingering, something Negreanu has suggested in several tweets over the years, the afflicted know better: According to NIMH, life expectancy for somebody with serious mental illness falls by 10.1 years, largely due to suicide or the accumulated consequences of continual self-harm.
Thankfully, more people than ever before struggling with mental health maladies are proactively seeking treatment – Matusow included. They should be applauded for trying to improve their own lives.
Negreanu's voice reaches 411,000 followers at last count, and his influence within the community is unparalleled. He may be able to improve his own mental state through meditation and self-awareness, but millions of people rely on medication instead. Both choices deserve respect.
Again, maybe this is simply the case of two friends jabbing at each other on social media, but this outsider certainly sided with many others on Twitter who thought the comment was a bit over the top.
3. Annie, Are You Ok?
While Negreanu and Matusow ride one another about presidential politics, and much of poker Twitter follows suit, former pro Annie Duke appears content to ride the "Trump Train" as far as it will take her.
Duke won a bracelet back in 2004, but she hasn't recorded a live cash since 2011. Ironically enough, that result occurred during the first and only season of the Epic Poker League, the doomed professionals-only circuit that Duke headed up as Commissioner, and eventually led to her departure from the poker spotlight.
Effectively out of poker altogether for nearly five years now, Duke launched a second career as a "former poker player, professional speaker, and decision strategist." Even so, the runner-up on Trump's game show Celebrity Apprentice in 2009 hasn't been shy in casting her self-styled political expertise through the lens of poker.
Of course, that alone warrants no objection, but Duke's questionable decision to bill herself as a "professional poker player" in a recent Wired article certainly does.
The story, titled "How Should Paul Ryan Handle Trump? We Asked a Poker Pro," gives Duke free rein to offer poker-based commentary, all while maintaining the illusion of participation in a profession she no longer holds. This isn't an isolated incident either, as Duke spoke to Reason in May under the guise of a being an active pro.
It may seem like splitting hairs, as Duke did compile a fruitful career on the felt, but her five-year absence matters. Words matter too, which is why Duke's own website includes the crucial qualifier "former."
Her brother Howard Lederer returned to poker after a self-imposed exile, so Duke is certainly welcome to follow suit if she so chooses. But until she does, it's disingenuous to claim a title which is no longer deserved.
4. Granny With Game Offers High Hopes for Poker's Health
Every year poker players and prognosticators in the media take their turn diagnosing poker's vital signs, offering appraisals of the industry's current condition.
Metrics like Main Event entries or field sizes at major regional series are usually used, in hopes of quantifying the all-important ratio of "recs" to "regs."
And indeed, those who visit tournament series like the WSOP, the WSOP-Circuit, and the World Poker Tour on a regular basis help form the industry's lifeblood. The rake they part ways with on each and every entry is essential, sustaining entire circuits and tours, and paying the salaries of hardworking casino and card room employees.
But poker was a game before it was ever an industry.
For that reason, players like Nita Day reveal far more about poker's health than flight-by-flight field comparisons from the latest novelty tournament.
Day, an 85-year old grandmother hailing from Australia's Gold Coast, made headlines recently after topping the table in her local pub poker league. Playing three times a week, Day has accumulated more points throughout the June-September series of small tournaments than any of her more than 70 regular opponents.
She's no one-hit wonder either. Day also finished in 2nd place on the points leaderboard in the April-June heat.
As a proud member of the World Poker Tour League – which facilitates pub poker on several continents – Day doesn't pay a penny to play poker, winning only food vouchers and tournament seats for her trouble. Even so, when Day took top honors in a pair of July tournaments, she still went home feeling rewarded.
In an interview with the local Gold Coast Bulletin, Day explained her passion for poker.
I've been playing cards my whole life and got into online poker a couple of years ago. It keeps me young. Last year I decided to do my first live match and now I've come away with a win after only a few months. I'm pretty chuffed.

If you play poker to be rich then you're never going to win. You have to respect and love the game and a money incentive takes over and impacts your decisions on the table. You've got to play with your head, not your heart.
Plenty of people discover the game through pub poker events, playing in a pressure-free environment while building up the courage to visit a local casino or travel to a tournament series.
If players like Day still care enough about poker to play the game with nothing on the line, the poker industry is in good hands.
5. Donnie's Departure
After more than eight years on the job, former editor-in-chief of PokerNews Donnie Peters recently accepted a position with the WPT.
During his tenure Peters authored thousands of articles and tournament hand reports, all while managing the editorial whirlwind.
But even when he wasn't writing, Peters still managed to leave an indelible mark on the poker community.
In a recent edition of Robbie Strazynski's "Get to Know the Poker Writer" series, PokerNews reporter Mo Nuwwarah pointed to Peters as playing a pivotal role in bringing him aboard.
I tweeted at PokerNews and asked if they were hiring or not because I had sent something in and heard nothing.

Donnie Peters, who is now my editor and boss, tweeted back and told me to email my stuff directly to him.
Nuwwarah got the gig and never looked back.
I remember the day Peters hired me to report on the 2011 WSOP too, and to this day I remain thankful for that opportunity. I've forged friendships, interviewed idols, and stood witness to the greatest spectacle in all of poker, and I have Donnie Peters to thank.
Nuwwarah and I aren't alone, and I suspect dozens more can credit a chance email or tweet to Peters as helping to pave their path into poker.
So I think I speak for more than a few tournament reporters, bloggers, feature writers, and media members when I say thanks for everything DP.