Examining The Fine Line Between Problem Gambler and Poker Pro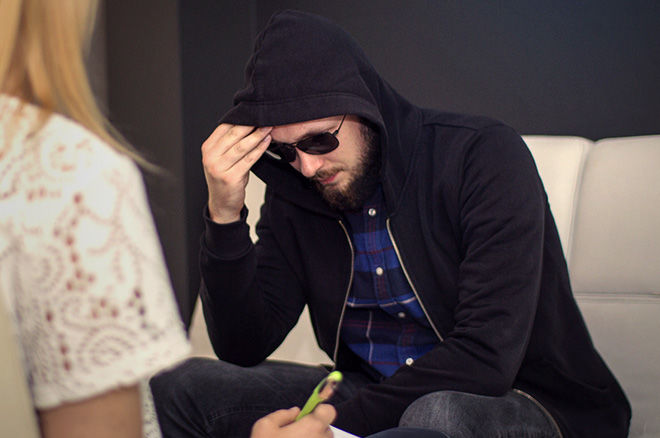 When five-time World Series of Poker bracelet winner Jason Mercier appeared on the the Dan Le Batard Show with Stugotz on ESPN last month, he was introduced as a "poker junkie" and asked point blank if he had gambling problem.
By the time the interview wrapped up, two things about the mainstream sports media were clear: Most knew very little about poker, and for hosts Dan Le Batard and Jon "Stugotz" Weiner at least, the perception is that poker players are more akin to problem gamblers than professionals.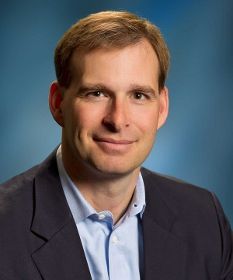 Keith Whyte, the executive director of the National Council on Problem Gambling, says the problem may lie in the fact that the difference between the two isn't exactly clear.
"It's a fascinating question," Whyte told PokerNews. "On a standard psychological diagnostic test, I think most professionals would meet every criteria to be considered a problem gambler. It's just really hard to separate a heavy recreational gambler, or a pro, from someone who has a problem.
"I've given some standard tests to a few professional players, well-known pros, WSOP bracelet winners. I can't give you their names for privacy reasons, but I can say they all graded out as serious problem gamblers. My one take away, after talking with a lot of poker pros and poker companies over the years, is that the one difference, the thing that separates a professional from a problem gambler, is control."
Whyte admits that diagnosing a gambling problem is not an exact science, but basically, a pro can set limits, stick to them and practice good bankroll management tactics, while a problem gambler can't seem to stop and has difficulty managing their time and money.
"Someone with a problem gets so caught up playing, they miss their daughter's field hockey game, or if they do show up, they're on the phone playing or thinking and talking about playing," Whyte said. "It's hard to quantify and distinguish between pro and a problem, but I think the pro who does not have a problem has outside interests and takes part in activities outside of the game. It may be their job, but they have some control over the amount of time they spend doing it; and they are able to maintain relationships outside of it, go to other activities and see the sun once in a while.
"Some pro players could be playing 18 hours a day, and for them, it may not be a problem. On the psychological diagnostic test they'll meet most of the criteria for problem gambling, or honestly, all of it, but I still think someone can be a pro and not be a problem gambler. It really is an individual thing."
With more than $13 million in online cashes and counting, Chris Moorman is online tournament poker's all-time leading money winner. In an interview with PokerNews last month discussing the origins of his career, he stopped short of calling his interest in the game an addiction because it's his job, but he did say he felt like he was hooked on the game immediately and it became an obsession for him.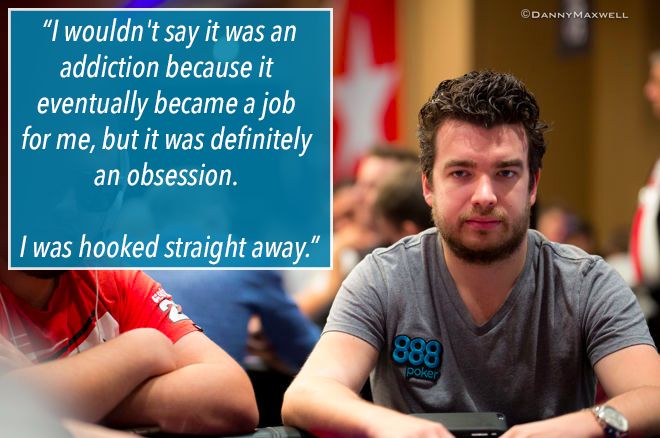 With this kind of obsession often considered a precursor for success in so many aspects of life today, including poker, Whyte agreed it's another hard line to draw.
"It's like the kind of thing that makes a professional athlete the best at what they do," he said. "That focus and ability to forget losses or play through pain. A lot of people have a tough time understanding how a professional poker player can play through losing $10,000 or $50,000. That's the pain they are playing through. They push, and push, and push, and it's that work ethic that helps people succeed in all areas of life. In poker, the vast majority of successful players have that work ethic and some call it an obsession. Certainly the folks that fall into gambling addiction have it as well. The thing is, it's hard to tell a healthy obsession from an unhealthy obsession.
"I've talked to Daniel Negreanu about this before, and I know he often talks about the intersection between professional gambling and problem gambling, and the big thing here, and I hate to bastardize the lyrics of Kenny Rogers and The Gambler, but the that's the big thing: Knowing when to walk away."

But walking away from the poker table on a downswing, setting time and money limits and sticking to them or exercising proper bankroll management, are only half the battle for a poker professional, with casino games, sports betting, prop bets and other forms of gambling surrounding the lifestyle.
"There are players that are stone cold at poker and they stick to their limits and practice the best bankroll management they can while playing poker," Whyte explained. "Then when it comes to craps, sports betting, side bets and prop bets, they have no bankroll management strategy at all. It all goes out the window and there are no limits. It's a fascinating phenomenon. They are great poker players, who are ice cold when it comes to poker, but with other games they don't have the same discipline and that's where they have a problem. Then there are people that are just the opposite. They may be stone cold sports bettors and they suddenly go crazy on poker."
When he looks around poker's tournament and cash game circuit, Whyte says the classic signs of problem gambling are everywhere.
"There are a lot of problem gamblers that will tell you how great they are at the game with a straight face, even though they are living out of their car on the circuit in California going from card club to card club," he said. "They are a great pro; they just have a temporary cash flow problem because they're not willing to admit what the real problem is. They just took a bad beat and they'll beg, borrow or steal to get back in the game because they know they're just one win away from everything turning around. In poker, overestimation of one's skill can lead them down the path to addiction. Sure, they're one bet away from winning everything back. 'Yeah, I had to sell my house, but that just means I'm more liquid.' If someone starts talking like that, that's probably someone with a problem."
In a game that's amoral at best, where taking advantage of the weak is a road to profitability, Whyte is under no illusion that most poker players are going to suddenly point out problem gamblers in their midst, and offer a helping hand, rather than use the edge they have against them to fleece them out of their funds. However, he still suggests players who see a friend showing the classic signs of a gambling problem do what a real friend should.
"You do the same thing you would do if you thought that friend had a bad disease like cancer," he said. "You let them know you care and that help is available. If they're still talking to you after that, you can refer them to an organization like ours."
The National Council on Problem Gambling actually offers a 24-hour confidential and toll-free helpline, with voice, text and chat options. It can be accessed through the website at ncpgambling.org or by phone at 1-800-522-4700.
Whyte said help can be found on their website. Once there, players can take a self-test to see if they qualify for having a problem. It's not a perfect screen for heavy recreational gamblers or professional players, but it's a start.

"If you have a friend or know someone who might have a problem, you have to let them know you care and that help is available," he said. "It's important to understand you can lead them in the right direction, but you can't force them to seek help. Ultimately, seeking help, or treatment, for something like gambling addiction, has to be a decision they make themselves. You can't force somebody to help themselves."
Even though you can't force people to seek help, Whyte said the good news is that those who do, substantially reduce the amount they gamble.
"Something like 70 to 75 percent of people seeking help for a severe gambling problem significantly reduce the amount they gamble, getting back to a more recreational level or abstaining altogether," Whyte said. "The thing is, it's not all black and white. It's not about either going 100 miles an hour or never playing poker again. There's a decent amount of people who can live comfortably in the middle somewhere."
There are biological and genetic dispositions to gambling, but it's not like alcohol or drug addictions, Whyte said.
"With gambling, treatment should be truly individualized and not completely abstaining is not always problematic," he said. "It's not like you can never gamble again. Gamblers Anonymous might say that for an addict completely abstaining is the only road to take, but we think, for some people, that just isn't true."
Be sure to complete your PokerNews experience by checking out an overview of our mobile and tablet apps here. Stay on top of the poker world from your phone with our mobile iOS and Android app, or fire up our iPad app on your tablet. You can also update your own chip counts from poker tournaments around  the world with MyStack on both Android and iOS.